2008 Bonneville 100
Wendover, Nevada
Link to race info here:
bonneville
Just when I thought last year's race couldn't be topped, this year had more adventure, more thrills, and more fun than ever. I successfully completed my second annual 100-mile open road rally in the Legend coupe, among mostly exotics and both classic and late model muscle cars. The Legend was far from blending in with this crowd. It was the only Honda product in the entire event out of 80 total cars! Somebody had to represent the brand, and I'm glad that my 1/3 million mile Acura was able to play the role
.
Who wouldn't want to drive their Legend as it was meant to be driven on the open road? Finally a chance to use 6th gear for what it was really intended.
Race Background
The Bonneville race is a time trial. Drivers register in whatever speed class at which they wish to participate. It's a two-leg race, roughly 50 miles southbound and 50 miles returning northbound on a desolate highway in northern Nevada. The highway is closed for the event. Last year we choose to participate in the 100 mph class: the goal being to finish the race (both legs combined) at an exact average speed of 100 mph. We didn't do too bad - we were only a couple of seconds off at the finish. This year, we decided to step it up a notch and see if we could handle the 105. Once you reach the 115 and beyond, they start requiring extensive safety equipment (roll bars, arm restraints, etc).
Pre-Race
We rolled into Wendover just in time to grab our registration paperwork and go through the tech inspection process, which we (and the car) passed. There was a driver's meeting that night, and then the following morning we reported bright and early to the pre-grid where we lined up in order. Then we had a caravan to the start line - and more waiting. They launched the cars from the start line in descending order, from the fastest to the slowest. The 155 mph class went first. We had about a 45 minute wait until our class was set to go. The anticipation was building.
Race weather was hot - there was a lot of downtime while we waited our turn at the starting line and it was warm out in the northern Nevada desert, with no shade to be found. After a delay in getting the initial first leg started, finally, we were inching our way toward the start line. Cars were being released 30 seconds apart. Soon it was our time at the line. I frantically reset the GPS, waited eagerly with the car in first gear, and watched for the green.
Green Light
Time to roll! I straddled the center line in the road and blew through the first few gears. I knew that we would have to hold a speed of about 120 mph for several miles until our average (105 target) caught up with us, so I was well on my way… when….
Antelope crossing the road!!!!!!!!!!!!!!!!!!!!!!!!!!
OMFG!! I nearly died!! We're cooking along at 105 mph and out of the corner of my eye I see a little movement. THREE animals crossing the road! There was nothing I could do but hit the brakes for all they were worth and hold my course. Had I swerved, we would have done an off-road excursion (as they call it) without a doubt. Somehow we were protected from being impaled by an animal at that speed. The coupe would surely have been a total loss. AND WE GOT IT ON TAPE!! You have to watch this video to believe it!! Branson had been taping my acceleration and before he shut the camera off, you can see the first antelope crossing the road. We were literally milliseconds from having the animal come through the windshield.
It was an absolute miracle. We sailed right through the group of antelope!! I have NO idea how that happened. At this point I was still doing 90+, trying to figure out what the HELL had just happened. My hands and feet were shaking, but I didn't want to stop because the entire race would have to be restarted because of me. It's the first time in my life (I promise you) that I have EVER said "Holy Shit!" with so much meaning!! I could not believe what had just happened.
So that set the tone for the rest of the first leg! I was scared out of my mind, but continued to race. I pulled the speed up to 120 and brought our average up to 105. Then, the next scare… we were closing in quickly on the guy in front of us. Last year we never had to pass anybody. It looked like we might have to. This guy in a yellow Corvette was clearly not going fast enough. We tailed him at 85-90 mph through the curves when he should have been doing 100+. I thought about passing him on the straight, but somehow we were able to maintain the 105 average even while staying behind this guy - he picked up his speed in the straights.
End of first leg
We rolled into finish of the first leg and I got out of the car sweating. I was glad to be alive!! Talked to the guy in the yellow Vette and told him I thought we were right on track. He was running off stop watches and was very confident that he was right and we weren't (which was the case BTW, lol).
It was another long hour+ of downtime until we rolled back out to run the second leg. I was worried about having to pass the yellow Vette guy, but determined to do so if I had to. We got the green flag for the second half. This one wasn't nearly as eventful. Again we sailed to 120 until the average came up, then settled at 105 for the duration of the course. Ended up getting close to the guy in the yellow Vette yet again - WTF! I couldn't figure out how come our GPS was reading RIGHT ON 105 mph average yet we kept catching this guy!? But we followed him in to the finish.
Ended up leaving for Salt Lake right after the finish of the second leg (the banquet and awards ceremony was later that night) but we needed to get to SLC to meet up with my parents. So we literally left straight from the race and drove 110 miles to SLC with our race stickers still on and everything! Lol. We did, however, ditch the helmets
.
All in all, a weekend I will NEVER forget. I don't know if I'll be back again next year but I hope to. Clearly my timing needs some work. We found out later that we had come in a full 51 seconds too early. Our GPS must have been reading wrong.
RESULTS!!
We didn't place
Here are the results:
The numbers are:
- How far off we were from our target average mph overall
- (How many seconds off)
- Car number
- Driver's name
- Time for first leg @ average mph
- Time for second leg @ average mph
Target Speed 105
1. 0.011-mph (0:00.365+t) 402 Michael Keegan 29:
[email protected]
28:
[email protected]
Corvette
2. 0.026+mph (0:00.875-t) 299 William Rice 29:
[email protected]
28:
[email protected]
Corvette
3. 0.049-mph (0:01.639+t) 104 Stan Jennings 29:
[email protected]
28:
[email protected]
Dodge Van
4. 0.630-mph (0:21.017+t) 351 Mark Rice 29:
[email protected]
28:
[email protected]
Charger
5. 1.577+mph (0:51.531-t) 194 Tyson Hugie 29:
[email protected]
28:
[email protected]
Acura Legend
What this means is that we were 1 THOUSANDTH of a second different between the times of our first leg and second leg. Leg 1 averaged 106.576, Leg 2 averaged 106.577. Mike Borders, who runs the event, said he has never seen that kind of precision before. Now if only we could have had the timing right
.
VIDEO!!!!!!!!!!!! Download it here.
I will not be posting it to YouTube as it is technically illegal to have "loose items" (i.e. a camera) in the cockpit during the race.
Below the viewing window is a link that says "Download now." Pay close attention right after I say, "Go Baby Go!"
legbon.WMV - FileFront.com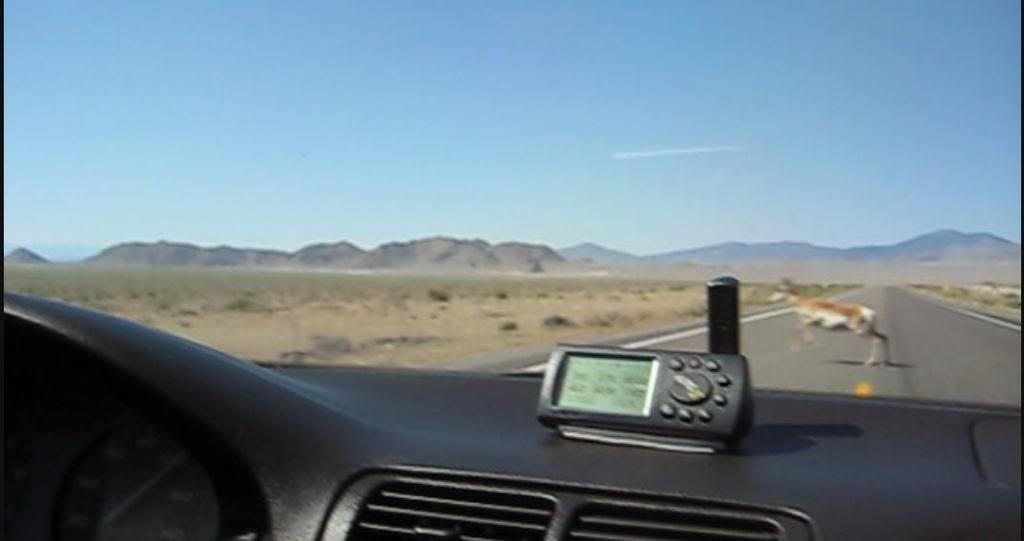 Day before the race - Bonneville Salt Flats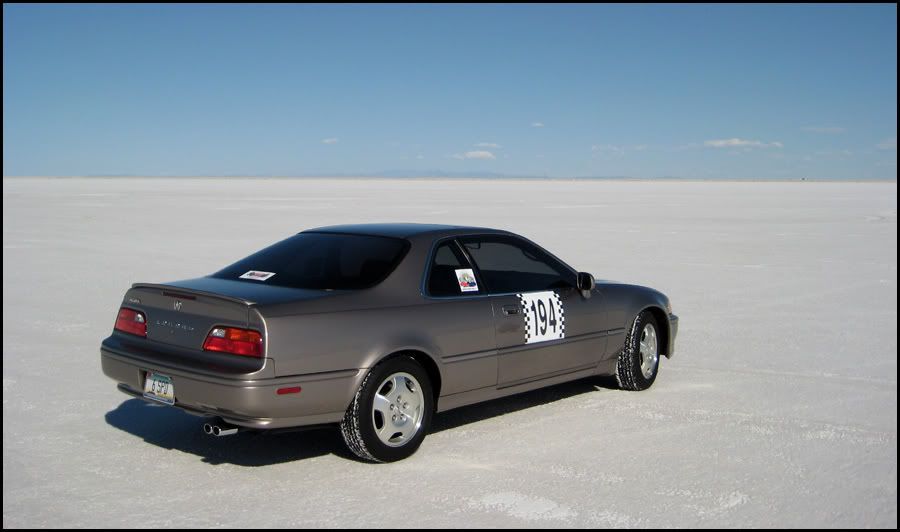 My ricey stickers on the back windows
Passed tech inspection
Back seat area prepared for race - with a fire extinguisher & bracket mount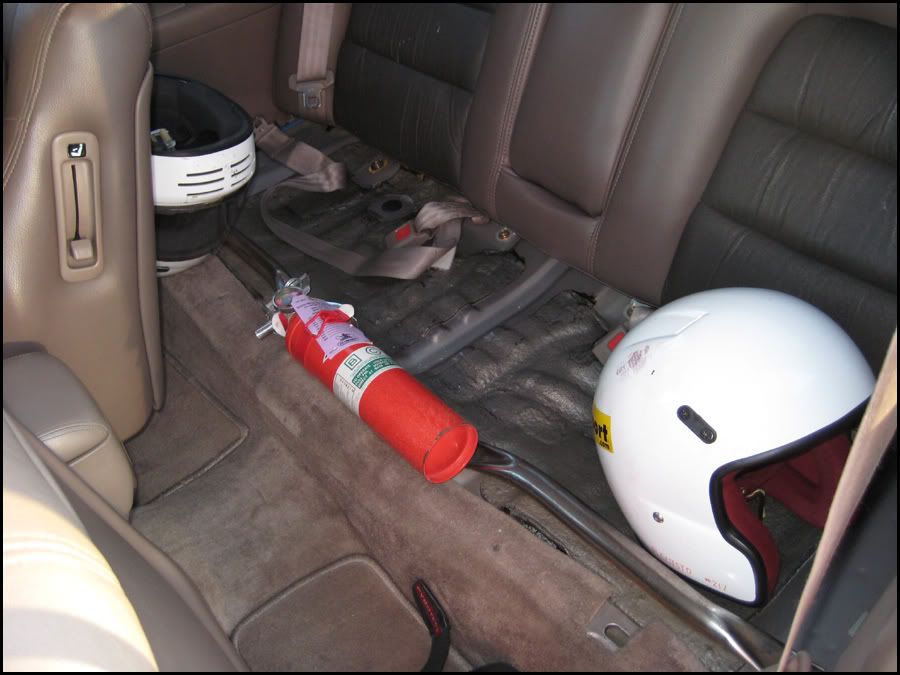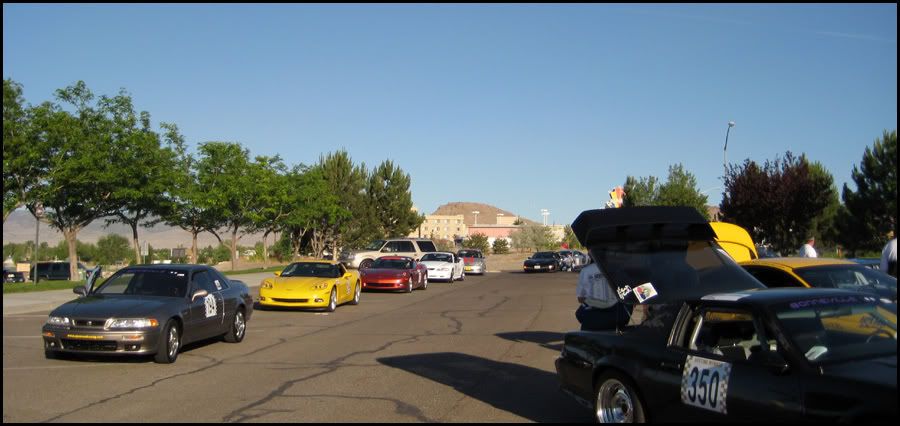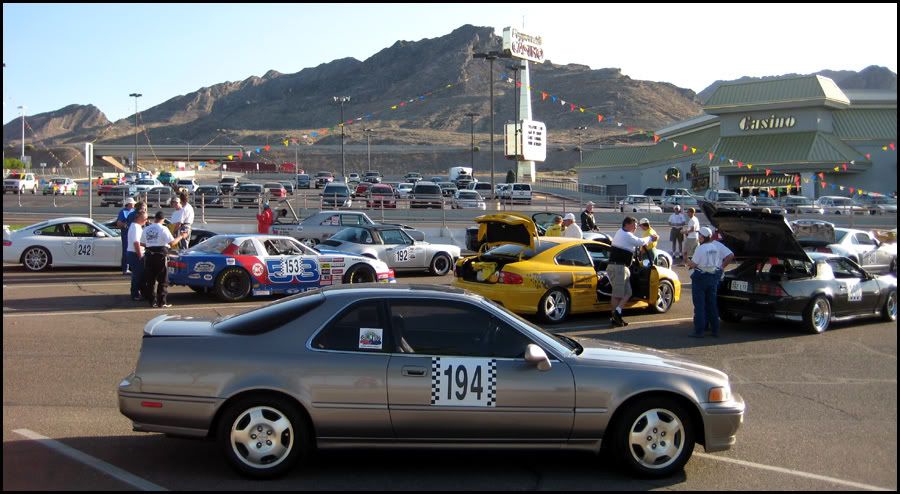 A couple other cars in the race - including this beautiful Carrera GT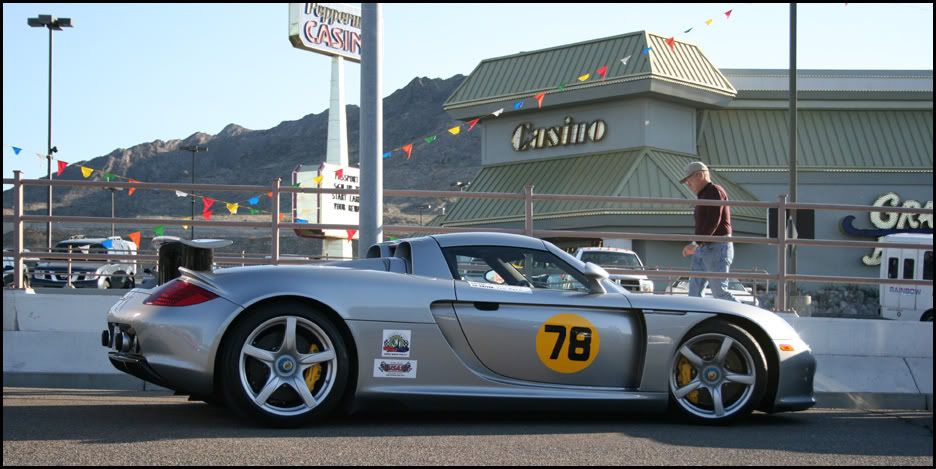 Racer's meeting.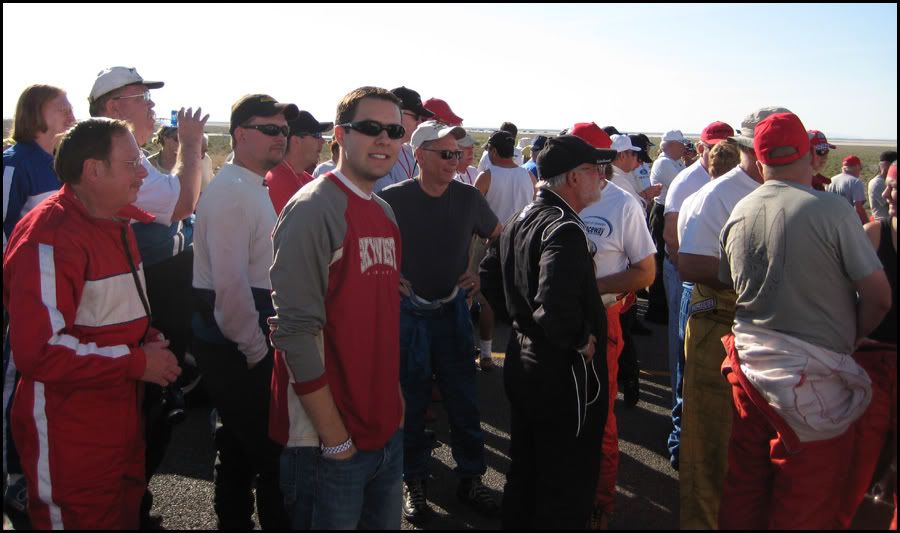 Driving to the start line.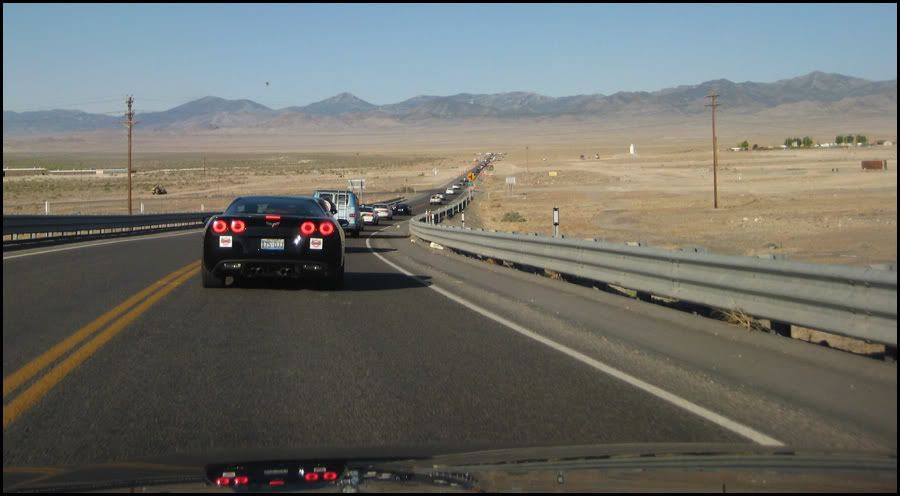 Starting line grid.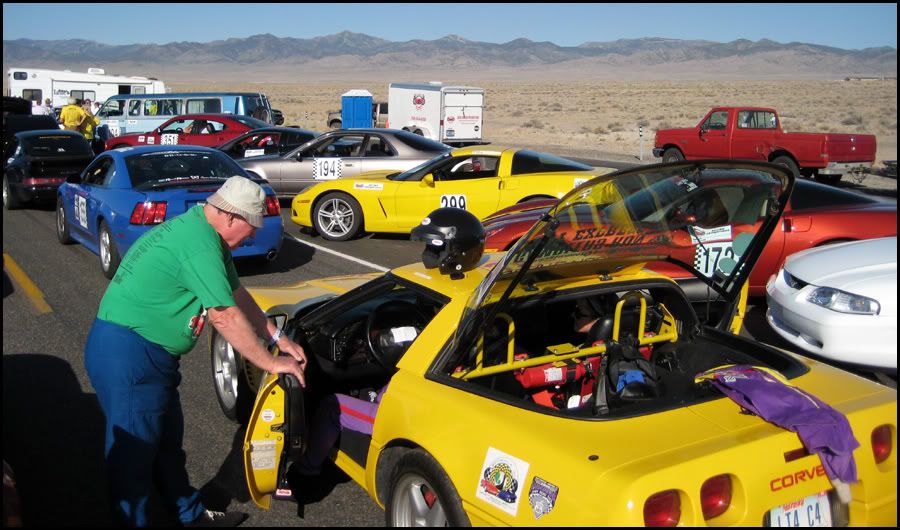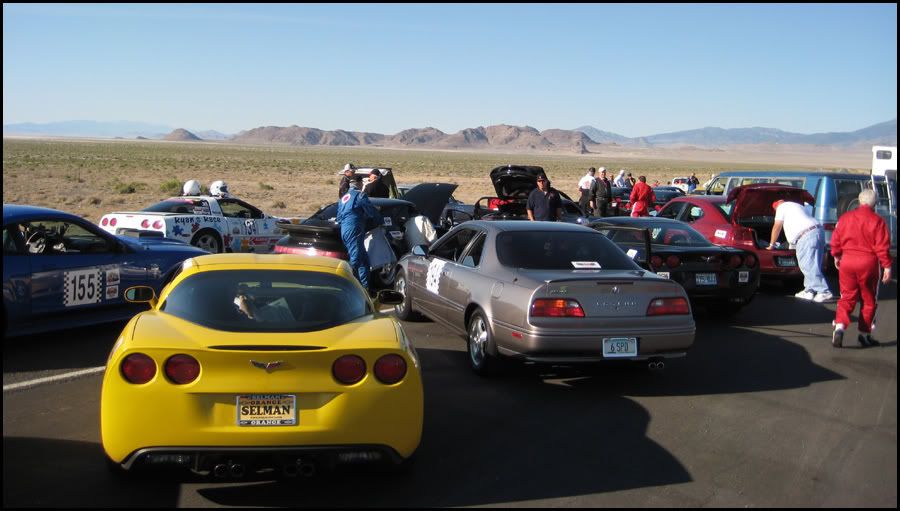 Cars that started first.

So much for weight savings! We checked out of the motel, so we had to race with a full trunk.
RACING!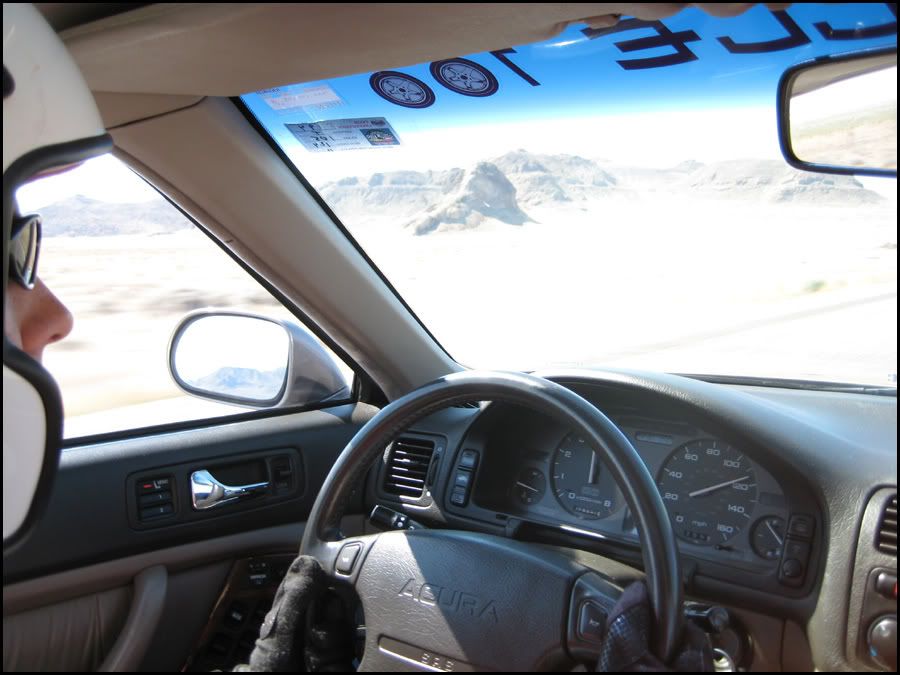 My Garmin GPS. This was taken on the 7-mile straightaway they call the Speed Trap.
Top left number is current speed. Bottom left number is average speed.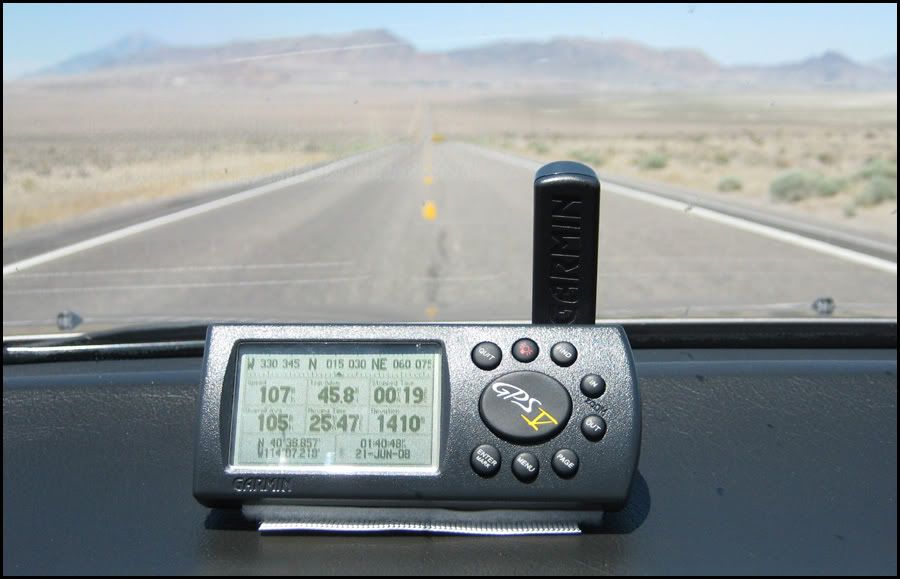 Grid at second leg.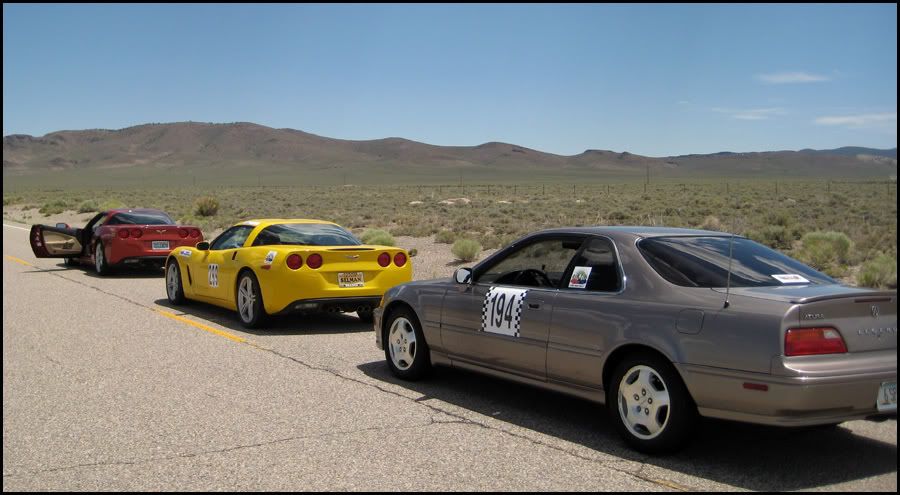 Back in Salt Lake but still rocking the stickers, lol.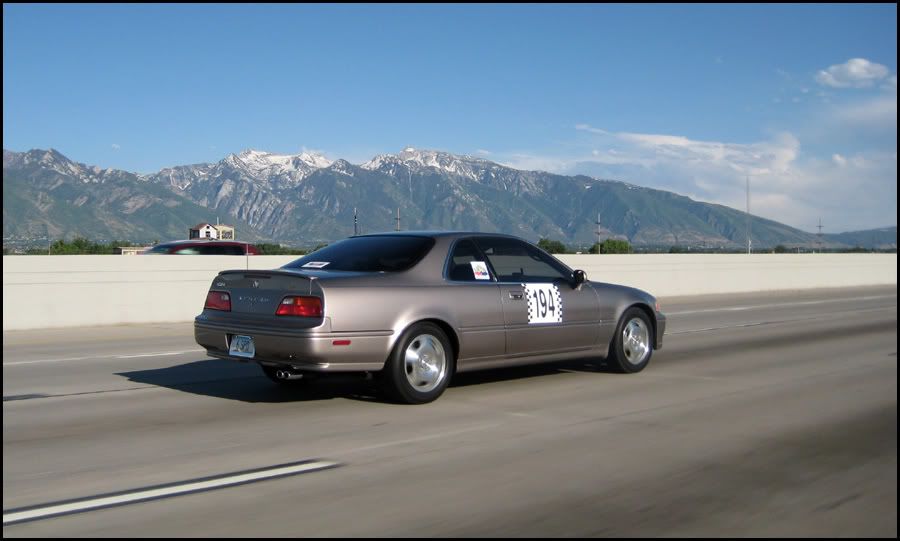 Turned over 330,000 on the way back to Phoenix yesterday