Discussion Starter
·
#1
·
First snowstorm! Well, ready or not, winter is here. I spent Thanksgiving weekend at home in St. George where it was nice and sunny. Today, I came back to northern Utah and it's a miracle I made it alive! The trip took an extra two hours because of the terrible snow. There were some mountain passes where we were slowed to 5-10 mph, just inching along... and cars were still sliding off the road. I saw one fresh rollover -- an 04 Altima. Scary stuff, and definitely a good white-knuckler. At any rate, we made it home safely. How do people drive in this stuff?!
I went out to get groceries tonight and came back after a block... I was barely moving along and still locked up the brakes trying to stop at the bottom of my street. By the time the car stopped, I had slid almost all the way through the intersection (I live on a hill). That freaked me out, so I came back home -- at least until they get the roads plowed. I was peeling out in every gear. The ABS in the 91 doesn't work (light has always been on). Any tips on winter driving for someone who's never had to deal with it? I'm seriously thinking about ditching these IS wheels for some serious snow tires & chains!
I also threw in my rubber all-weather mats. Good thing I didn't put new carpet in yet; guess I'll just wait until after winter.
I barely made it into my driveway tonight with all the ice, and I guarantee my car will be snowed in tomorrow morning when I go to leave. Here's my parking spot behind the house. Lots of snow still coming down. I think the temperature's supposed to be 17 degrees tonight. Welcome to winter!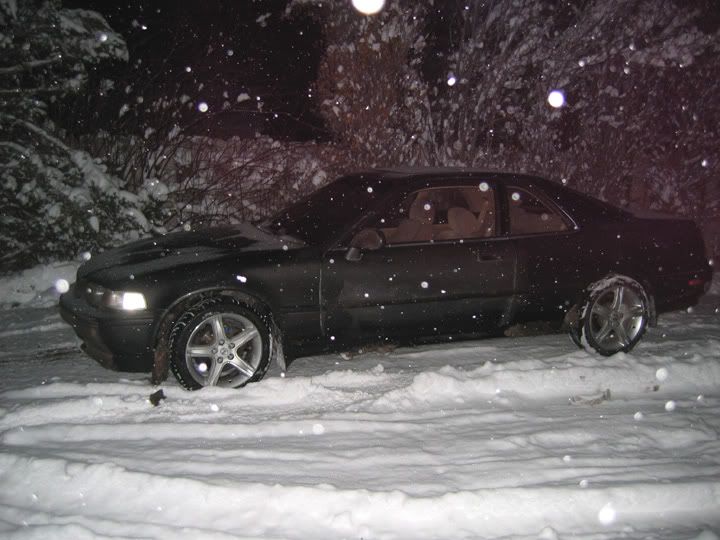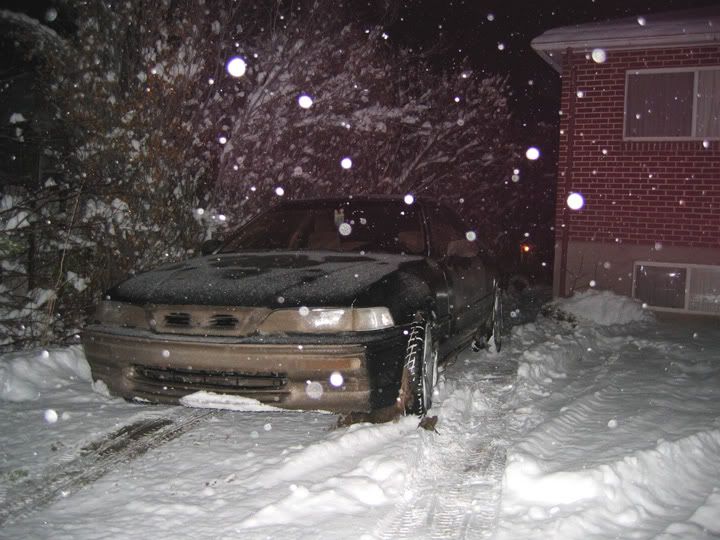 Here's a shot from along the way. That's my friend Heidi. She was cleaning the windshield and the squeegee busted. lol. (my windshield squirters don't work either!).
Anyway, how do ya like those "custom" snow ground effects and tinted headlights?