Finally, Xclusive Legend Coupe! (progress thread)
As most legend here are always under progress this is really my first time posting pics of my coupe since I got it about a year and half ago. I hate showing it without it being complete but decided to bring it to NALM 08 for its first unveiling. If you only like oem you will probaly want to pass this thread up and you wont be able to appreciate the time, effort and money I put into MY car.
Its a 92L model converted to LS. I have already done climate control swap from manual to digital, added LS rear deck with tweeters, tweeters in the doors for my comp set and have power passenger seat which still needs to be wired(reason for pass seat being moved all the way forward). My interior used to be a type F and I have converted to all black with custom red inserts and suede. I have several DIY's that I'll post soon if anyone wants them on:
1. converting to all black interior
2. jdm one piece projector retro
3. led cluster w/lighted needles
4. custom stereo install
5. changing out headliner and sunroof shade
6. jdm navi console from start to finish(with usdm brackets. I fiberglassed my own since i didn't have jdm brackets) with fully functional vents
I would say my car is about 65% done with the majority of things out the way but in the meantime here are some pics of my new intereior upgrade and wheels. If you were at NALM 08' you got to see it up close and personal. If you weren't at NALM 08, here goes and if anyone see L3gkang, tell him I need my headrest, lid and jdm mats :rofl: :rofl: :rofl: :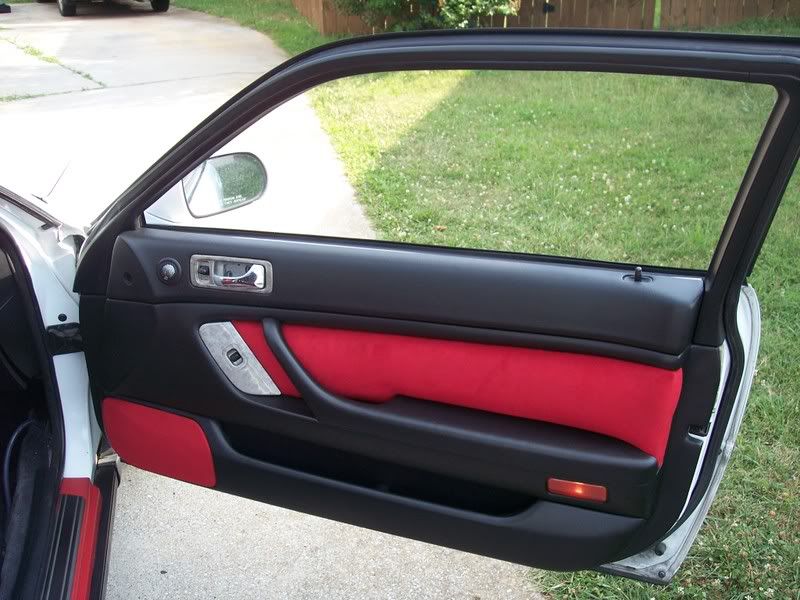 Here are my black door panels with red suede inserts. You can also see the red jdm door sills and silver burlwood window switch plates. I also recovered the speaker grills in Stinger speaker cloth.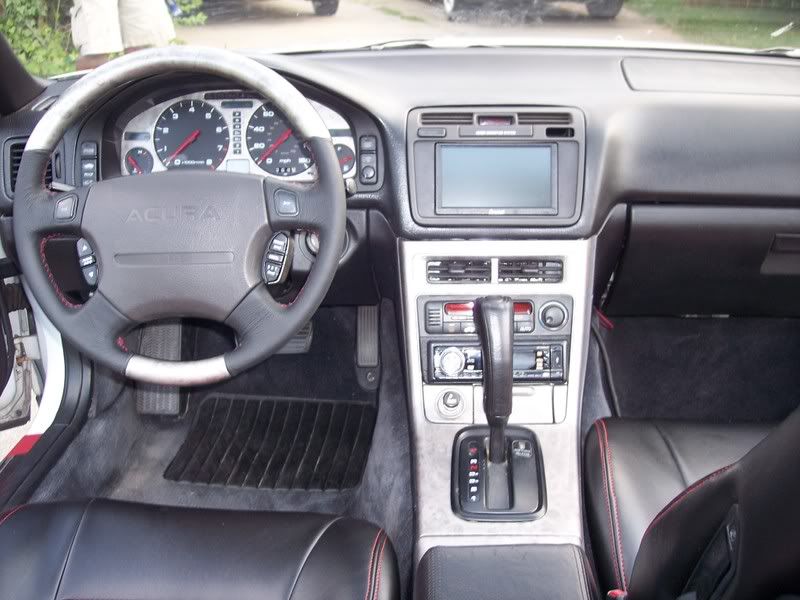 Here you see custom jdm navi. My middle vents are fully functional as well. Instead of keeping woodgrain, I have to be different and xclusive so I had my navi console done in a custom silver burlwood finish(if anyone has a jdm hazzard switch please pm me because I really could use it). Along with all window switches on front door panels and rear window switches and both front and rear domelights. The cluster was switched out for type II cluster with red needles and the bezel was done in silver burlwood. Also had to have a one of a kind silver burlwood steering wheel. It is wrapped in black leather and red stitching as well. Still undecided on Acura or Honda airbag so I just put the acura back in the for meet. Also if you look closely you have to pay attention to detail and even the steering wheel switch covers were done in silver burlwood. Steering wheel was not cheap by anymeans but definitely worth it.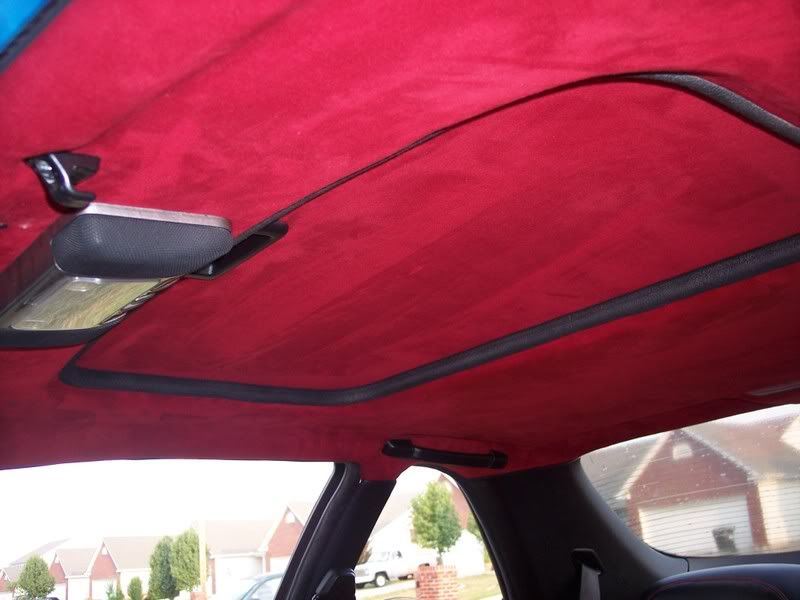 Also did a custom red suede headliner. (This is not your cheap Joann's suede. I've had that before and it fades in the sun so that wasnt an option this time around. If you are going to do it you might as well do it rights so this time around i used Ultrasuede Ambiance ($99yd and if anyone wants some I can get you a great price on some). The sunroof shade was a bitch to get out and exchange. for the suede one.
Oh cant forget the seats. They are done in black with red inserts and the Alpha Touring theme with red stitching. I had two sets of headrest done. one set is for daily driving which are black, embroidered and have red stitching and my other set of headrest for shows are red suede in the middle which is embroidered, black on the sides and have red stitching as well. I will post updated pics of front seats once I get them back.The front and rear speaker grills are also done in red stinger speaker grill cloth as well along with the tweeter pods on the rear deck.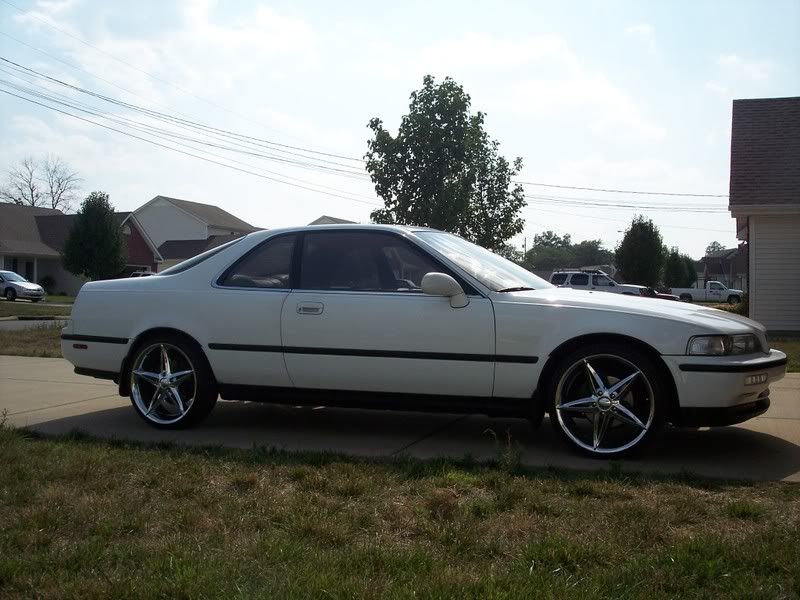 My wheels are 19x7.5 foose lusso wheels wrapped in nitto 215/35 19's tires. For anyone else I would suggest doing 18's or going 20's and give you forewarning because 19in tire prices are crazy. Oh, I've already been told its needs a drop several times(c-dog, sugabear)! It aint happening! I have never dropped a car and dont plan on doing it either.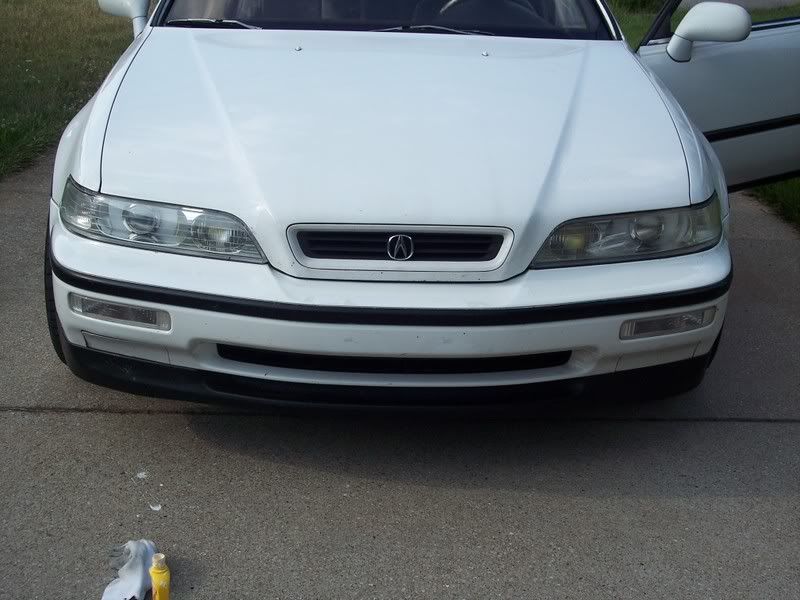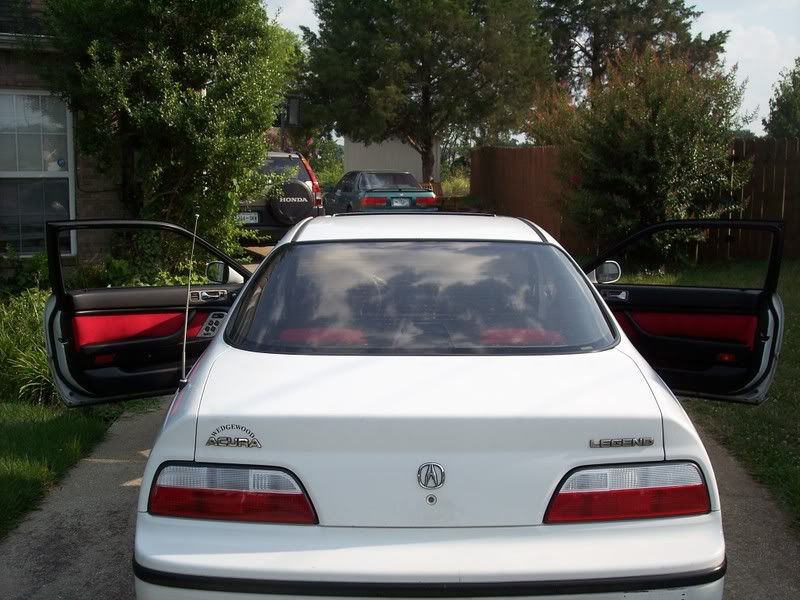 And last but not least, tsx retro one pc jdm headlights(sunlight angle makes driver side look darker than the other) and custom clear/red tails. Also are pics of my stereo system. It is still wrapped in blue suede which I was going to orignallly do before chaning my mind on colors. If anyone with a coupe is interested in a stereo, all of the panels and theh speaker box are for sale. NONE of the equipment is for sale as I am in the process of rebuilding it so I can have a spare tire (this system is not kid friendly by any means). The box is for two 10in subs fiberglassed in spare tire well.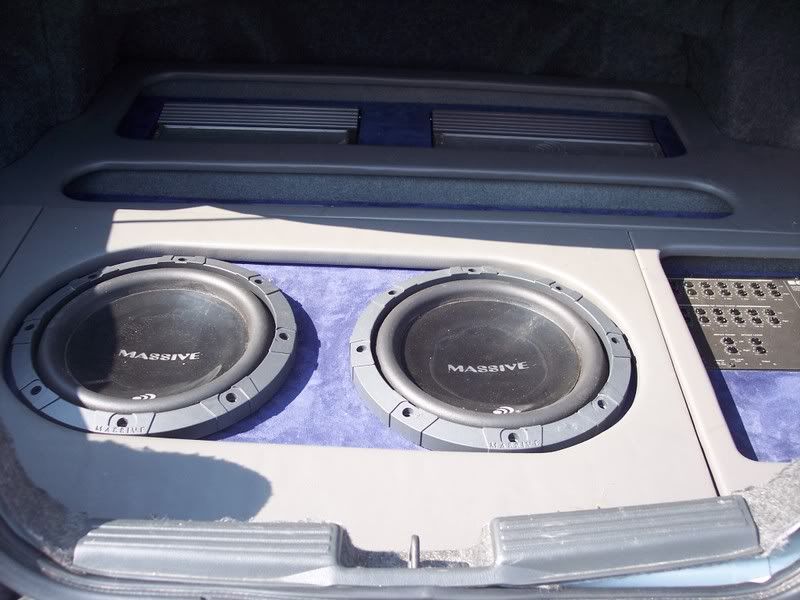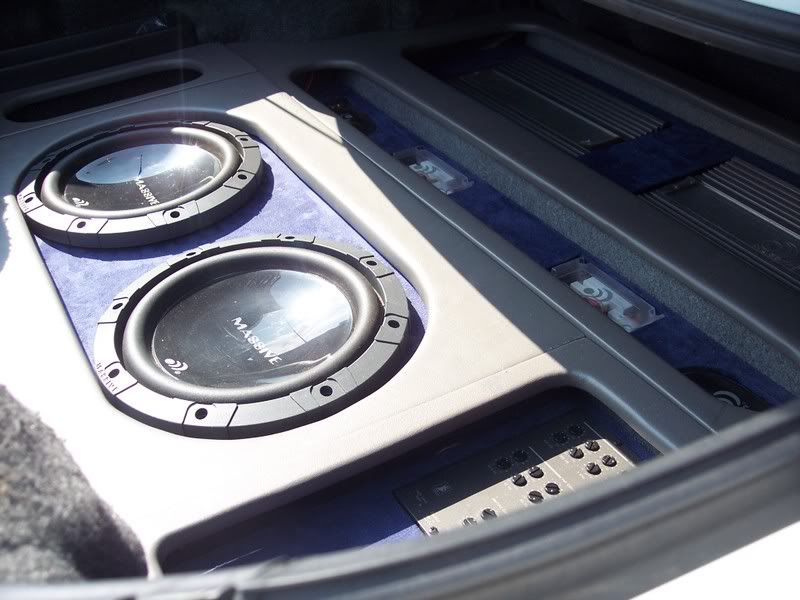 Well that about does it for my car so far. Its still a work in progress and I will add to this thread as it nears completion!