·
Insert key, crank, BHG.
Discussion Starter
·
#1
·
Hokay. So you're the proud new owner of a JDM navigation console. I know, the prospect of a screen fitting flush with an OEM look has got you chomping at the bit to install it. Here is what I'm going to help you install in this DIY:
-JDM armrest/lid
-JDM radio brackets
-JDM screen trim
-JDM clock
-vents
-burlwood
Heres what I won't be covering:
-how to custom fit a screen into the JDM screen bezel
-how to fit a radio to the JDM climate control
-how to attach the ducts for the lower vents
-how to install a working e-brake
The reason I won't be detailing any of those is because they all require custom work that I have not done. I got lucky and shaar, the owner before me fit the screen and radio. The JDM ducts were designed to go straight back into the main ducting which there is no hole for the USDM models. You could drill it yourself or pursue the after market two piece JDM ducts that run up to the spot where our ducts can be easily accessed. I won't be walking through these steps, but you're welcome to PM me and ask for pictures.
Now heres a quick list of tools you'll need:
-small flathead screw driver
-large phillips head screw driver
-needle nosed pliers
-socket wrench (i believe only 10mm)
-power test meter
-16 gauge wire
-crimping/stripping tool
-crimps (I recommend crimps you can plug and unplug at will. Look at my pictures and you'll understand what I'm talking about.)
Before you even gather your tools for this, I recommend you read through this DIY so you know whats ahead and you can plan accordingly. Also remember, my initial install took 20 hours over the course of 3 days. It shouldn't take you anywhere near that long thanks to this DIY, but it will take a good afternoon of work to complete.
So with tools in hand, lets get started (Note: before we actually get started, its a great idea to wax your burlwood! Just wet a microfiber towel with water and towel off the burlwood to clean it and wax the wood as you would your car. The wood will have a sheen to it, you'll have an unusually smooth console and you'll be able to carry that 'just waxed' smell with you... everyone wins!). These first few pictures are courtesy of stella91legend's ashtray ipod DIY. Thanks for not minding while I borrow them. The first thing we're going to do is pull your USDM burlwood off. So get your fingers under the shifter bezel and just pry it up.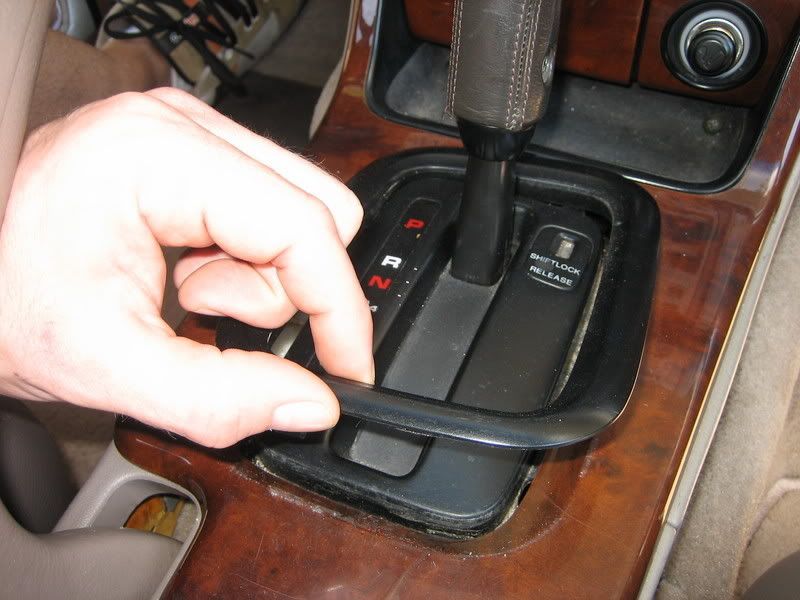 Now remove the two screws in the coin tray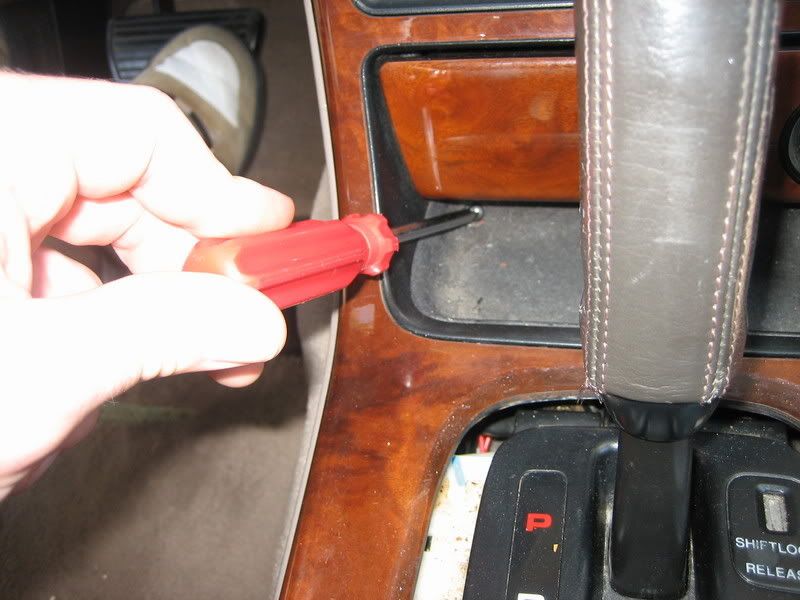 Now would be a good time to set your ebrake but you won't have one much longer so instead wedge something under a tire that will prevent you from rolling anywhere. An old pair of marching band shoes is my wedge of choice.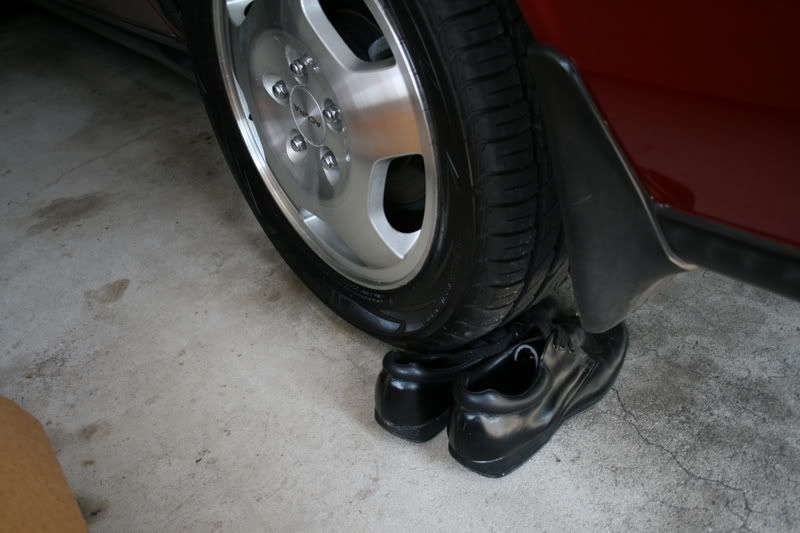 Now put your key in the 'shiftlock release' next to your shifter and with your foot on the brake, pull the shifter back to gear 1. Slowly take your foot off the brake being careful and taking note that you're not rolling away.
Now gently pry the burlwood up with a flat head screw driver. There are five clips on the bottom you will need to pop before it pulls up. Once you get the burlwood off, disconnect the cigarette lighter harness and toss out your old burlwood.
Now we've got to get your armrest off. Remove all the crap in your console and then remove these two screws: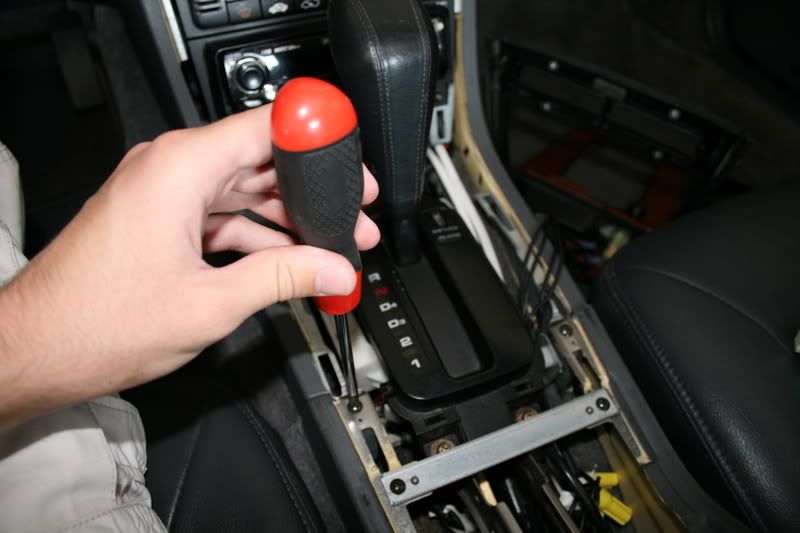 Then remove the single screw under the lid in your console towards the front.
Now move both of your front seats all the way forward. Get into your backseat and pry this panel off with a flathead screw driver. There are two clips holding the top of the panel in so pry accordingly.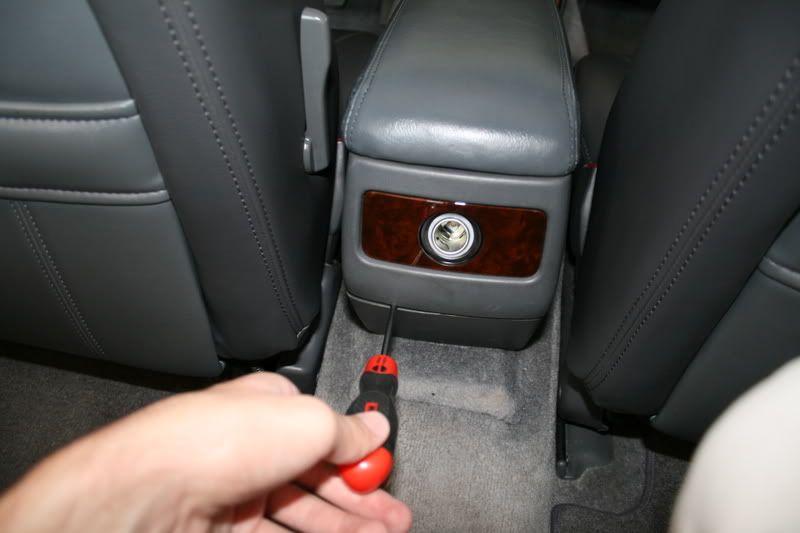 Now there are two more screws that need to come off and the whole armrest is free. Remove the bottom screws on either side of the armrest as pictured: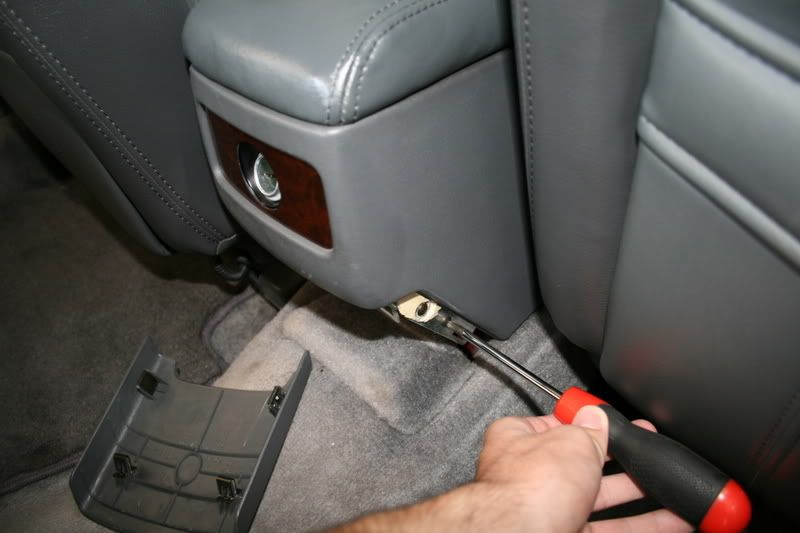 Now unplug your seat heater controls up front and the armrest is free. (Note: Your old USDM seat heater controls can actually be popped out and fit into your JDM burlwood if the controls weren't included in your JDM/EDM console.) Apply the ebrake and you can carefully lift it out of place over the ebrake and out of the car. The SRS module is under here so be especially careful. Nothing has ever happened to me, but I imagine you don't want to fool around with the module that controls your airbag's deployment. Its also worth noting that the wires encased in yellow tubing are the SRS wires and also shouldn't be messed with or tapped for power.
Now we've got to get that ebrake off. The handle is attached at two points directly to the chassis. If my memory serves me right, they were 10mm bolts. Upon removing the hand brake, you'll find a sensor than had been grounded to the chassis as well. You'll need to tape this off so it doesn't ground itself because if it does, it will illuminate your 'brake' light for no reason.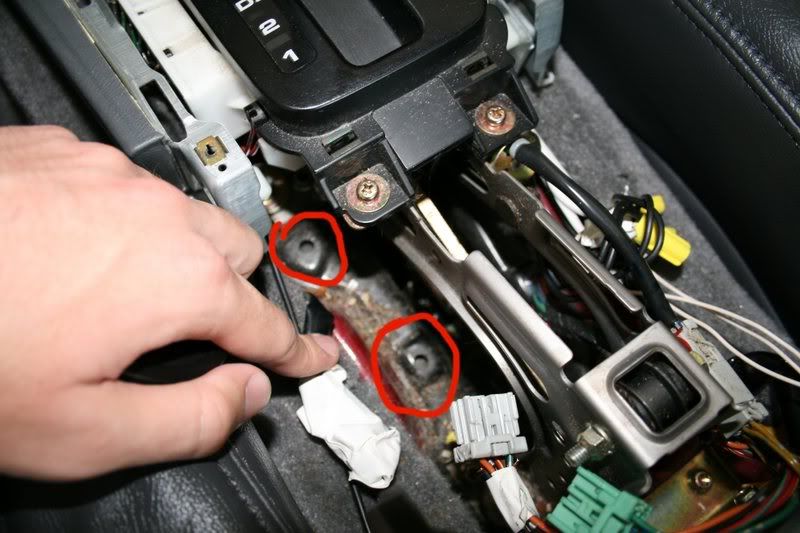 Now the back of your hand brake must be removed as well before it will lift out. If you look where the rod from hand brake connects with the bracket right before it slips under your back rug, you'll notice theres a nut threaded on the rod: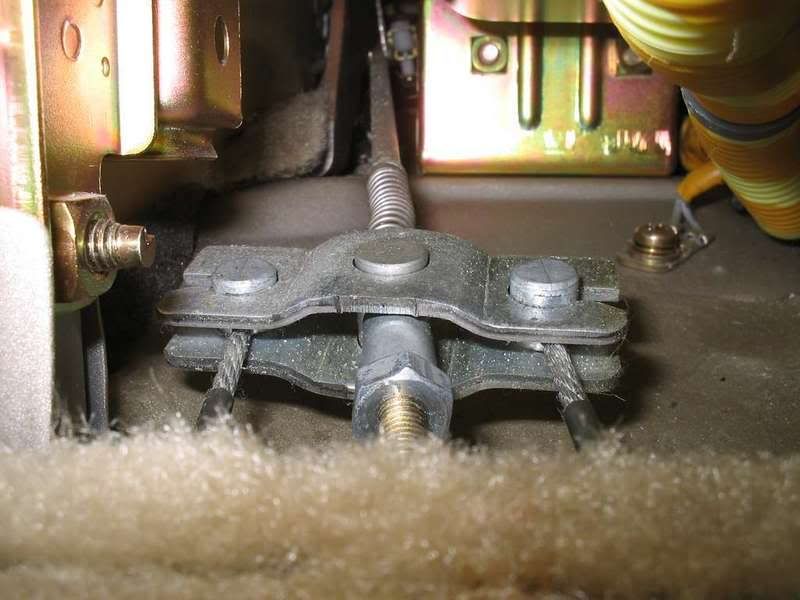 Ordinarily this nut is there to adjust the tension to your drum brakes. We'll be taking it all the way off. All you have to do is get a wrench and unscrew it. The nut and spring will pop off and you can now lift the hand brake out of the way. Its a good idea to hang onto the handbrake for passing inspection. Once you get the hand brake out and the sensor taped off, we can move on.
Now take out your radio and remove the USDM climate control. If you have the factory radio, I believe its just two screws beneath the unit and it will pull out. The climate control has two screws that are on a 45 degree angle beneath it accessible from the radio cavity. Once these two screws are out, the climate control pulls right out. Gentle prying with your small flathead screw driver may be necessary to get it started.
Now you have a choice. You can either replace your forward console framing or you can skip this step and squeeze the JDM radio brackets into place. The reason I give this step is because many people get JDM consoles in colors that don't match their interior so they install in a kind of mismatch. If you don't wish to change this forward framing because your new console does match your interior or you simply don't mind the mismatch between the forward framing and the back armrest then skip this step.
USDM and JDM forward framing is identical. It is NOT necessary that you swap them.
That said, those of you keeping your forward console framing will still have to choose one side to remove so theres room to remove the old radio brackets and put the new ones in. I think the passenger side is slightly easier but if you have experience removing the driver side for any reason, go with what you know. It won't be noted in the text below for you but once you remove the three main screws holding the console framing, you only need to pull the panel back to get the old brackets out and the new brackets in. You do not need to remove it completely.
Driver side console framing:
Now. To swap console framing, you'll need to remove the under steering wheel panel and glove box. Lets start on the driver side. There are two screws you need to remove towards that back, note the pictures: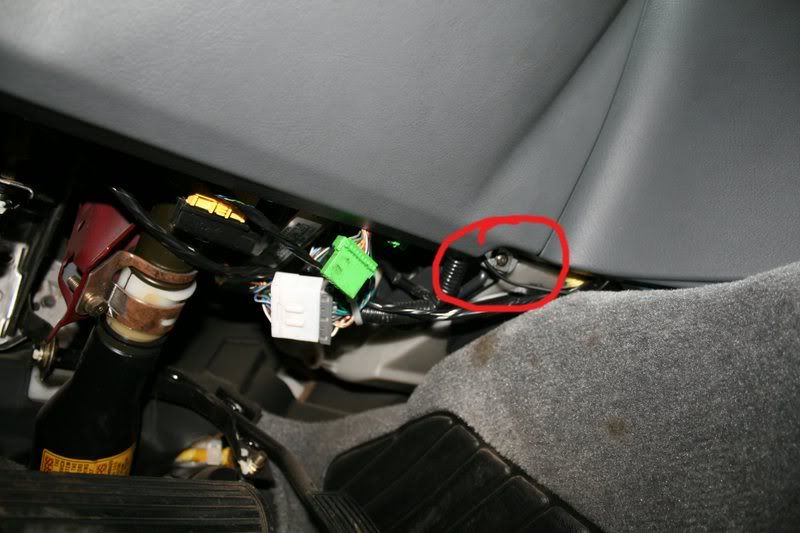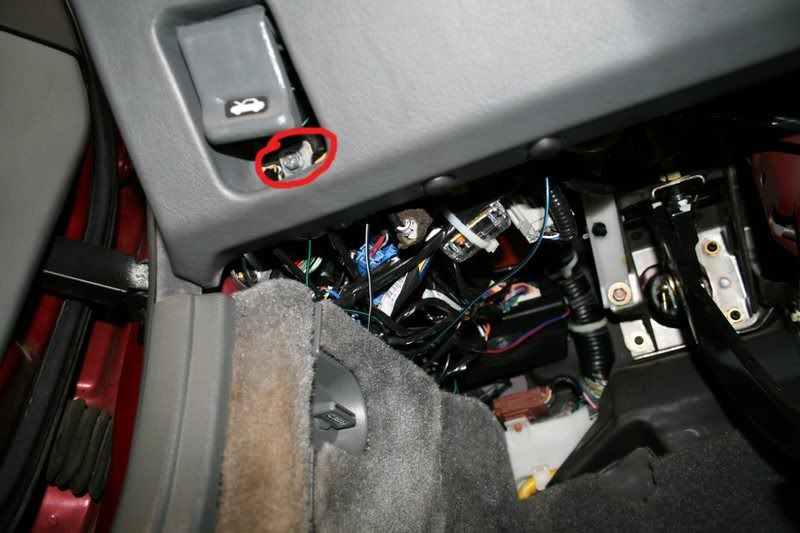 Now you need to remove one screw behind the dimmer module. To get at it, you'll need to gently pry this module out from the bottom with a small flat head screw driver.
Now remove the screw: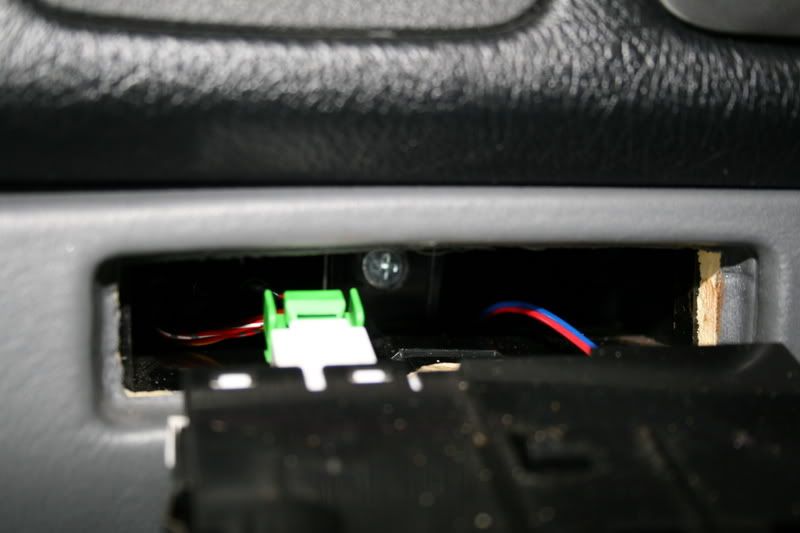 And now the panel is free. There is however a clip next to the ignition column holding it back. You'll need to grab the right side of the panel around the clip and give it a good yank to free the panel. Now we can remove the driver side forward console framing. There are three screws at the front(in green) and the clipping point for your under driver panel(in red):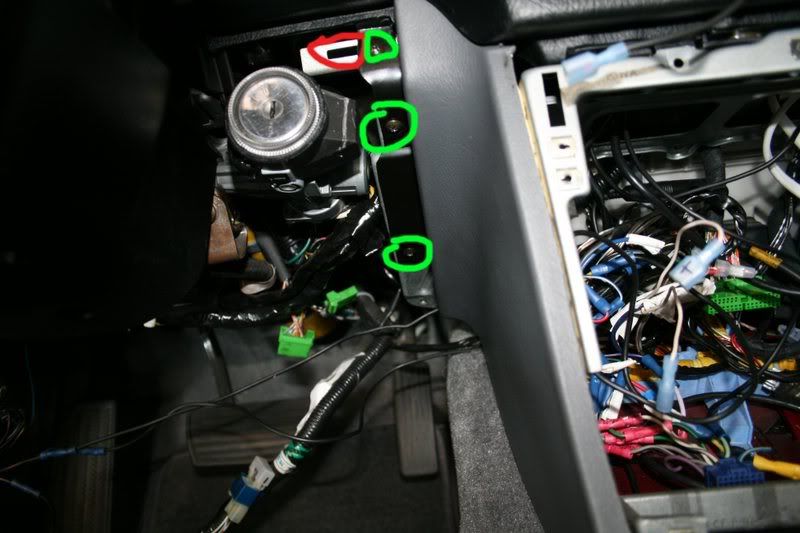 And one screw at the back: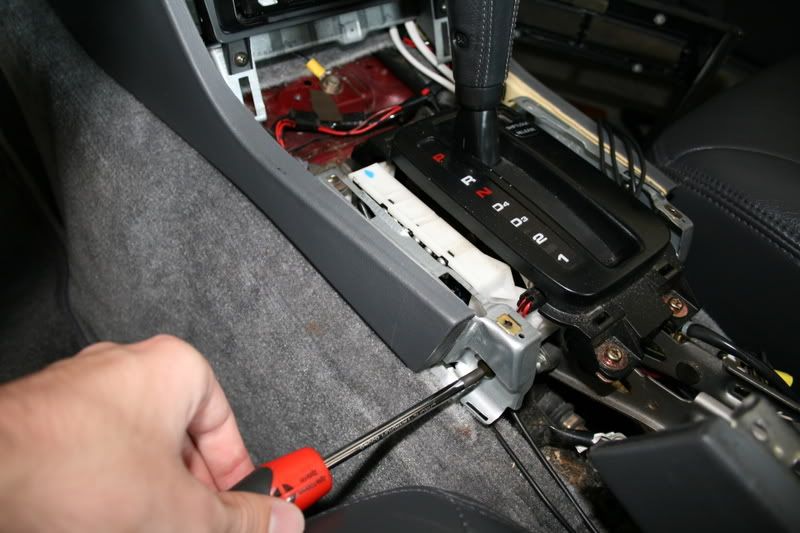 The framing is now free from the chassis but it is still secured by the USDM radio brackets. On either side of the brackets, there are five screws to remove. Three on the main assembly and two on the lower assembly. The upper assembly: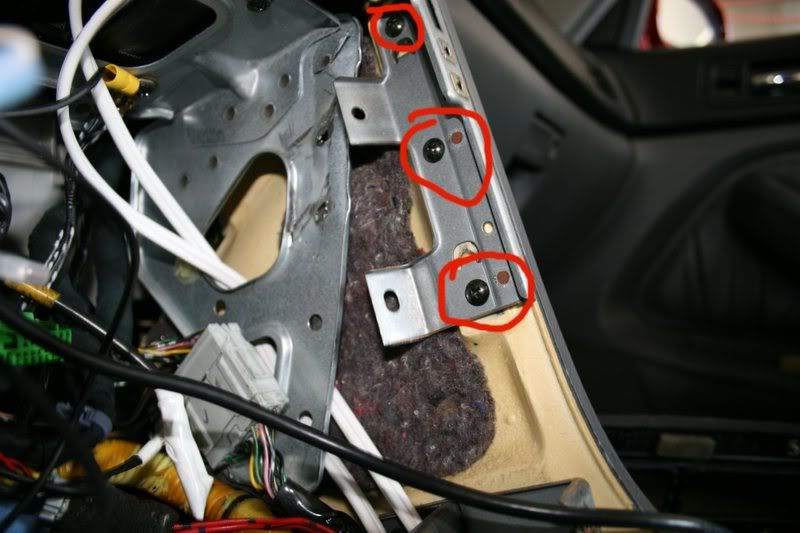 The lower assembly: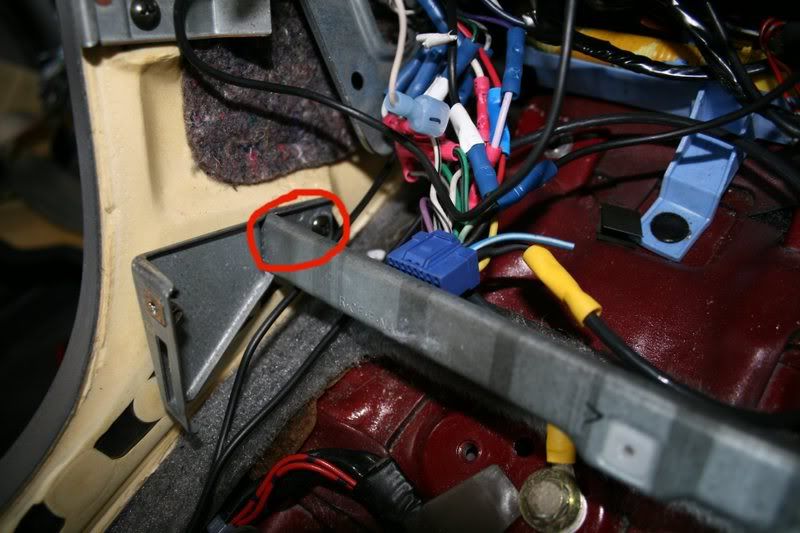 Now you can remove the forward framing. We should now just get the USDM radio harness out of the way. Remove the five screws on the passenger side and pull the USDM brackets out. Put your new JDM brackets in place and screw them into your new driver side console framing only. Now replace the under steering wheel panel using the reverse directions of those above.
Passenger side console framing:
Now we need to get at the passenger side framing. Remove everything from your glove box then remove these three screws: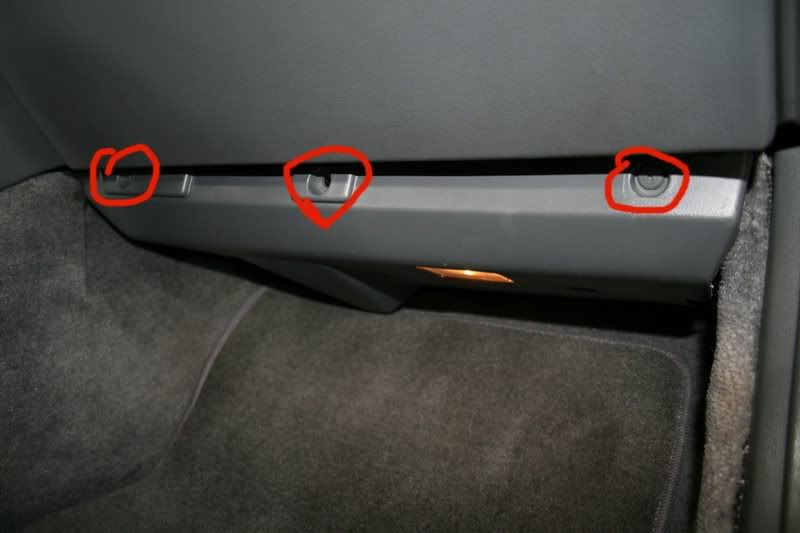 Note their foolish design: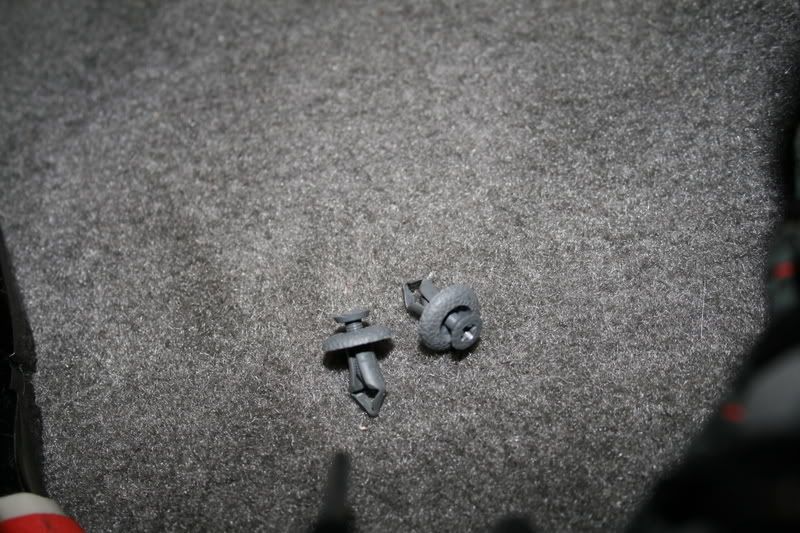 You need to loosen them carefully because too much pressure will just push the plastic screw back into place. Once the screw is most of the way out, you can pull the whole thing out with needle nosed pliers. The panel just falls out of place and you can let it rest there. Go into the glove box and peal down this covering by prying next to the clips with your flathead screw driver: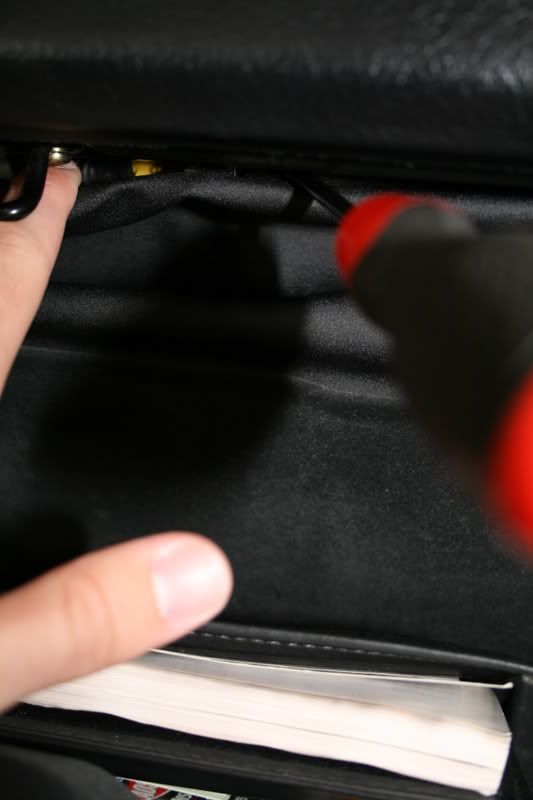 Now remove this clip by pushing down on the release at the top: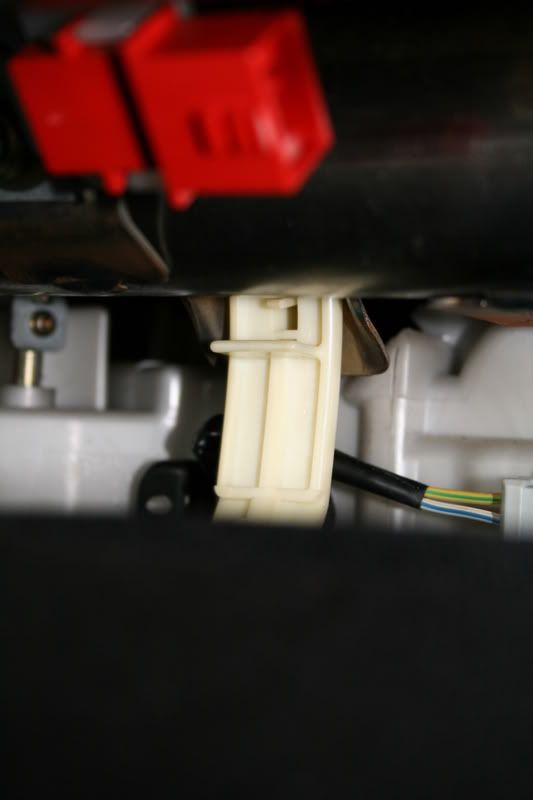 Now close the glove box back up and remove these four screws:
When these four screws are out, the glove box will fall out once you pull the handle as if to open. You can just leave it right there. Now remove these two screws: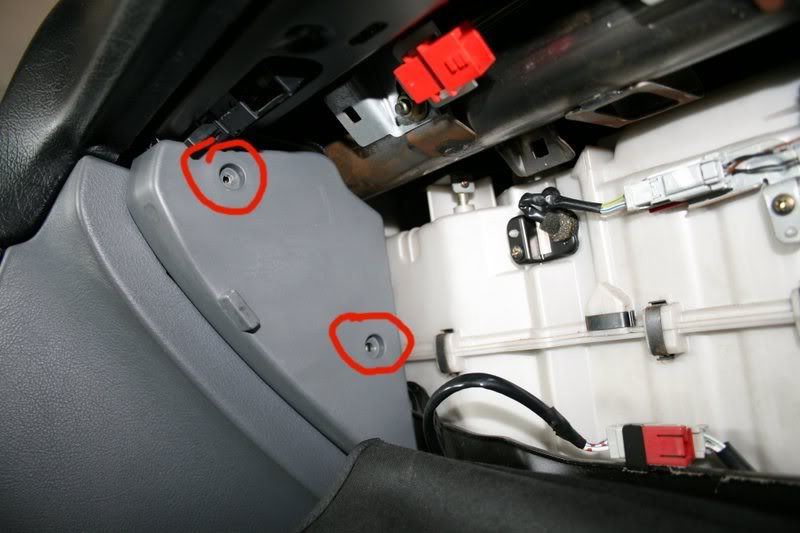 Note: this small panel is held in my an incredibly strong clip. I could not get the clip out. Luckily, we only need to pull it to the side to get at the three screws on this side of the car: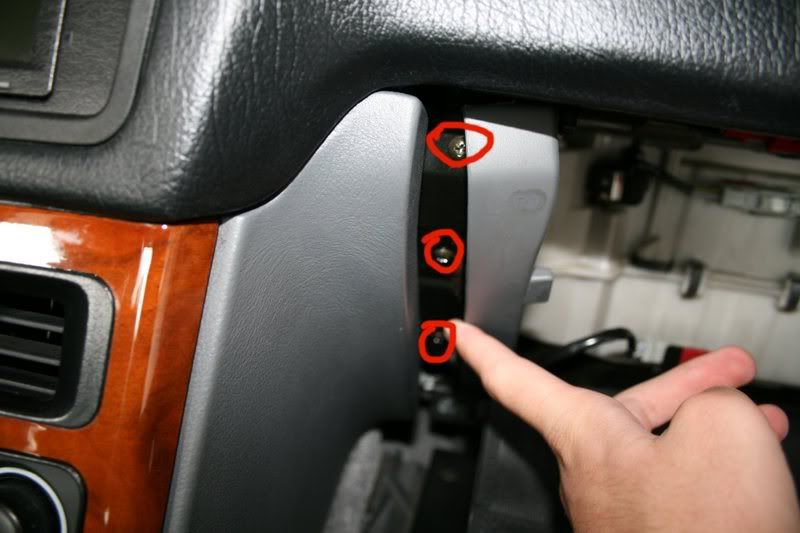 Remove those three screws and the screw on the other end of the console framing and pull this piece of framing out. Replace the panel with your new panel and screw it into the car as well as the JDM brackets. Now replace the glove box in reverse order of the steps above.
Now we're going to get the new JDM armrest in the car. Rest it as the old armrest was sitting while the screws were out. Before we screw it in, we should hook up the new cigarette lighter. This is a simple matter of running wires. The best place to get power is the harness for your front cigarette lighter. Bare with me here because my cigarette lighter harness was butchered the guy that installed my first stereo so I don't know how its powered. I do know that it will have an ignition power, a head lamp power(becomes 12v power when the headlights are on) and a ground (and maybe a battery power too, not sure). Use your power testing meter to determine which is which and be careful; the headlight power will appear to be a ground while the headlights are off. Once you figure out whats what, connect the three needed wires in the best way you see fit. You may be able to lift the tab and fit the old wires and these new wires in the old harness or you may have to snip the harness and do a bit of crimping. If you need ideas, this is what my front lighter looks like: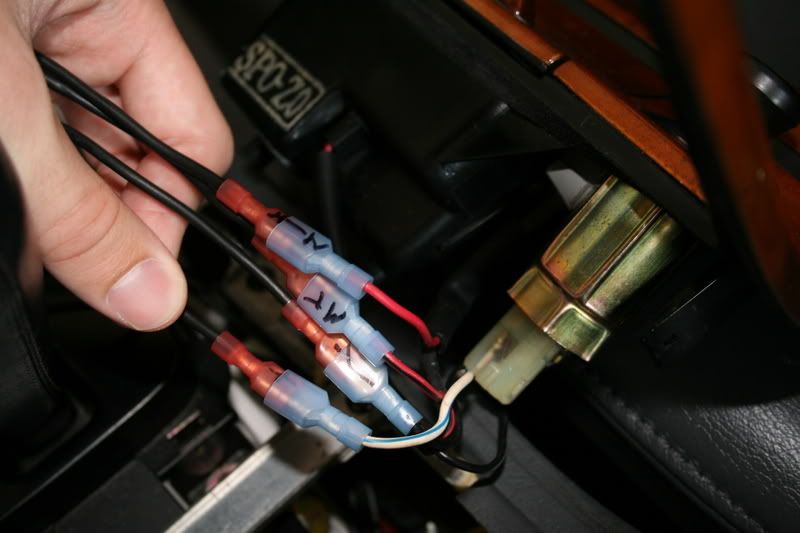 Now tilt your armrest back so you can get at the rear lighter harness and run your wires to the back cigarette lighter. When you cut the wires, make sure you have enough room to reach the lighter and a good bit of slack for crimping. This harness I CAN tell you what everything does. The white/blue is the ignition power, the red is headlight power and the black is ground: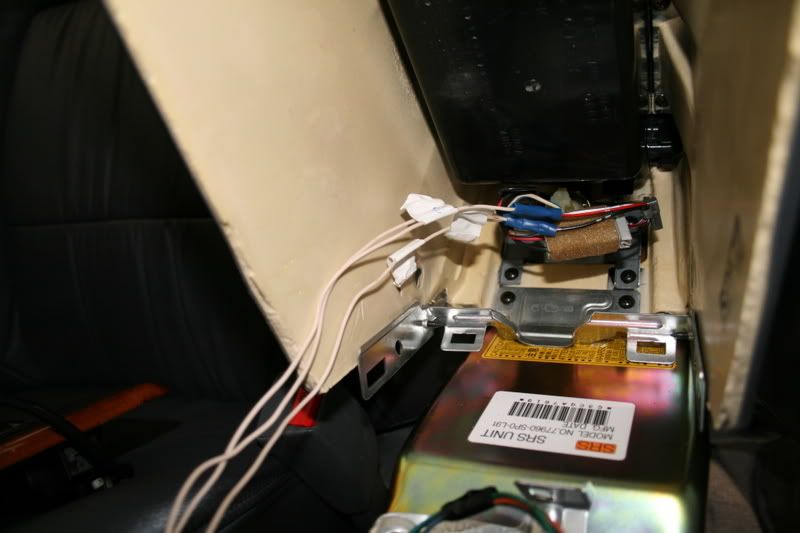 Now gently place the armrest in position and screw in the two forward screws. The armrest may get caught on something in the back that you'll have to lift it over. Just be gentle and don't simply muscle it into position. Once again move your seats all the way forward and replace the two back screws. There are two things to note when replacing these back screws: 1) the white plastic piece you are screwing into is
plastic
and theres no need to over screw and 2) the metal bracket the white thing is on is movable. If you pull at the bottom, it will move in a spring loaded type fashion. Once these two screws are in you can replace the back panel (These back panels are interchangeable with the USDM panels in case you're wondering).
Now we're going to put in your slim climate control and radio. This was very difficult for me for two reasons. My radio cavity was a mess and wires from all over were in my way and the transmission grounding point was in my radios way. It may have been because my radio specifically was longer than intended but I'm not sure. In any event, I ended up moving that transmission ground to the grounds just in front of the shifter and hammering down the two raised grounds: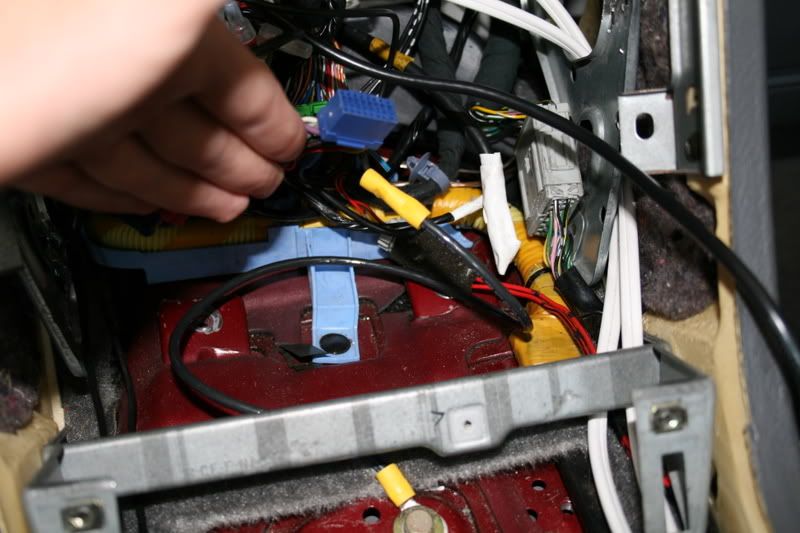 You'll have to decide whats best for you. I'm not going to show you how to crimp your radio harness together because I didn't do a great job and you should learn from somebody else. You should hook up your radio now though. Then wire up the climate control fan. USDM legends don't have a place for this but its a simple ignition power and ground.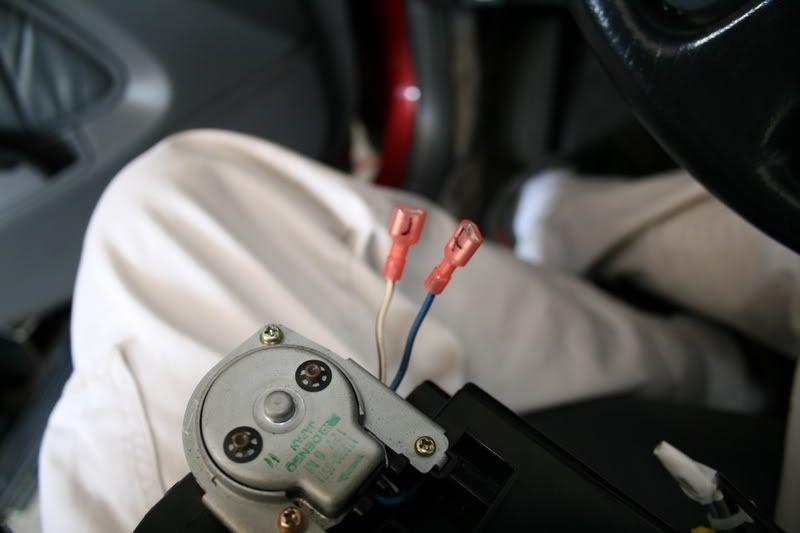 As you can see the blue is positive and the other is negative. If you get it backwards, the fan just won't spin. Not the end of the world. You can either splice the power in with the radio or with the cigarette lighters. Choose whats more convenient for you.
What you're going to have to do before we fit the radio in is pull down the climate control harness from the top cavity. Its the biggest of the three up there. Unfortunately, they're all connected a few inches back and we need both the clock harness and the hazard harness where they are. Pull the climate control harness down through the back and connect it as you push your radio in. You will probably have to plug the harness in where you can't see it well. This is ok. See with your hands to get the harness in and out.
Once everything is hooked up, push the radio back and screw in first the top two screws then the bottom. Note: the bottom is actually adjustable. You can move it up and down as necessary. Once this is all taken care of, screw in your vents. If you figure out a ducting solution, do take some pictures and let me know how it went. Remember guys, all these tabs are plastic and replacing these parts is very hard. Once the screw stops turning, theres no need at all to screw it tight. I promise nothing is going anywhere.
Now all thats left to do is hook up the clock and hazards. Here is a diagram for how the clock is wired:

The only pins we need to worry about are 2, 3 and 5. Pin 2 is ignition power, pin 3 is ground and pin 5 is all the time power. All of those can be found in your old clock harness. Use your power meter to be certain exactly which pin is which in your old clock harness remembering that one is a headlight power.
Now for the hazards. This is actually one of those things I didn't do myself so I'll have to leave you to your own ends to figure it out. Shaar took a USDM hazard button and put its guts into the JDM hazard button. This makes it so our hazard harnesses will plug right in. You however have a hazard harness that will not fit. You can either try to do as shaar did for my hazard button or you can try to crimp the wires from the USDM harness into the JDM hazard button. There are five wires on both, they may even be color coded identically. To start you off, I can tell you that the middle pin on the USDM harness is an all the time power. Beyond that you'll need to get creative.
Before everything is working we have to do just one last thing. Block off the remaining section of your upper ducts. You won't be able to direct your center vents at you, but air flow will still be good through out the car and at the very least, ice cold air won't be dumping into your radio cavity. Check it out: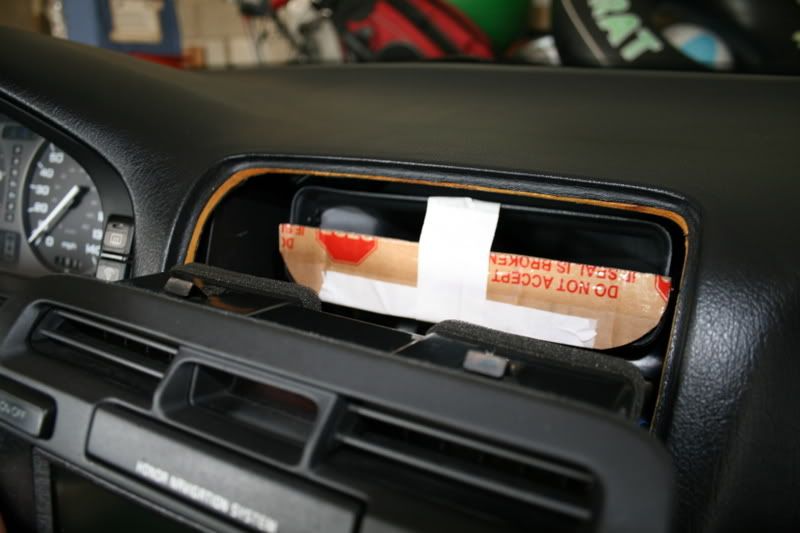 Place your forward bulwood down first. Put your USDM shifter bezel back in place. Hook up your seat heater controls then put the back burlwood down. It will snap into place and thats it.
YOU'RE DONE!!

It took me eight months to get my console in the shape its in and I'm still working on completing a few things. Hopefully with the help of this DIY, I've drastically cut that figure down for you. As I write this DIY, I am the only person to my knowledge in North America that has a completely swapped JDM navi console in my legend. If you've completed this, that makes only two of us. Feels good to be so unique, doesn't it? Enjoy the end product: