yeah those d2s philips bulbs are expensive...
I have e39 Hella projectors im currently retrofitting into JDMs, (nice cutoff line with 2 washers). I went with non bi-xenons for a reason because I wanted to retrofit either e36 high beam reflectors into the fog light area or use e36 projectors and take off the shield and use those as high beams. (of course e36 is halogens) but I was getting them for free... but I stopped because now I'm getting Audi A6 Hella bixenon projectors instead. Same projector I believe its just one is bi-xenon and the other is not. Once I saw bi-xenon high beams I was hooked. And I don't know if I'm keeping this car.
It has a 3" diameter including the metal housing that holds the lens. I'm using E46 shrouds and I only had to cut a little bit off the bottom for it to be flush with the chrome trim inside the JDMs. BTW the chrome trim in the JDMs has a 4" opening vertically.
Personally If I could... I would go with a bixenon projector that is sealed... meaning that you wont have to custom your own shroud to stop light from leaking to the heavens. It wasn't that hard to make a shroud for this projector but its easier on others because the e39 projectors is a bit weird shaped. I even took the step to try and fiberglass shrouds but they just ended up smelling like something burned. and I got sick... never fiberglass indoors without a respirator.
well heres a picture of a d2s projector base you requested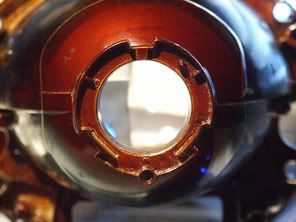 btw I do have a huge pic if you need it.