Wow.. Early sunday morning like 3:30am i decided to take a two and a half hour(2/1/2) trip to philly to see one of my low bites (chicks):yes: . I walked up to the car and tried to plug in my navi, only to find out there is no power in my cigaret lighter. i decided to check to fuse which was the problem, but the fuse was sticking out, which seemed weird to me. anyways i replaced it with another. Anyways i got there like minutes to 6. I spent the whole day sunday with this chick and decided to leave monday morning, but for some reason this chicks mom dont like me.:wtf: . My other chick in NY didn't make it any better cause she was trying to find me and called the chick in philly asking if she saw me. Anyways after a little fight and her mom not wanting me to sleep the night i decided to leave
. Heading back up i noticed i had a little under half tank of gas but i'm not buying any untill i get to jersey. I took a wrong turn which only made matters worst. i had to try and keep the rpm under 2 while in the lower 5 gears to save gas. Anyways heading up to New York, every corner i took i could feel the car stutter, Damn!:hide: . With 20 more miles this is the Gas Gauge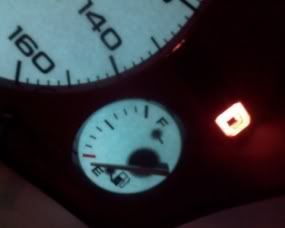 Damn. I finally got to the gas station but only to find out that only 2 Pumps are working
Seeing this the only thing i could think of is, am i in a parking lot or what? What if i have to push the coupe in front of all the people.
. This slow ass fat dude isn't making it any better either. looking at the pump i'm wondering is the price jacked up because of the demand?
, but no that wasn't the right price. This was
.
i alway thougth legends had a 12gallon tank.
With a full tank
and heading on the highway, could you believe a truck driver tried to block me from going infront of him? lol.. After down shifting into third and hearing the Greddy Exhaust Roar, there was only so much he could do
Ok. So i'm now at the George Washington Bridge and 2 of the lanes say all others while all the others say EZ pass. So i go into the all others lane, but no one is at the window and the screen says low account call ez pass. I sat there for like a good minute and still nothing, so i did the only thing that was there to do. I drove off without paying:bigok: . Being nervous ass hell for some reason my radar detector would not stop going off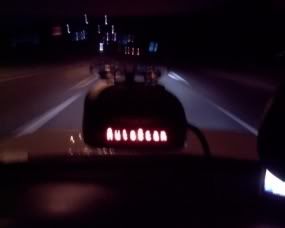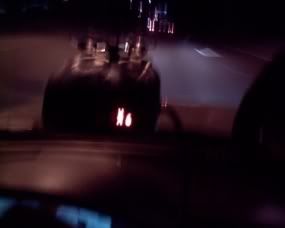 ..
wow so now i'm nervous ass hell and wondering if the boys are following me:hide: So i finally got home and saying yes the drama is over. Wow No Dinner:flame: