I just met the guy behind every piece of G2 Legend advertising ever printed! It was quite a thrill. Most of you know that I have a fairly extensive collection of Legend literature: brochures, paint chips, magazine reviews, etc. I periodically check Ebay for new listings. About a week ago, I found a 1992 Dealer Kit that included not only brochures for the Legend but for every other model - as well as some other dealer-specific goodies like demographics profiles, competitor information, even the different billboards that dealerships could order! The auction ended at only $20 but the item was local so I decided to pick it up. The seller's wife called me and I got directions to her house. Somewhere during the conversation, she said, "My husband was the one who designed those brochures." My interest perked up immediately.
So this guy lives in the most affluent area of Phoenix - North Scottsdale. I knew I had to be High Society so I took the GS to pick up the item
. For the next hour or so after I arrived, I did nothing but pick this guy's brain about working with Acura on its advertising. I can think of no more fascinating career! I was soaking it all in. This guy worked with the ad company that Acura contracted with from 1990 to 1996. Needless to say, he had his hands on Legend stuff EVERY single day of his career during those years. About 9 years ago, he started his own company and moved to the Phoenix area from Southern California and has been (obviously) very successful ever since - but he no longer has the Acura account.
So a million questions were running through my mind about how all the advertising comes together… and I started asking questions. Turns out that Acura was this guy's favorite client. Here are some very interesting things I learned.
* They actually use photo scouts. After a print layout has been designed, there are people who will go on location to seek out places to get pictures of the cars. They will take lots of pictures and bring the back for everyone to go over. Those scouts are also paying attention to the lighting (sunrise versus sunset shot) and other variables.
* I asked about road closures. He said, "Anything is possible with money." They would shut down entire intersections (pay the police for their services) and have a photoshoot right there for a few minutes, then when traffic would build up, they'd let the cars go again, but close off the road again shortly after.
* Many places that were seemingly off-limits to take pictures would consent if you offered them enough money. I started flipping through the Legend brochure in front of me. He named off the location where EVERY single picture was taken… "Oh, that was in Vancouver Canada" (actually most of the 1992 brochure was shot in British Columbia). I got to a page with a white sedan and he said, "That was just a residential neighborhood where we stopped in the middle of the street." I told him I've done that before - stopped in the middle of a street for the right picture. You guys can vouch for that!
* I asked about in-motion shots, like one in the brochure which shows a red sedan on a country road. He said they actually had a photographer who would ride in the trunk of a rented Lincoln (with the trunk tied open) with his camera and take pictures from there!! Haha. He also said that all the drivers of the car were both models and professional drivers. They do that for a living!
* He told me about one time where he had to do a photo shoot for a spread with 6 different colors of Legends, but they only had four cars (prototypes). If you can believe it, they actually had a special type of paint that they would put OVER the existing paint on the cars, and it could be peeled off to reveal the color underneath when they needed the new color. I had never heard of such a thing!
* The work was very cyclical with the new model year coming out, but every day was something different. He would go on location to various photoshoots - they would fly him out there to watch everything taking place. He would also coordinate with the copy writers (the people who actually decide what to say in the brochures) and other people involved.
* I asked how they always get those beautiful interior shots. They actually contracted with a company that did nothing but PREPARE cars for photo shoots. If that meant cutting off the roof of a car for interior pictures, they would do it!! So the pictures you see really look beautiful because they're not humanly possible to take without destroying the car!
He said he still has a lot of boxes of literature to go through and clean out but I will get the first phone call when he finds all the Legend stuff! Best of all, he is still in touch with the Acura people (took them to lunch two weeks ago), so this is the closest I've ever gotten to getting a foot in the door with my favorite automotive manufacturer! Can you imagine how cool that would be? I'm going to email him a couple pictures of my coupe - he said he's wanted a '94-95 coupe for quite some time.
Here is the item I bought.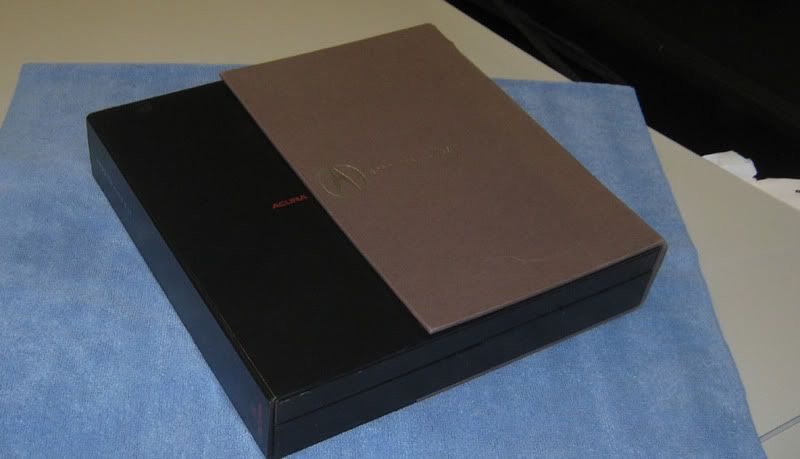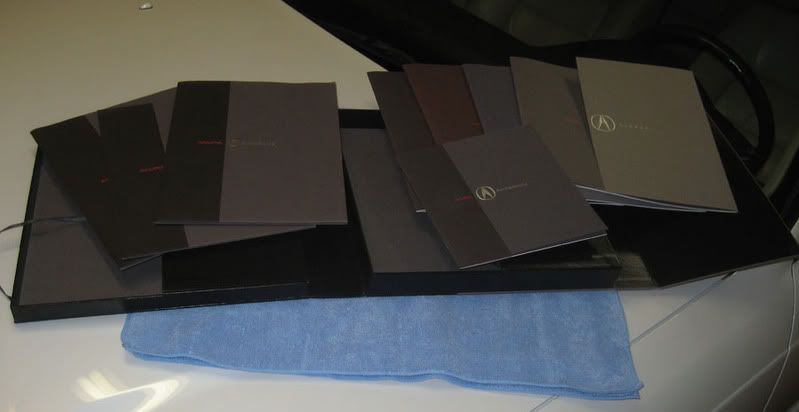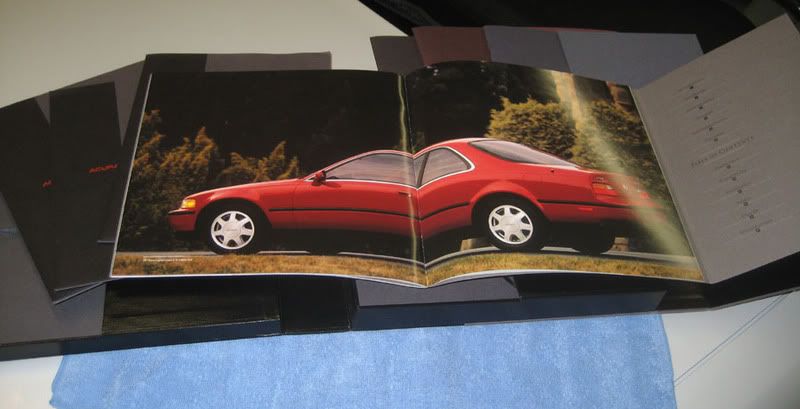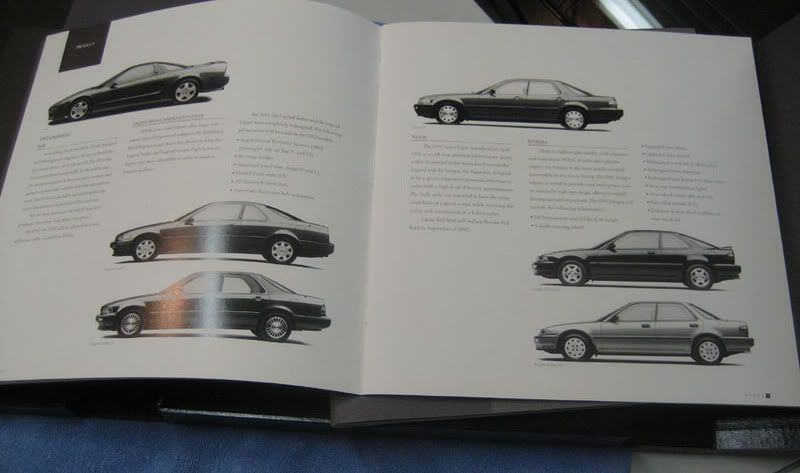 Brochures for every model + LOTS of other brochures and information that the general public never saw!
The billboard campaign - there are several sheets with the various ads that the dealership could run: