Discussion Starter
·
#1
·
I finally got around to ordering some parts (brake pads and valve cover gaskets) from my parts place (sasponline.com)...when I do I order a couple of oil filters cuz they're cheap and help me get over $75 so I get free shipping. This time I got a couple of the Nippon "short" filters that I usually get and I figured I'd try one of the Denso filters. Turns out the Denso filter is the larger NSX size filter. Below is a comparison picture between (from left to right) a Honda brand NSX filter, the Denso filter and the Nippon filter.
Honda - Part Number 15400-PL2-004 - $16.00
Denso - Part Number 150-1013 - $8.60
Nippon - Part Number 15400-PL2-315 - $4.42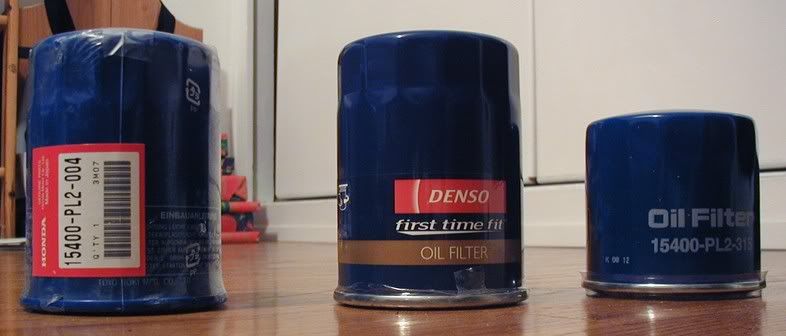 Note: I just checked the site and the Denso model has been removed...there are still two other full sized models there, but the Denso is gone
. I guess if you can find the Denso part number elsewhere it should be the same thing.