·
NALM '20 Seattle dreaming
OFFICIAL INTEREST THREAD for Acura Jackets
(some text borrowed from FUTs GB threads)
Please keep this thread for listing quantity, color, and sizes only.
posts that do not include all of the above info will not be considered for the jacket group buy.
Feel free to use the letters given to the jackets below to make your selection.
I will need a group buy quantity, sizes, and colors before I can get jacket pricing and shipping.
For a single jacket the costs with shipping from the jacket maker is $85.00 (this price subject to change < or > )
For the group buy I will need to ship the jackets to each individual person so there will be additional shipping costs, as the jackets will be shipped to me in bulk.
PLEASE only sign up in this thread if --
a.) you are willing to spend roughly $100.00 per jacket shipped to your door.
b.) you are willing to buy the jacket before the x-mas holiday.
"Post Whores" & "Post Crappers" are not welcomed, please vent elsewhere.
NO MAYBE/I MIGHT posts.
I am more than willing to photoshop any other different colors, logos and or text requests, but rather than post them in this thread I can email you the final colors
If you are interested in something other than below please PM me with your request. DO NOT post your request in this thread.
The backs are what you see below. The Acura logo with LEGEND underneath.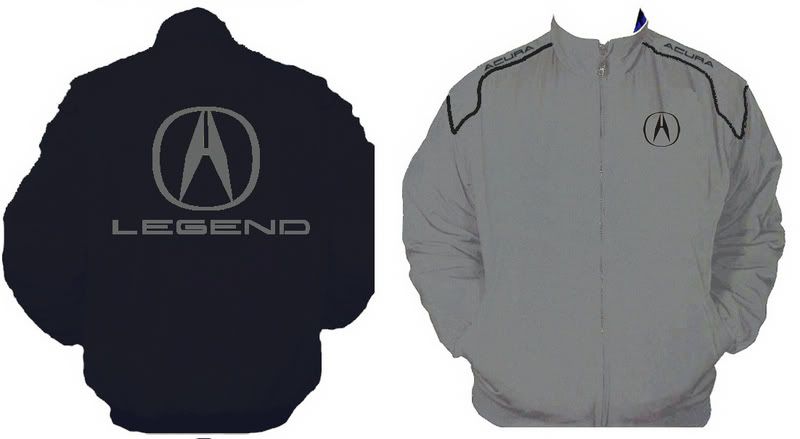 To help in discussing other options not shown above please use this image to help communicate your interests
JACKET INFO (text from the jacket maker)
Fine detailed embroidery direct on the fabric
Soft microfiber feeling outer layer (60% Polyester / 40% Cotton)
Two outside hand warmer pockets
One inside chest pocket
Waist Band is a Stretch knit stretch fabric
Inside is Satin lined and light
padding is added for Shape, Form and Warmth
SIZES (from the jacket maker)
fit to chest in inches
SMALL 34-36
MEDIUM 37-39
LARGE 40-42
XL 43-45
XXL 47-49
XXXL 50-52
XXXXL 53-56
Sizes 4XL and up additional $10.00
a few different color and logo jackets within this thread
http://www.acura-legend.com/vbulletin/showthread.php?t=113592
Please keep your eye on this page for edits and updates.
p.s. mods I hope this thread is okay here.. Didn't know if I should post a copy of this thread in the GB section ?