Fellow Legend family members,
After a couple of very successful Stromung group buys, this time I wanted to make sure the wheels are in motion to kick off another. In the off season, I've tried to accommodate a few individual buyers. However, in a recent discussion with Stromung, it's not conducive for them to stock and fabricate what is non-stock item... especially to keep the price as affordable as possible. Here's my post recently on this subject.
http://www.acura-legend.com/vbulletin/f4/stromung-exhaust-pricing-update-137107/
The minimum required is to have 10 buyers. Luckily, as we speak, there are 5 units shipping so we're well on our way to meet the requirement. I'm fairly confident we'll reach that goal considering the price has not changed for over a year. Otherwise, a premium will be charged as mentioned in the post.
The Stromung exhaust system needs no introduction for the Legends. A quick search you'll find abundant accolades. Personally I have had my system on for over a year and it's as good as new (see my current picture below). The exhausts are all dyno tested to fine tune and improve HP. For the Legends, the numbers showed gains in the mid-range, which is great for all around driving.
Here are the details of the muffler/exhaust system.
• 2 ½ inch pipe direct bolt-on with flange.
• Stainless steel muffler and B-pipe
• Dual 3" tips (angled to match OEM style)
• Installation kit includes gasket, nuts and bolts
• Package as pictured below
• G2s ONLY
Stromung agreed to keep the price same as previous which is $445.00 + shipping ($5 for angle tips included). B-Pipe is also available for $115 + shipping. Muffer and B-pipe combine as one shipping price.
The cost of delivery will be dependent of US time zones. The price breakdown are as follows. Note: I will have to double check whether shipping price has gone up since.
• Eastern = $40
• Central = $35
• Mountain = $30
• Pacific = $25
• Local pickup = $10 (location Cypress, CA 90630)
Purchase Agreement:
• Payment method: Visa, Master, AmEx (others please contact me)
• Cost: $445 plus respective shipping cost.
• Payment Due: Prior to shipping. YES! Prepayment is not required!
• Deposit: NONE! However, I will require a good faith commitment and Credit Card number as reservation. Your card will not be charged until packaging for delivery.
• Invoice: The payment charged will be directly from Stromung.
• Shipping: The shipment will also be directly from Stromung.
If you agree with all the above, please respond via PM or email (
[email protected]
) with the following details.
1. Legal Name (same as Credit Card)

2. Forum User ID

3. Shipping address

4. Vehicle Model (coupe/sedan)

5. Credit Card # (expir date)

6. Email address

7. Contact # (easiest to reach)

8. Muffler or B-pipe or both
Please rest assured that your credit card information is safe and secured. I will only keep the data confidential in the interim until the order is turned over to Stromung. PLEASE!!! Do not post any private purchase information requested above. I will do my best to update everyone the progress of this special offer.
Here are some pictures. Please feel free to contact me via PM or email to
[email protected]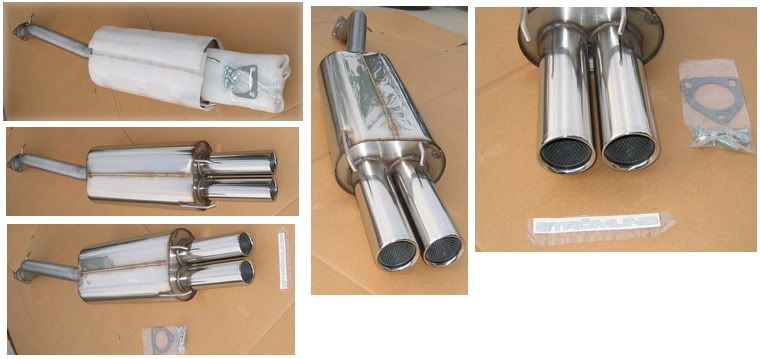 Buy List:

1. TYPEIIGHOST --- (shipped) Cat-back
2. Brian W --- (shipped) Cat-back
3. Poochmike --- (shipped) Cat-back
4. Bocsta --- (picked-up) Cat-back <-- Representing KA8 from U.K.!!!
5. drok149 --- (confirmed) cat-back
6. Tyson --- (confirmed) muffler only
7. ymisoqt --- (confirmed) cat-back
8. WA Legend L --- (confirmed) cat-back sedan
9. TypeII
10.
​
B-pipe:

1. SuperLegend91 V2.0 --- (confirmed)
​