DONATIONS FOR SHIRTS
questions to

[email protected]
www.paypal.com
for payments, and send payments to that email.
New Members, there will be a small fee if you want a shirt. you will also send that money to the account above.
__________________________________________________________________________________________________________________________________
Hey Guys, Mike, Jimmy and I have been saying we need to come up with a name for our group. After hours of brainstorming i came up with the perfect name. We can get some decals made for our legends so we can represent.
Ready for the name?
*drum roll* LoneStarLegends!!! what do yall think?
also, if we are having club name, we need to make people the prez, and vice prez, and what not. I nominate myself for Prez since i put together this meet, and will be putting more meets together soon. Vice Prez, that needs to be Michael since hes got the hook ups for our escorts! Justin, Lane, Phoung, Jimmy, Jeremy, Wes are the Deligates(OGs) our whole crew will be the OGs then we can recruit more people to join the group. Ill keep the decals and when we get a new member ill send em a decal. the newbies wont have the titles of OG Lonestars cause they didnt come to our inogural meet. they will just be "Lonestars"
So to Recap, LoneStarLegends:
*President-AustinLegend420-Wyatt
*Vice President-20Michael03-michael
*Lonestar OGs-JohnnyBlaze-Lane
...................-Ptan1968-Phoung
...................-DrMonkey-Justin
...................-BigRed-Wes
...................-BusinessMan07-Jeremy
...................-On3nonlyjimmy-Jimmy
If you have any sugestions lemme know, Michael is in the works in getting some Tshirts made with (/\) big and LEGEND underneath it, then LonestarLegends on the back, with maybe like a the state of texas with it. Ill photoshop a prototype tonight.
Heres the shirt, the OGs and VP and Prez shirts will have the title on one sleeve and the flag on the other. the rest will be left blank for cost reasons. but you can get embroidered for cheap. Post your size. we are only able to do one of the sleeve design shirts, so no extras are availible, depending if we get more shirts made we might be able to get yall some of the blank ones if you need extras.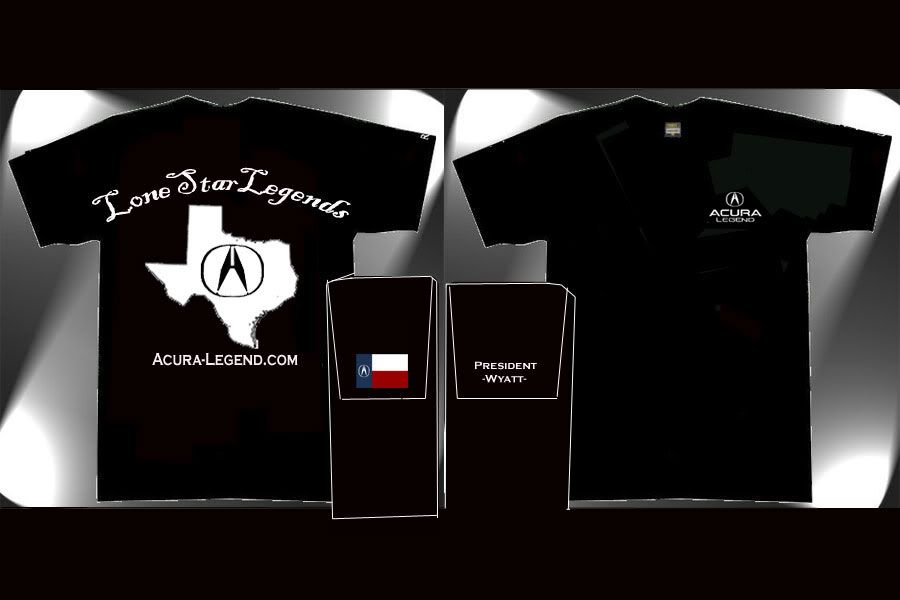 Shirt Size:
Justin:XXL
Wyatt:L
Lane:?
Michael:M
Phuong: L
Jimmy:M
Mickey:?
Wes:?
Ike:?
PM me or Michael with any questions.