Discussion Starter
·
#1
·
3.5 Type 2 Hybrid Swap
Well I am about to start my 3.5 swap into my 92 Acura Legend AT Coupe (the sedan is geting put on the back burner to this is done). My current motor has 165k and smokes very bad probaly from bad valve seals. Instead of going in doing valve seals, hg's, etc I just decided to swap the engine. My reason for doing the 3.5 swap was more for reliability than speed. I was able to pick up a 2002 3.5 RL motor with 29k. I have been collecting parts and I am doing a Type 2 hybrid swap with type 2 cams, type 2 fuel rails and fuel pressure regulator & type 2 throttle body with TCS. I will take many pics along the way and hopefully consolidate alot of misc information that is spread around in different threads. I will also add up the cost as well for others who plan to do this in the future (the cost does start to add up quickly I can already tell you). The countdown begins as Jonslegend will be coming up this weekend to help me out with the swap. Well some pics so far and many more to come.
2002 3.5 Engine 29K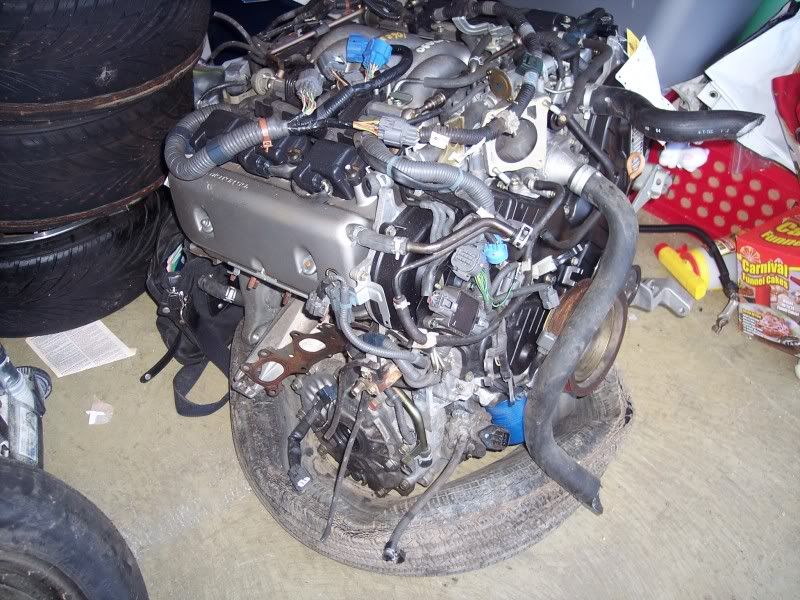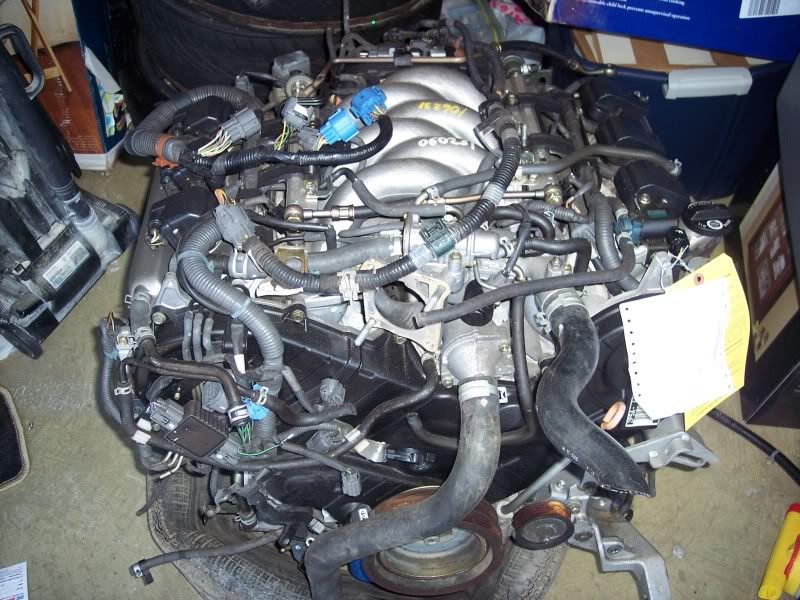 Type 2 cams and Type 2 throttle body w/TCS (Thanks Telion)
Before pics of type 2 manifold (Pullapart)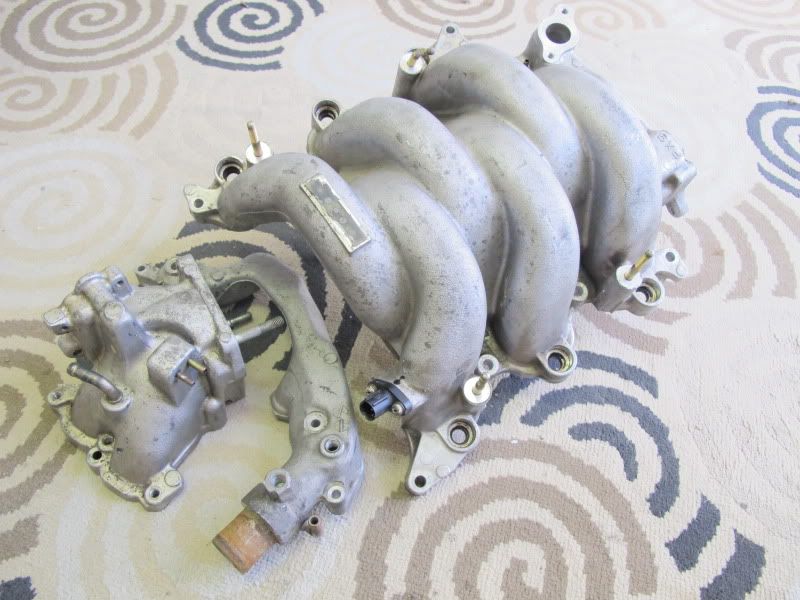 After pics powdercoated in wrinkle red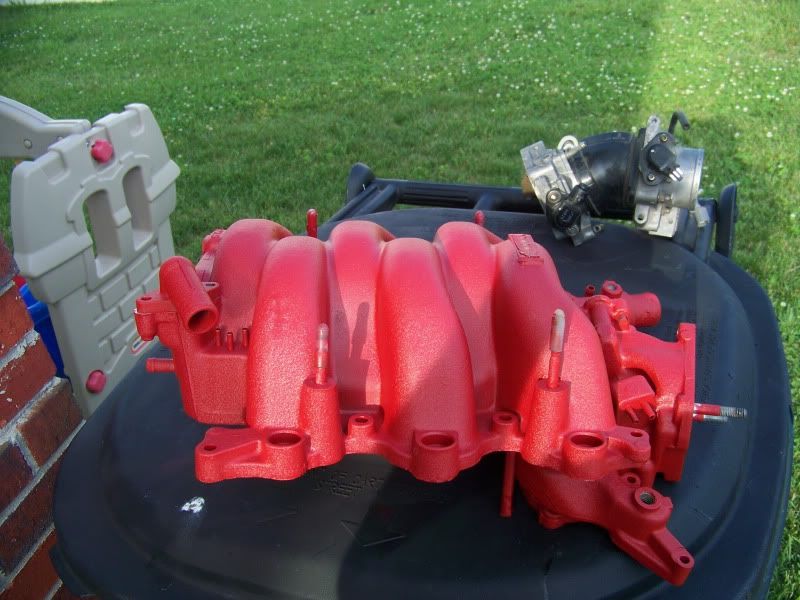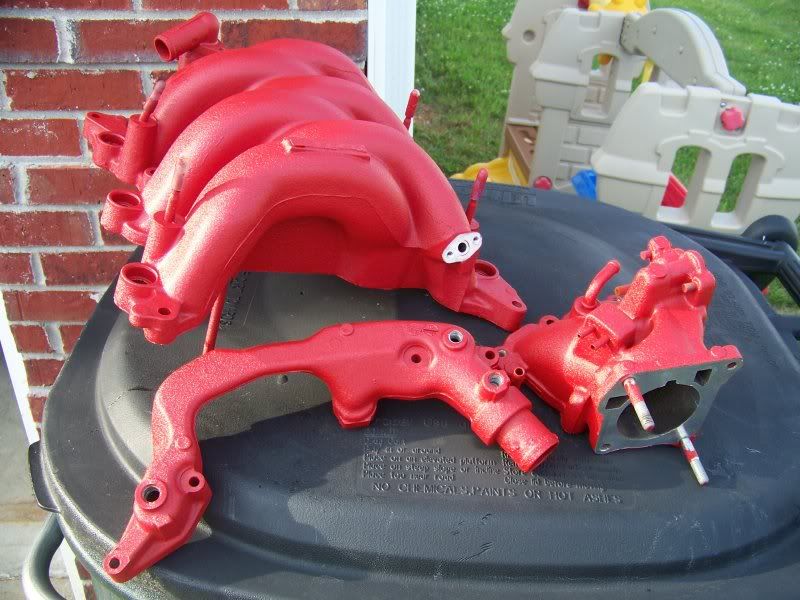 Koyo Radiator $103.00
For anyone wanting Koyo radiator contact Corey at Elite Auto AC 321-720-7756 or
[email protected]
He is a great guy to deal with. I purchased a Koyo radiator for my sedan and this one as well and each was $103 total shipped to my door.
Rock Auto...great prices and fast shipping (Also 5% discount on all parts)
Cardones Select axles
Gates timing belt/water pump
Gates Drive Belts
Honda Dealer (prices are cheaper than Acura Dealer)
Thermostat
Coolant
Trans Fluid
Brake Fluid
Power Steering Fluid
Oreilley's
Upper Radiator Hose
Lower Radiator Hose
5Qt Oil
Oil Filter
Fuel Filter
Diff. Gear Oil
Also ordered hoses from Acura of Augusta
002 19103-PY3-000 HOSE, RESERVE TANK 1
003 19104-PY3-000 TUBE, RESERVE TANK 1
009 19501-PY3-000 HOSE, WATER (UPPER) 1
010 19502-PY3-010 HOSE, WATER (LOWER) 1
014 25213-PY3-901 HOSE (185MM) (ATF) (BS) 1
015 25214-PY3-901 HOSE (405MM) 1
016 25215-PY3-902 HOSE (600MM) (ATF) 1
017 25216-PY3-901 HOSE (435MM) 1
1 19421-PY3-000 HOSE A, OIL COOLER 1
3 19422-PY3-000 HOSE B, OIL COOLER 1
4 19423-PY3-000 HOSE C, OIL COOLER 1
7 41127-PY4-G01 HOSE A, WATER 1
8 41128-PY4-000 HOSE B, WATER 1
2 19522-PY3-000 HOSE A, WATER1
3 19523-PY3-000 HOSE B, WATER 1
4 19524-PY3-000 HOSE C, WATER 1
5 19525-PY3-000 HOSE D, WATER 1
7 19526-PX9-A00 HOSE E, WATER 1
9 19527-PX9-A00 HOSE F, WATER 1
11 19528-PX9-A00 HOSE G, WATER 1
4 79721-SP0-A00 HOSE A, WATER INLET 1
5 79722-SP0-A00 HOSE B, WATER INLET 1
6 79725-SP0-A00 HOSE, WATER OUTLET 1
9 80335-SP0-A01 HOSE, DRAIN 1
Eristic gasket set from CNS Auto (Ebay). Motor only has 29k so I'm not touching the headgaskets
More to come!
More to come!