This May marks my 3rd year on the forum and my 4th year of owning December. After one year I did a cool side by side comparison of how things changed over the course of my first year as a member of this forum. I didn't do anything for the second year because... well, nothing had changed. As there have been a couple big changes since then, I've decided to make a big compilation of my car since it came to be in my possession.
This is me having just got my license. My junior prom was the night before so I skipped out on the sleepover to be able to get my license the next morning to road trip to a lake house. This is May 2005 starting at 132k miles: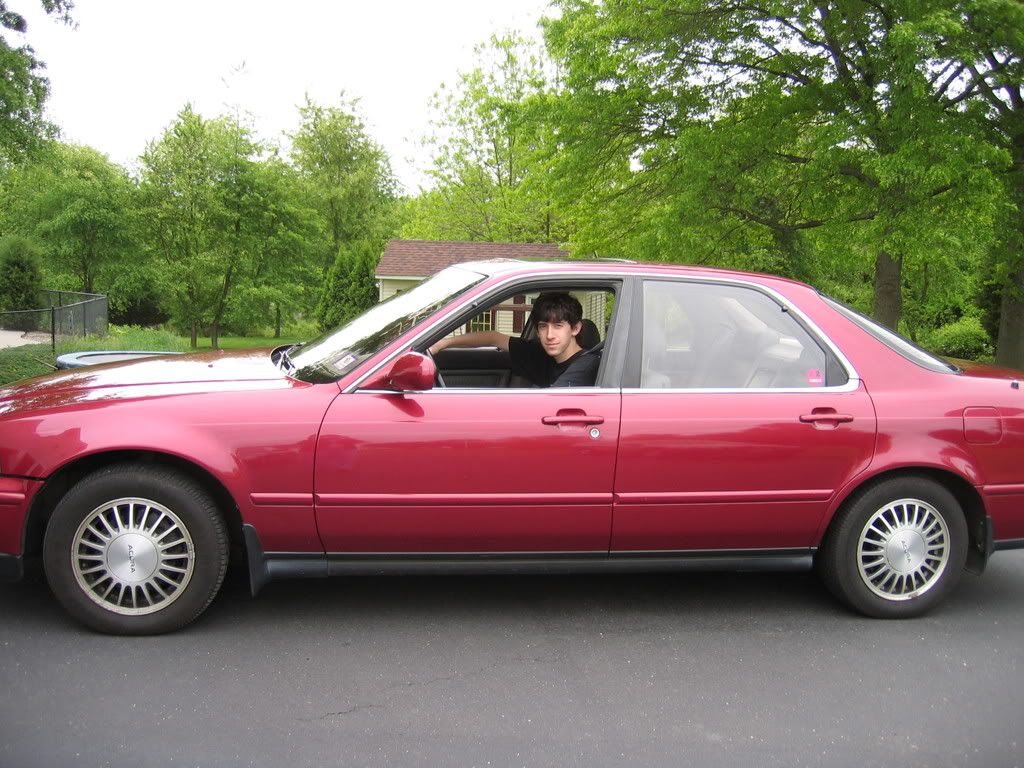 For a long while, this picture was a painful reminder how little rust my car started with.
I didn't take many pictures of my car before I joined up here because I didn't realize what I had. I figured I had an old car that was holding up remarkably well. I learned to drive on the legend and my mom(the original owner) told me never to redline it because it was old. So for the longest time, I didn't.
My car on the HS's senior parking lot: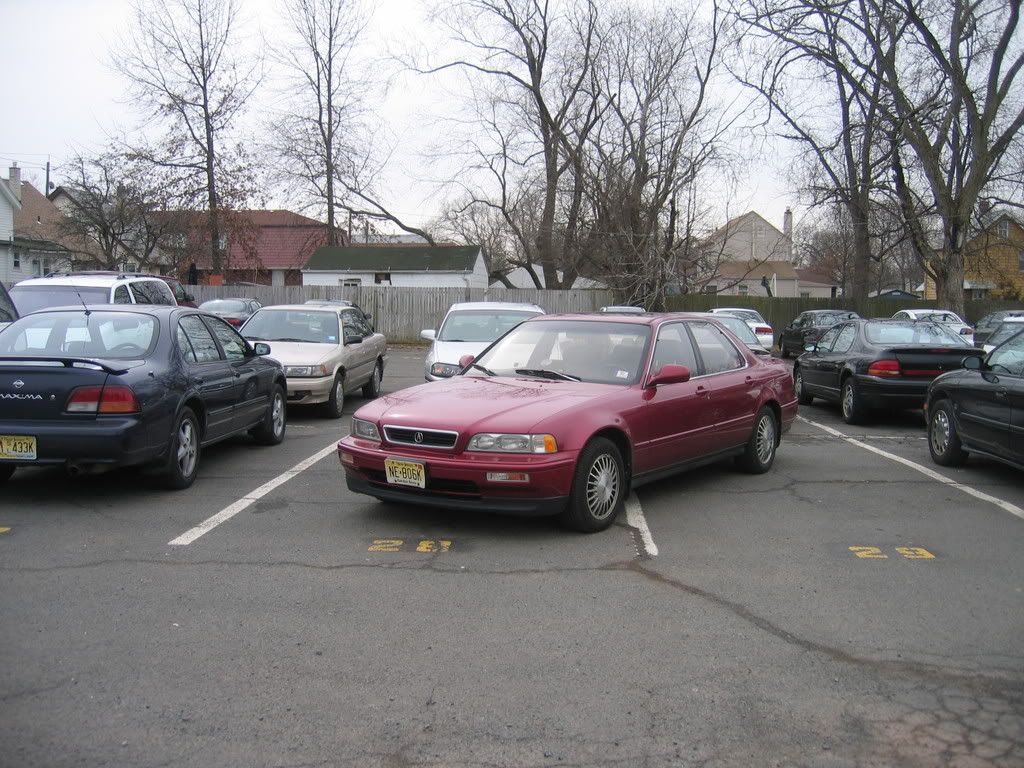 A year later in May '06, I find myself googling "1992 acura legend 0-60" and stumble onto a-l.com. I've got to be one of the only n00bies ever to post pictures without being asked. Heres how things started on here: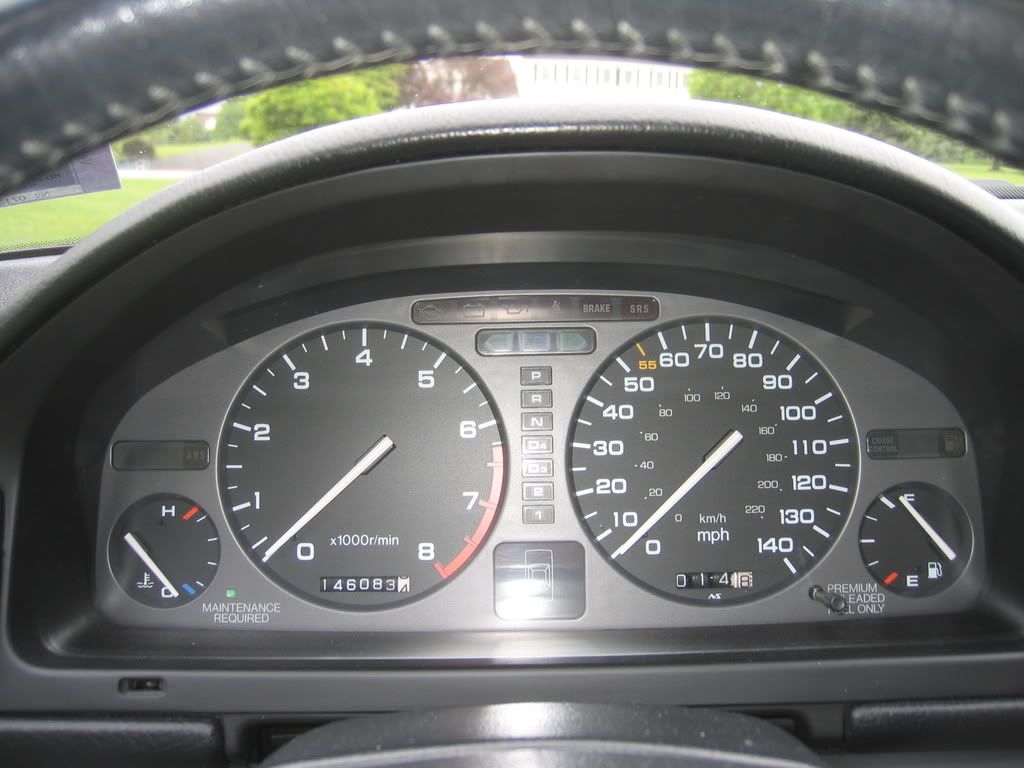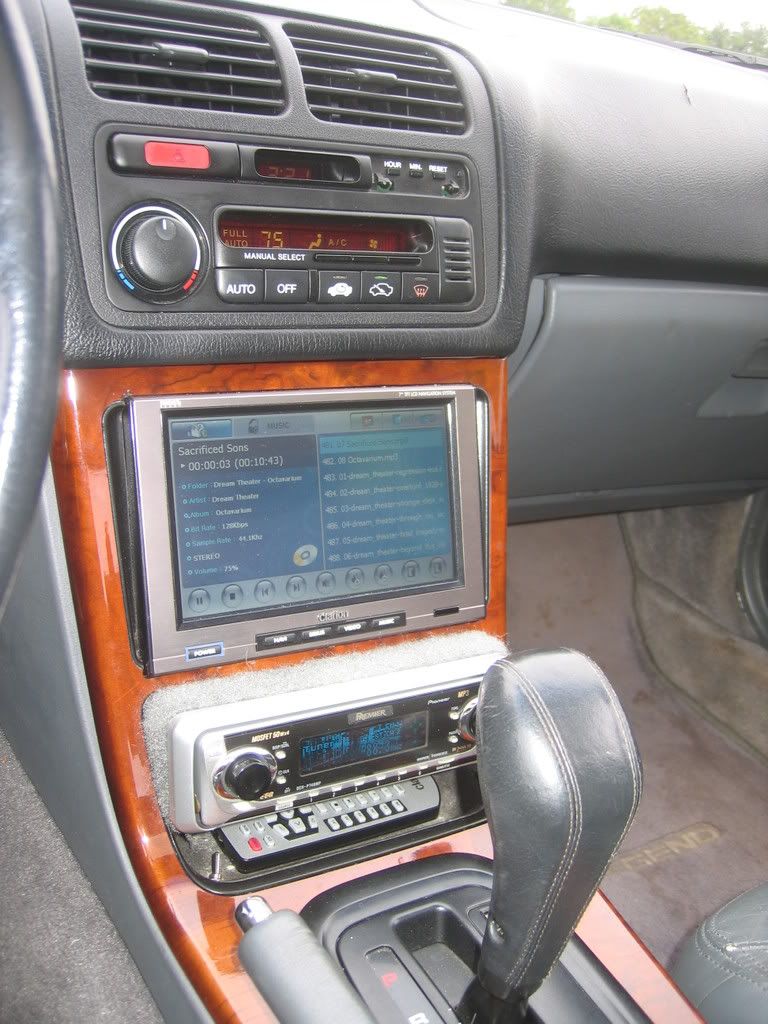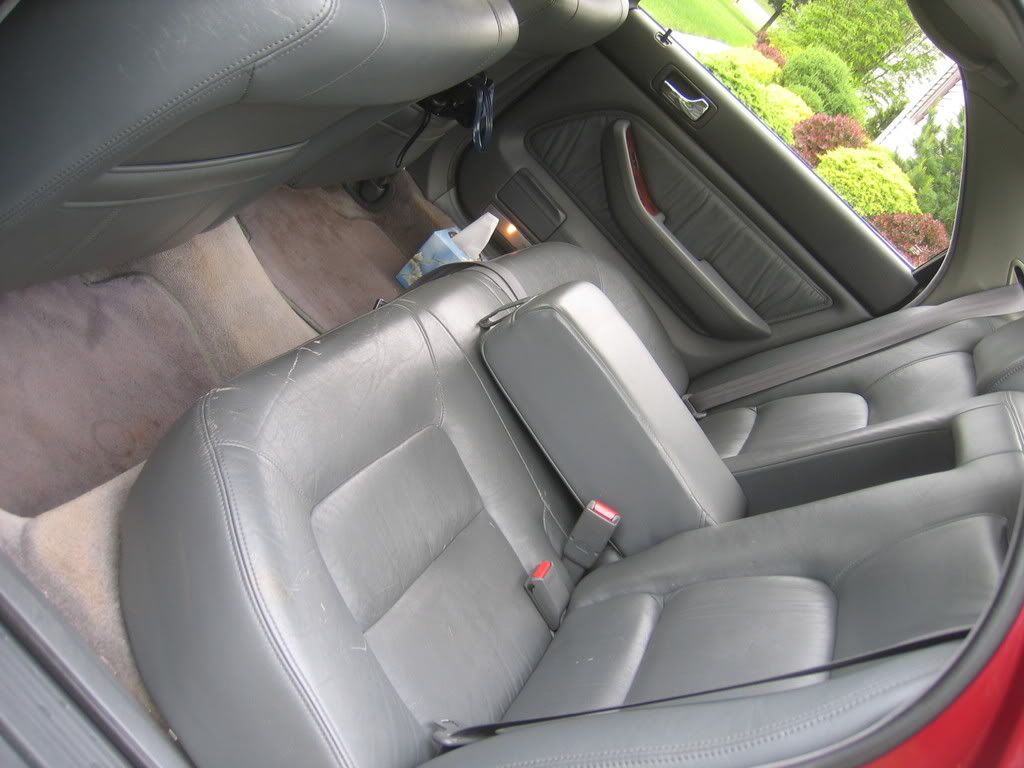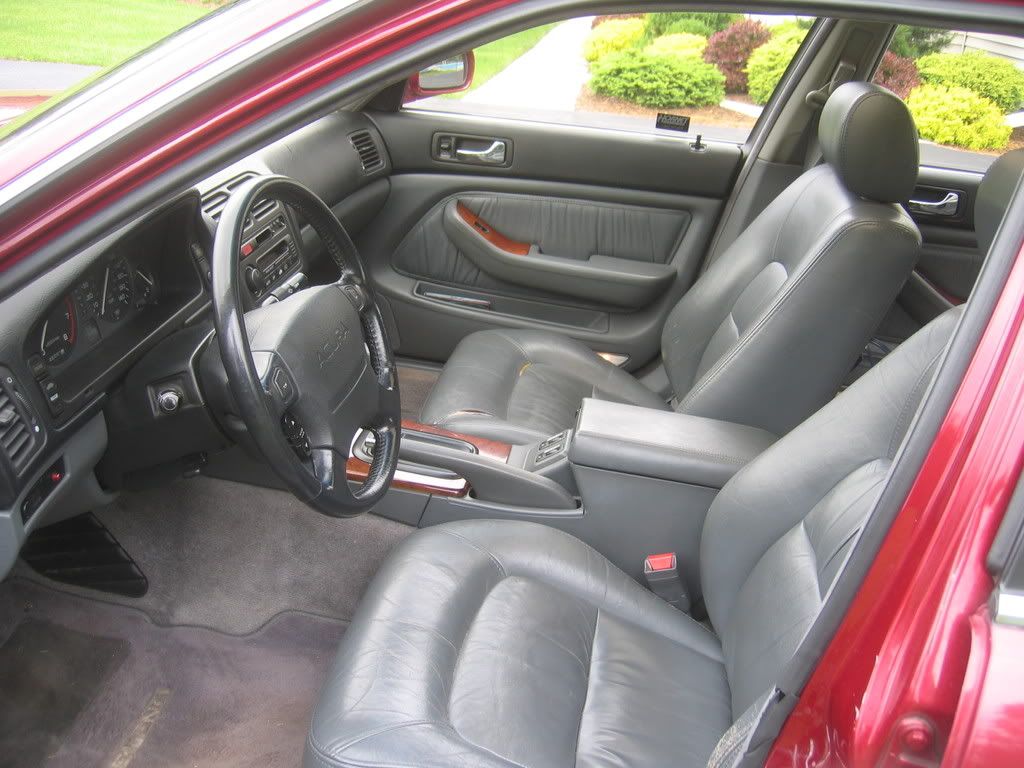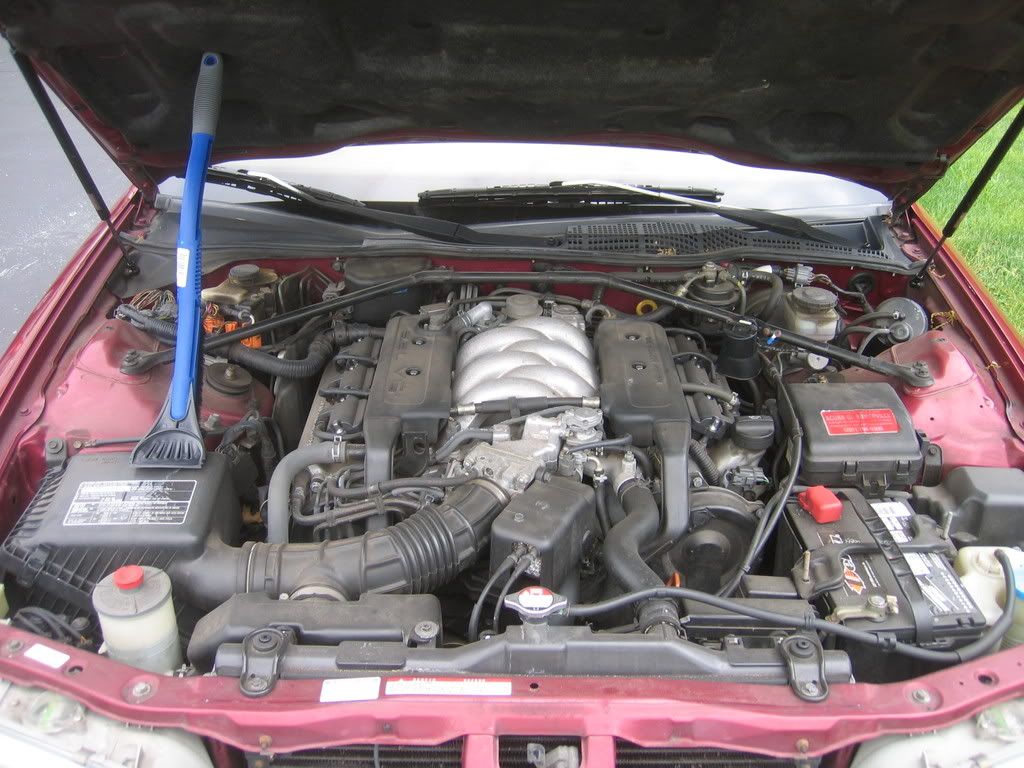 First thing I did was replace the hood struts. The second thing I did was put an intake in which would be cool for a while but I'd later regret.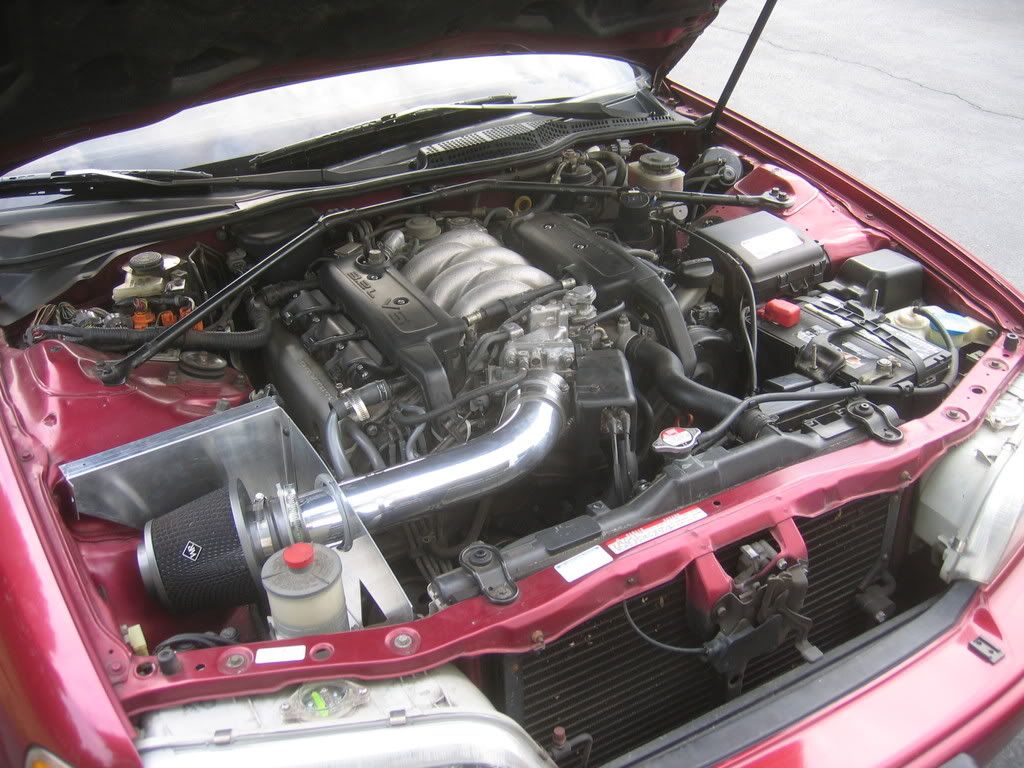 Next I put some new katzkin leather in followed so shortly by the realization of needing fresh mats that I don't have any pictures of the leather with the old mats: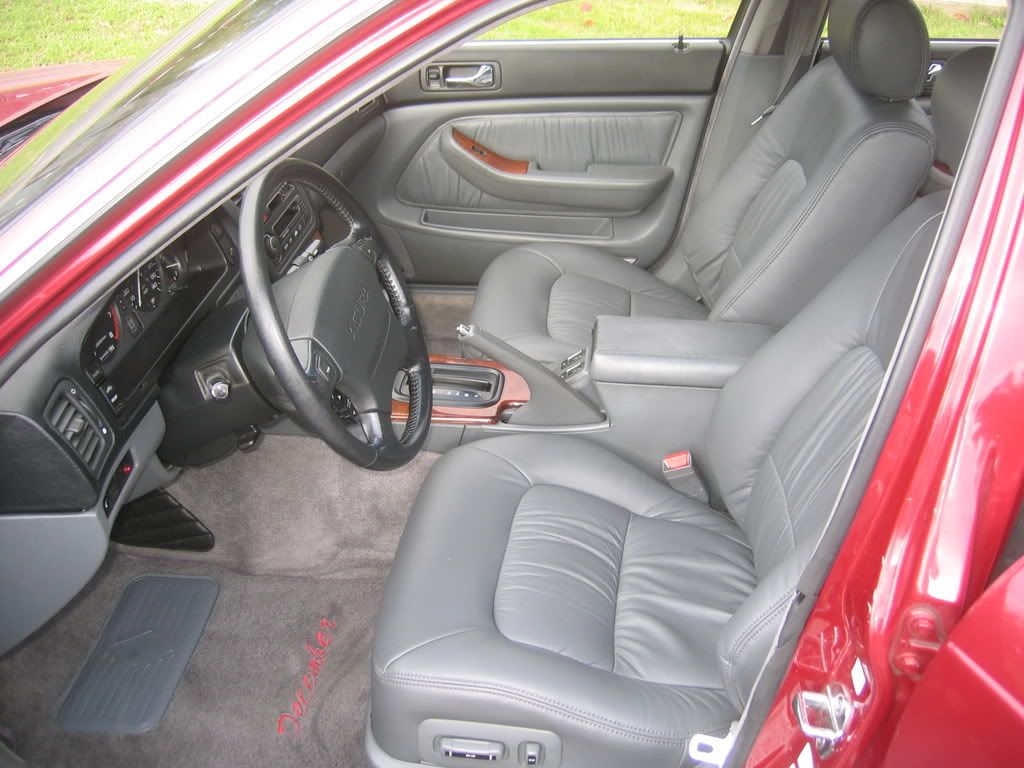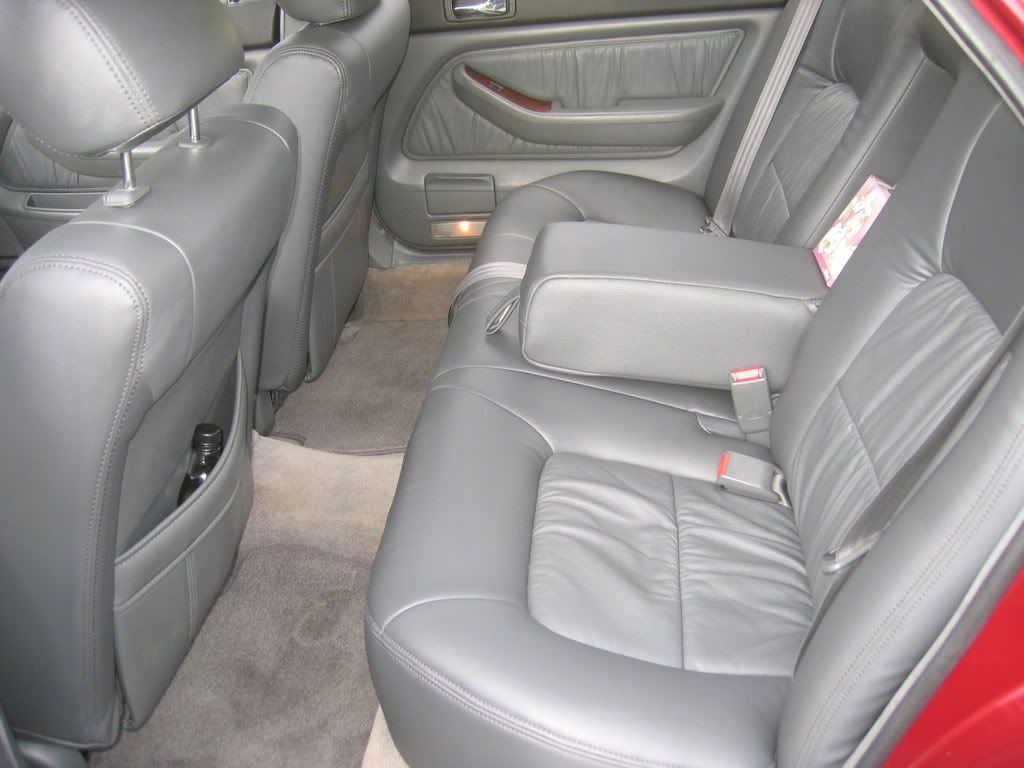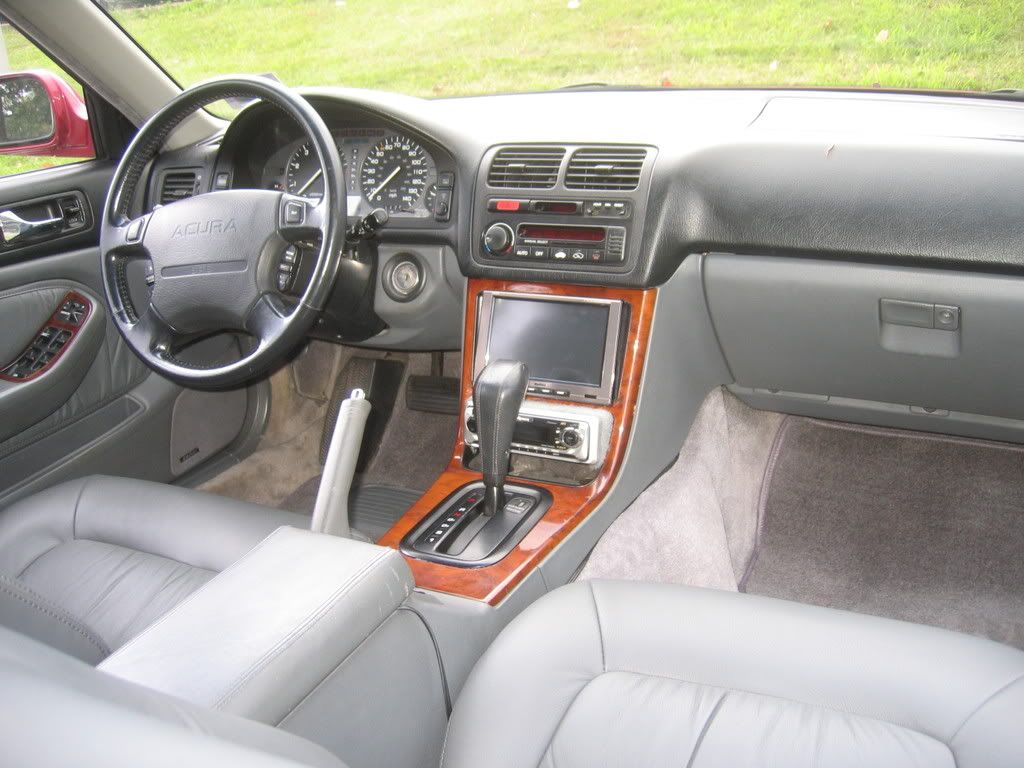 Then I tossed an MLS bar in, an item I wouldn't fully appreciate for a couple years(we'll get there):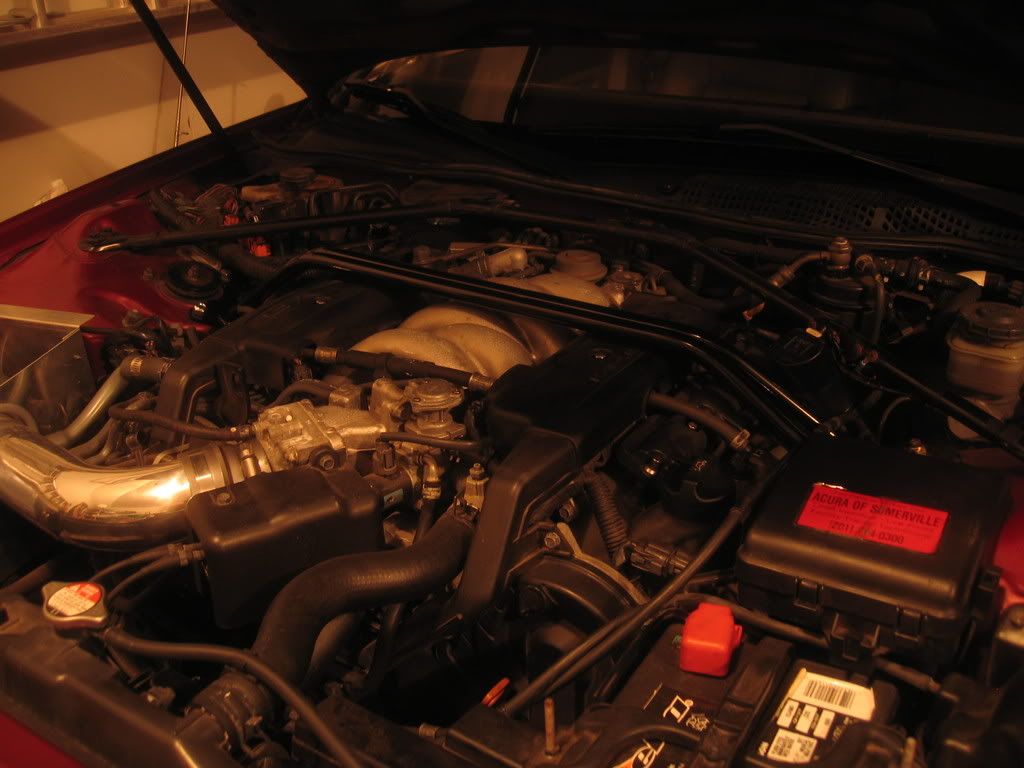 Then something amazing happened. I was on winter break, it was a few days after christmas and I was browsing the forum. I'd seen shaar's coupe before and thought it was amazing but never really had any hope or even aspiration to imitate what he'd done because JDM consoles were beyond rare back then. At the time I had been saving to find a carputer solution to replace the troublesome GPS I had glued into my dash. Seeing this as the flushest way to make this happen, I jumped all over it. Knowing the console was going to sell in no time, I double check my bank account and call dibs. I went from knowing very little about and having no aspiration of ever owning a JDM console, to paying for a very expensive JDM console in about 20 minutes. One of the best purchases I've ever made.
As it arrived: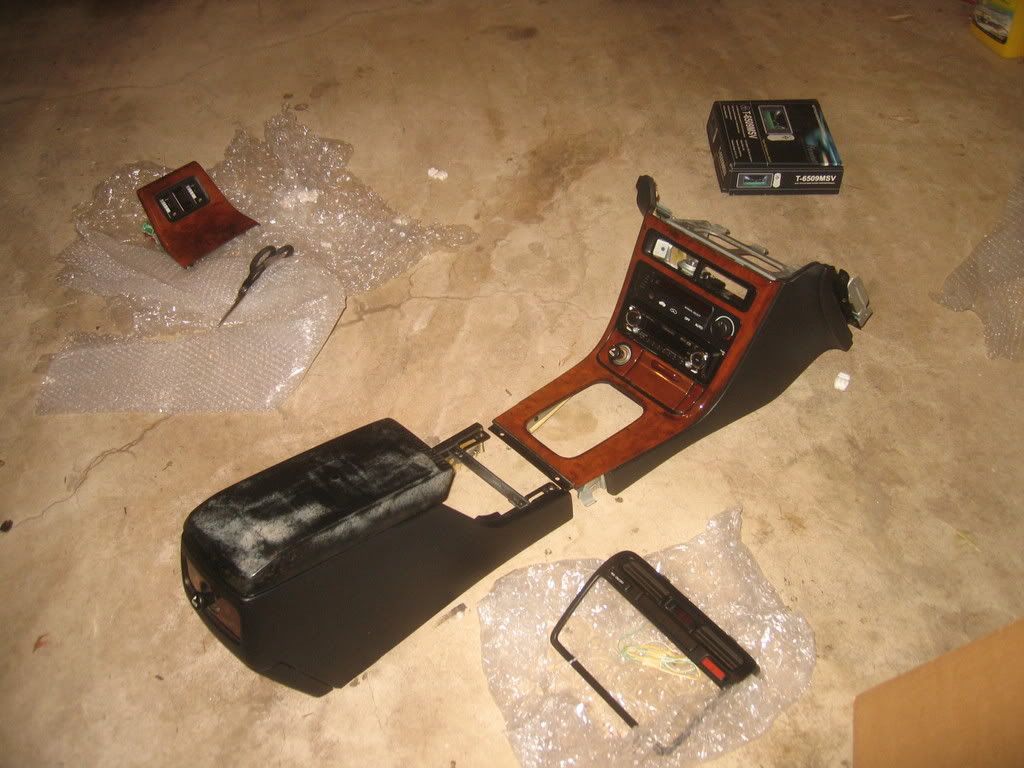 I was in so far above my head. It took me and a friend 3 full days of work to figure out how to install this thing and the better part of 7 months to get it all looking and working right.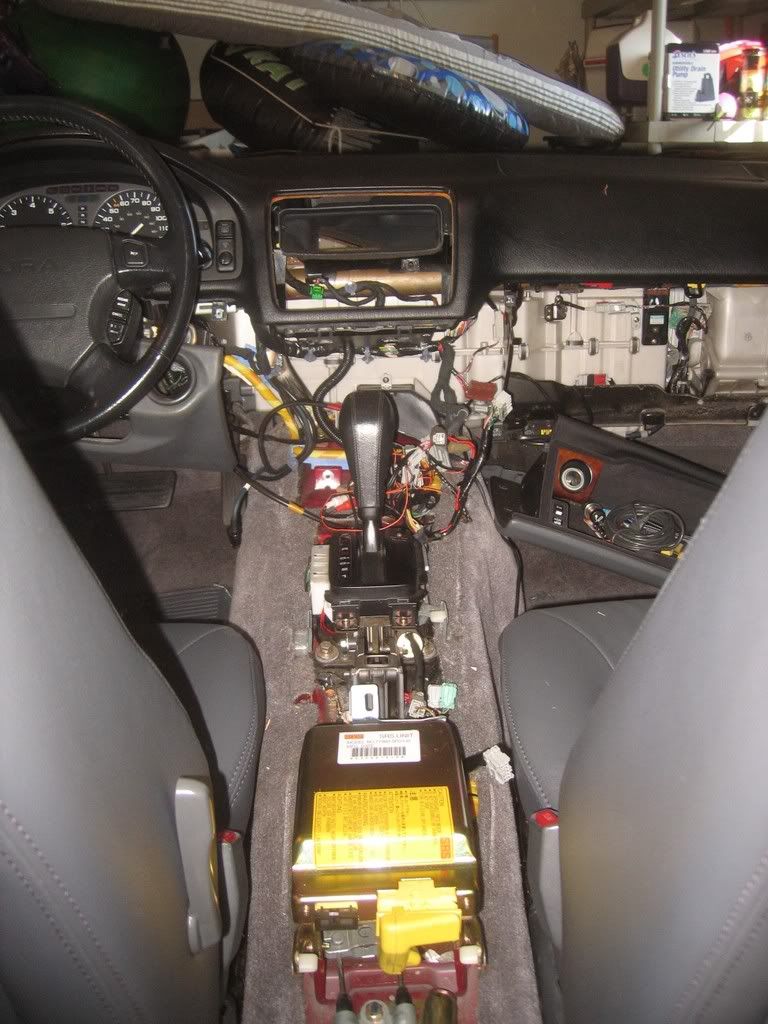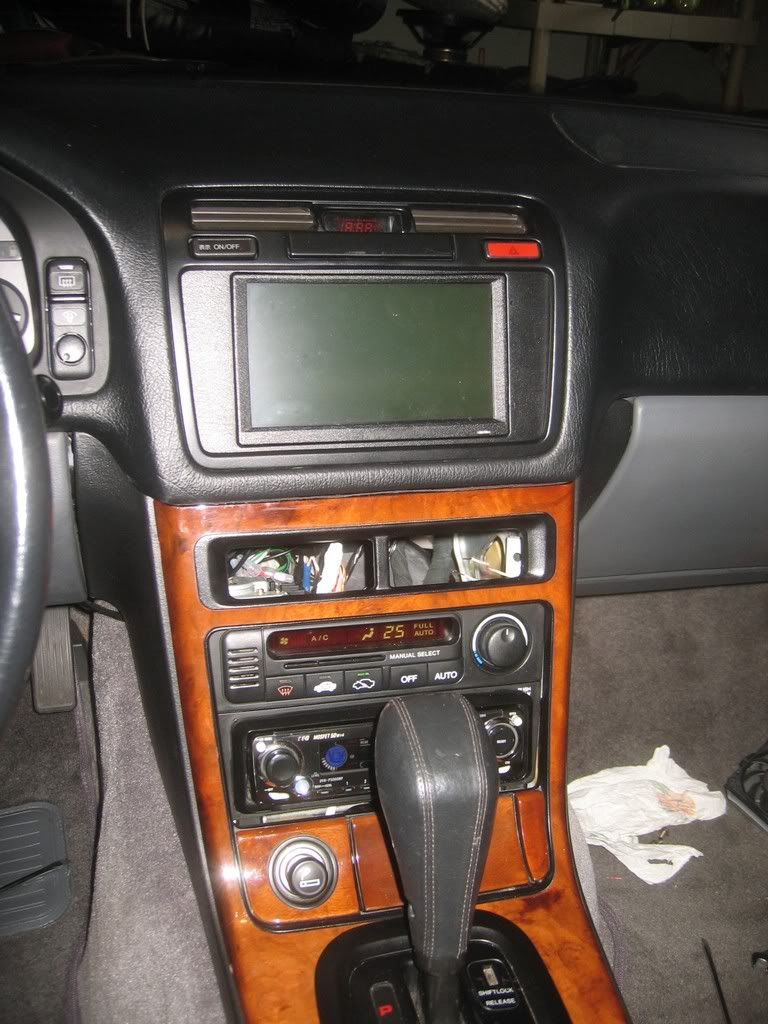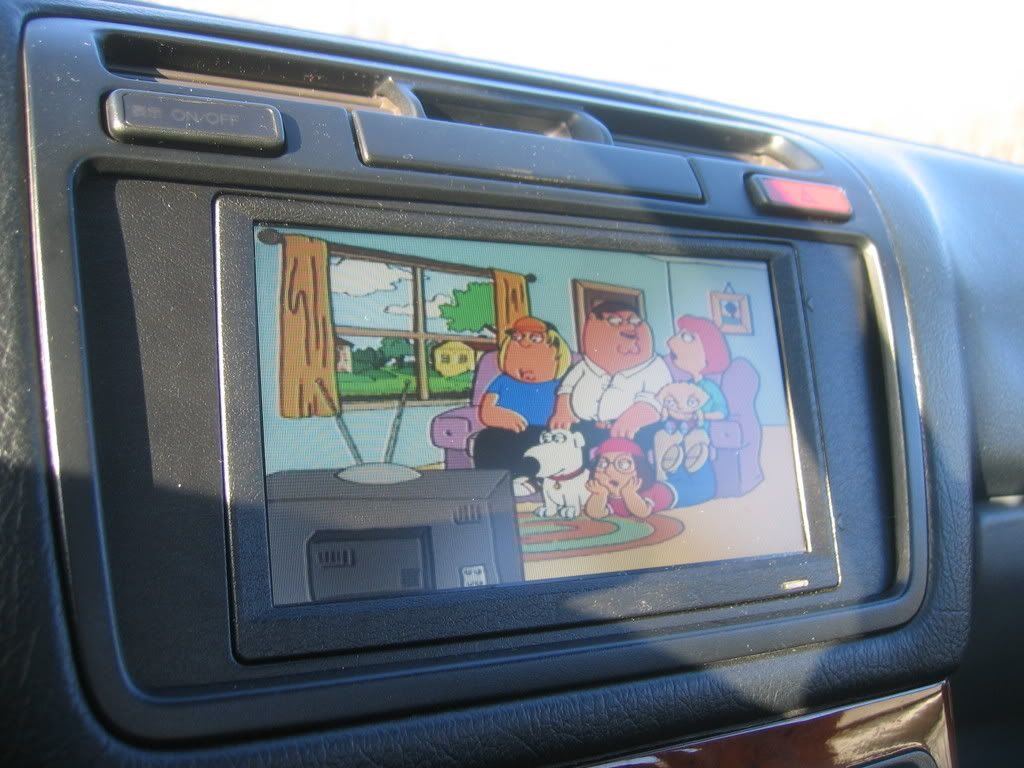 After three days of installing, I still needed vents, leather for the arm rest, a delete panel for the wood, and gray panels to match my gray interior.
But that would come in time. I'd been bitten by the JDM bug in a big way. The next thing I tackled was JDM door sills. I remember being so excited to install them that I couldn't wait. I was out in freezing temperatures forcing my nimble hands to get these tiny screws out and back in. It was a long 20 minutes.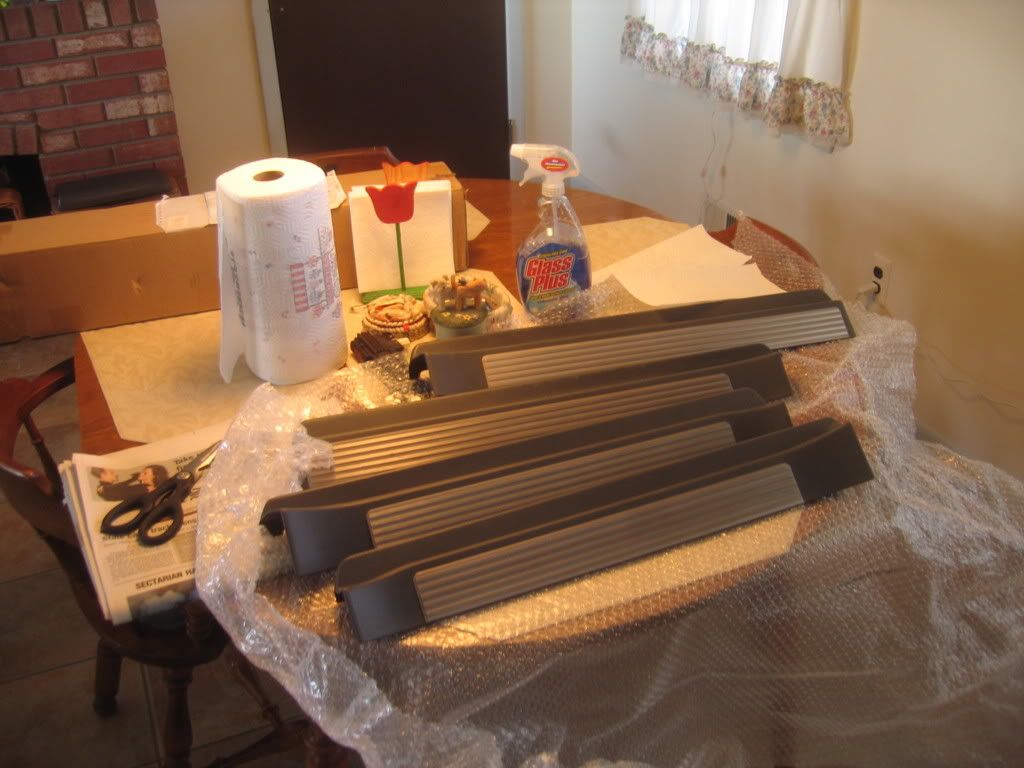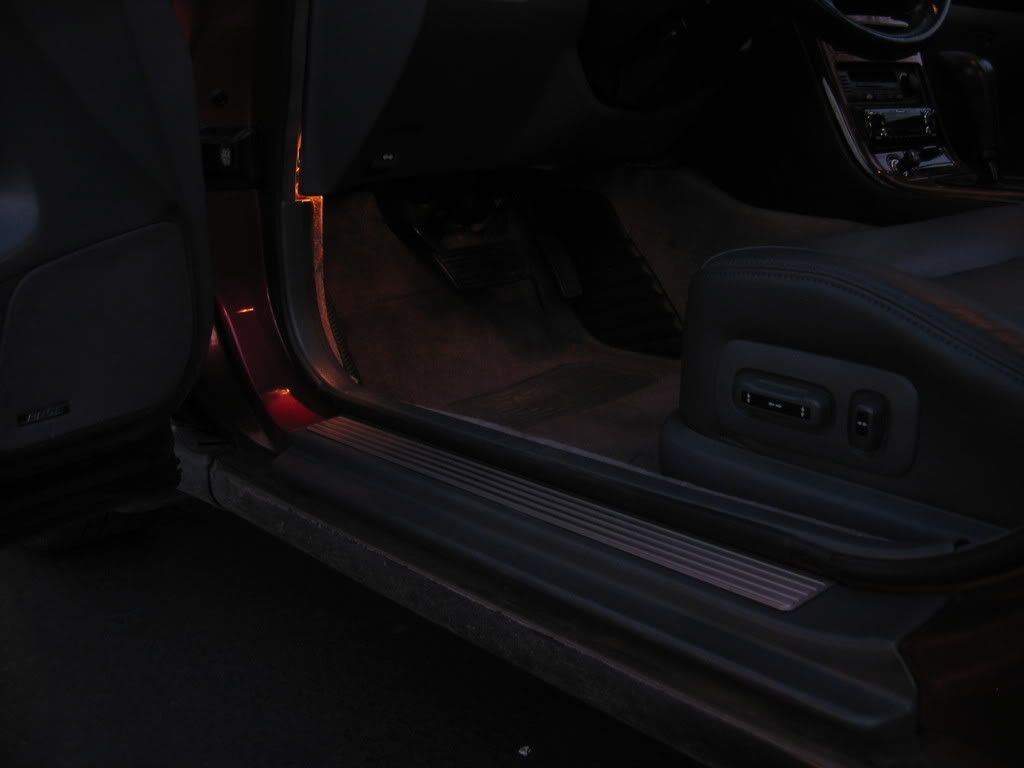 Next came novelty plates. The car had been named December since a while before I even joined the forum but this really solidified it.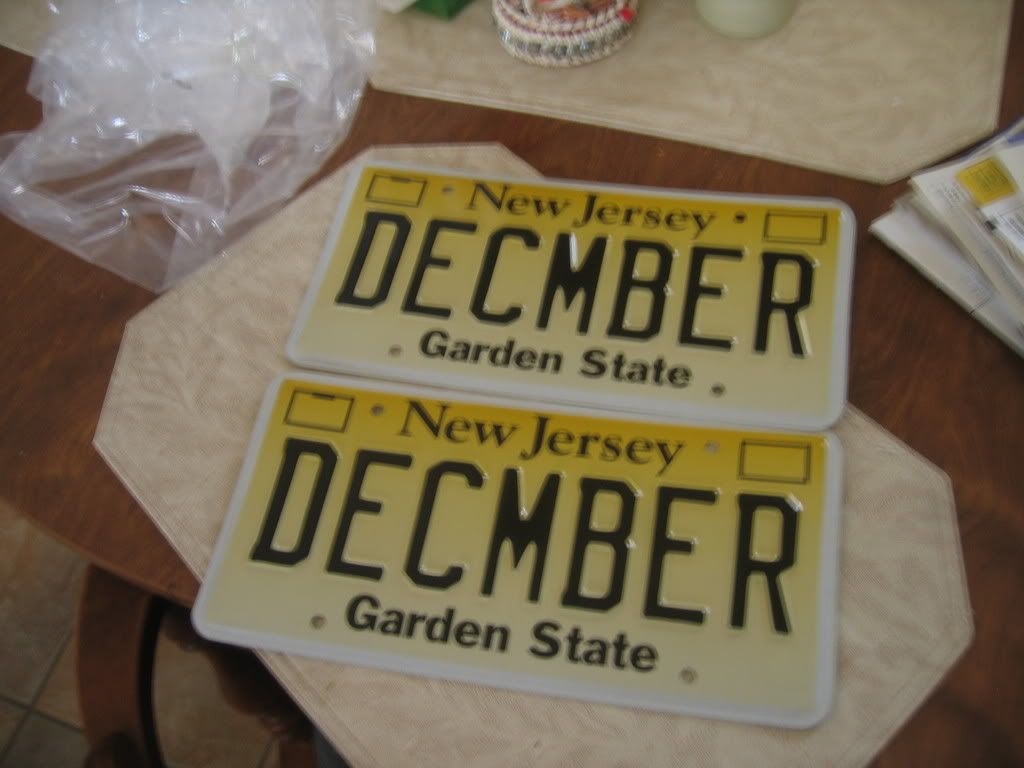 Committed to spending all my money before the year was out and confident in taking my car apart from what I learned with the JDM console, I went on to install a Gentex auto-dimming mirror, GS rims, a 93-95 140MPH cluster, a 160MPH cluster, parts from a second JDM console from ebay, and a 99-03 TL trunk tray: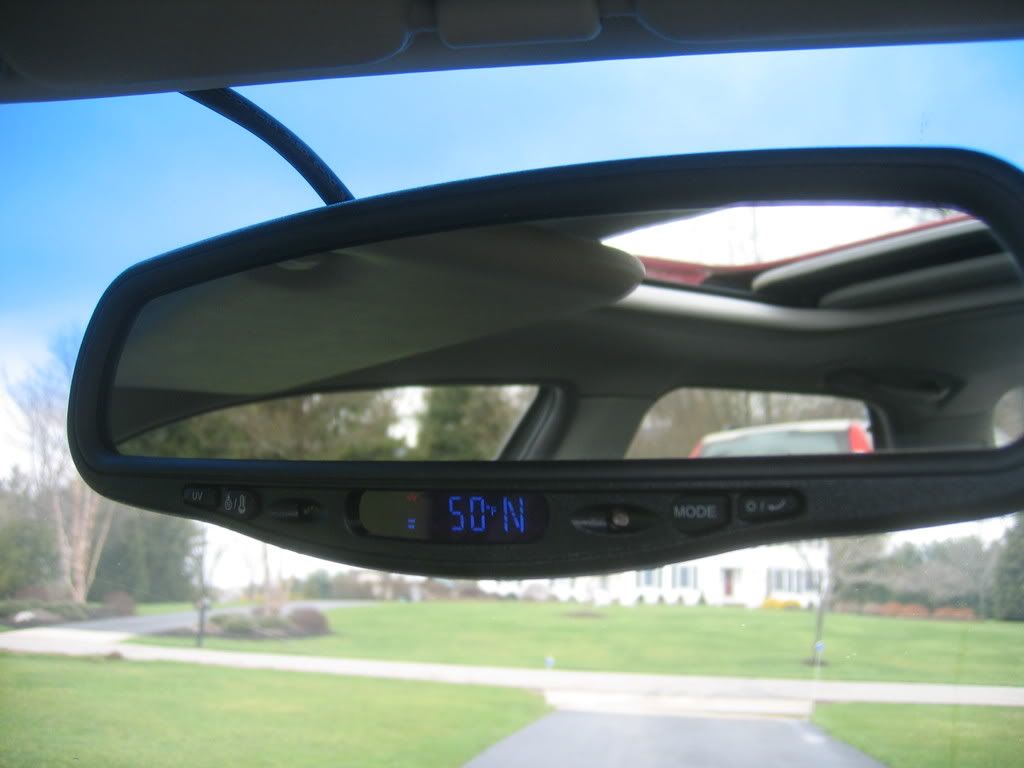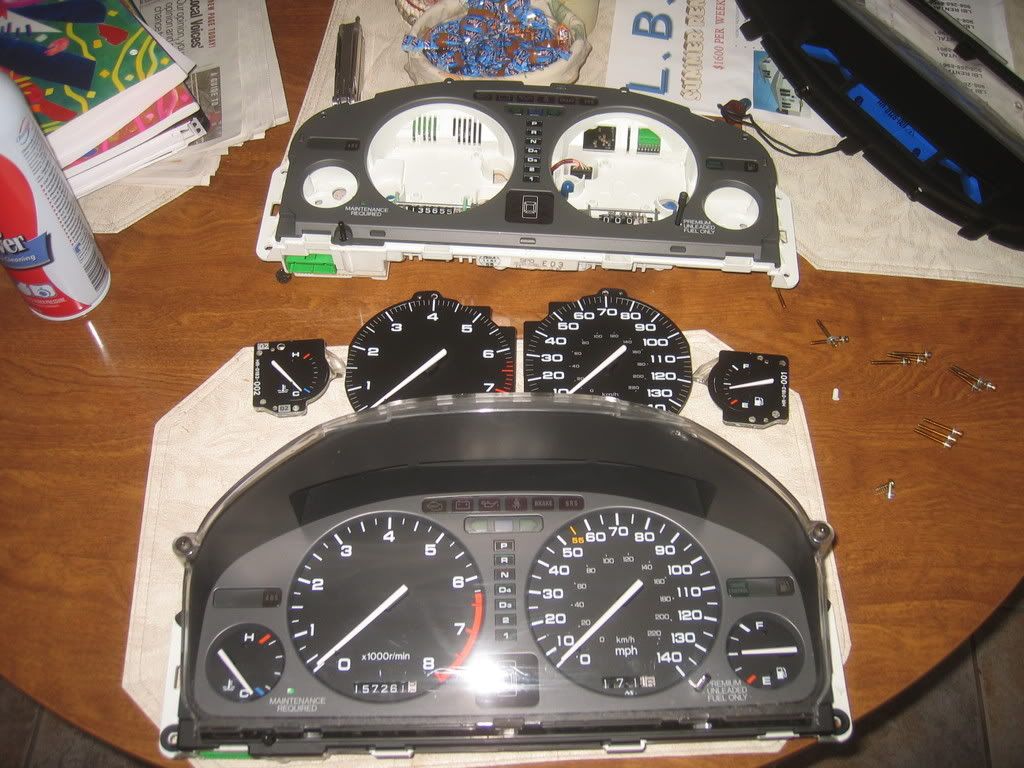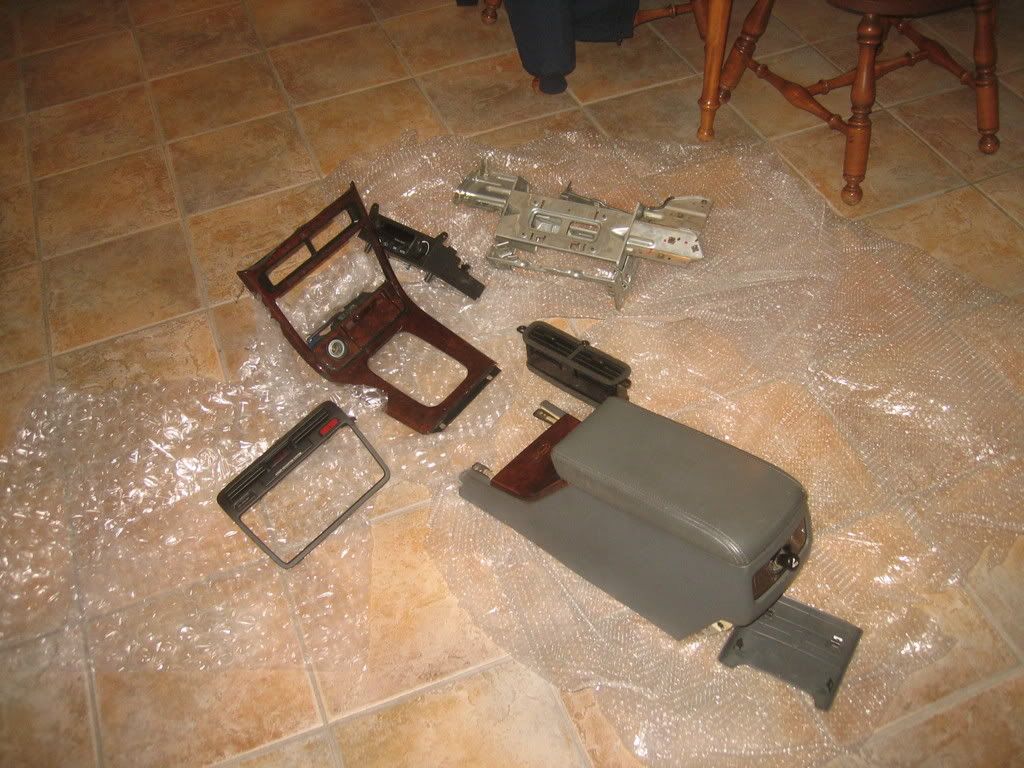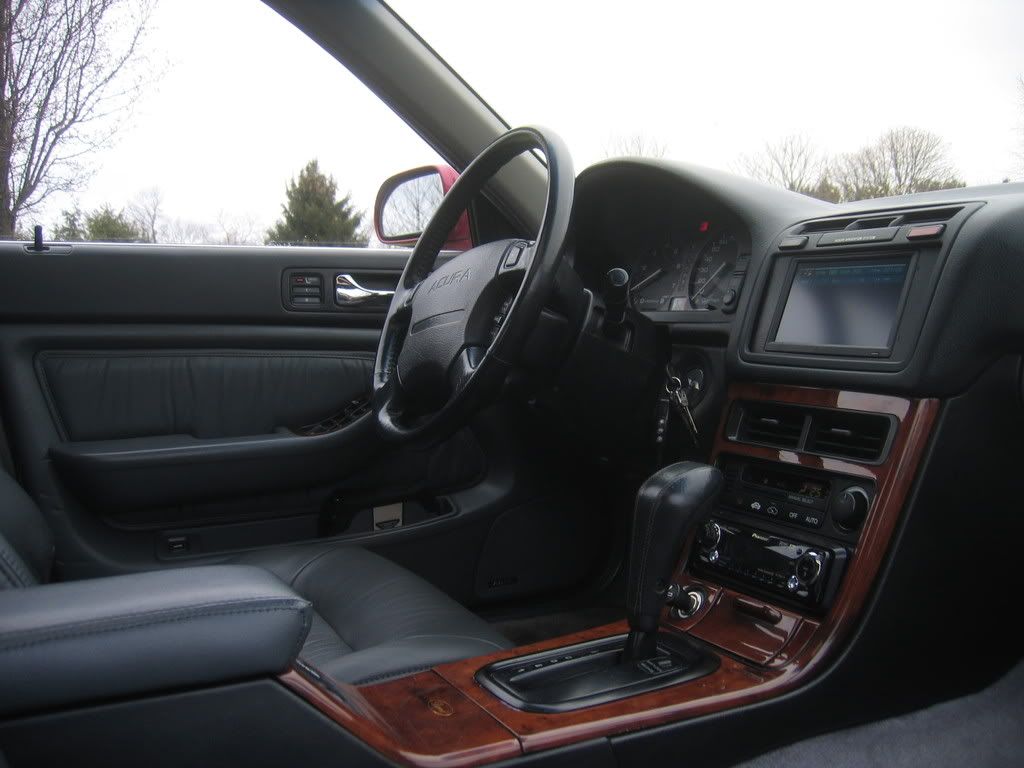 Gray!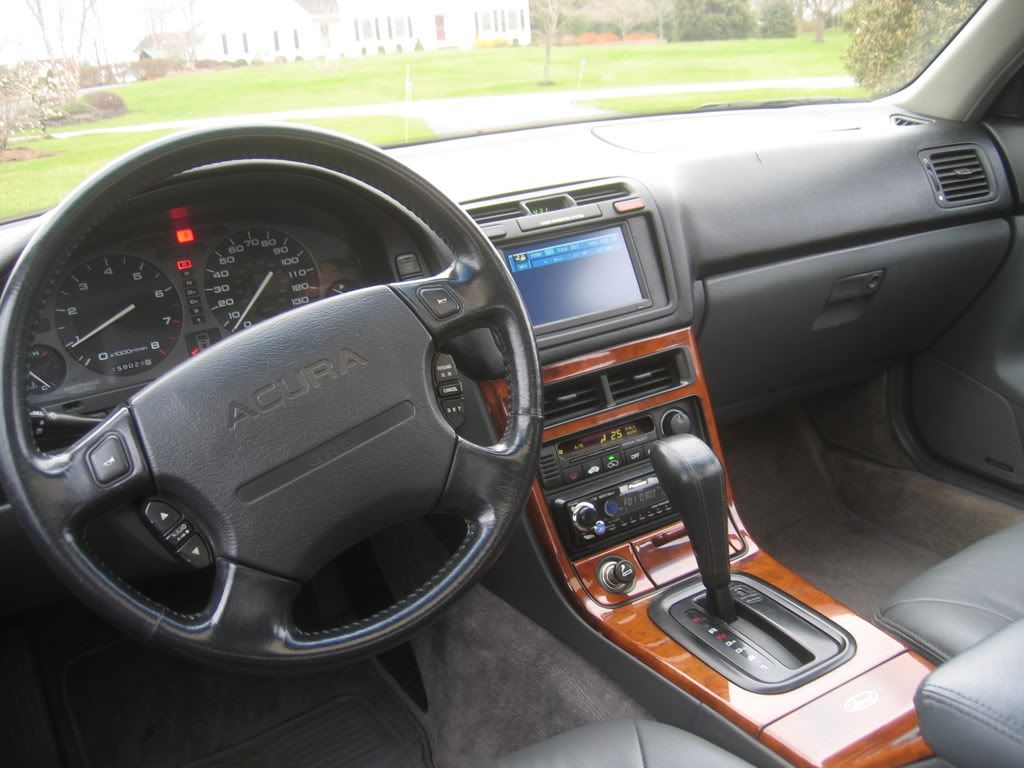 A project finally complete!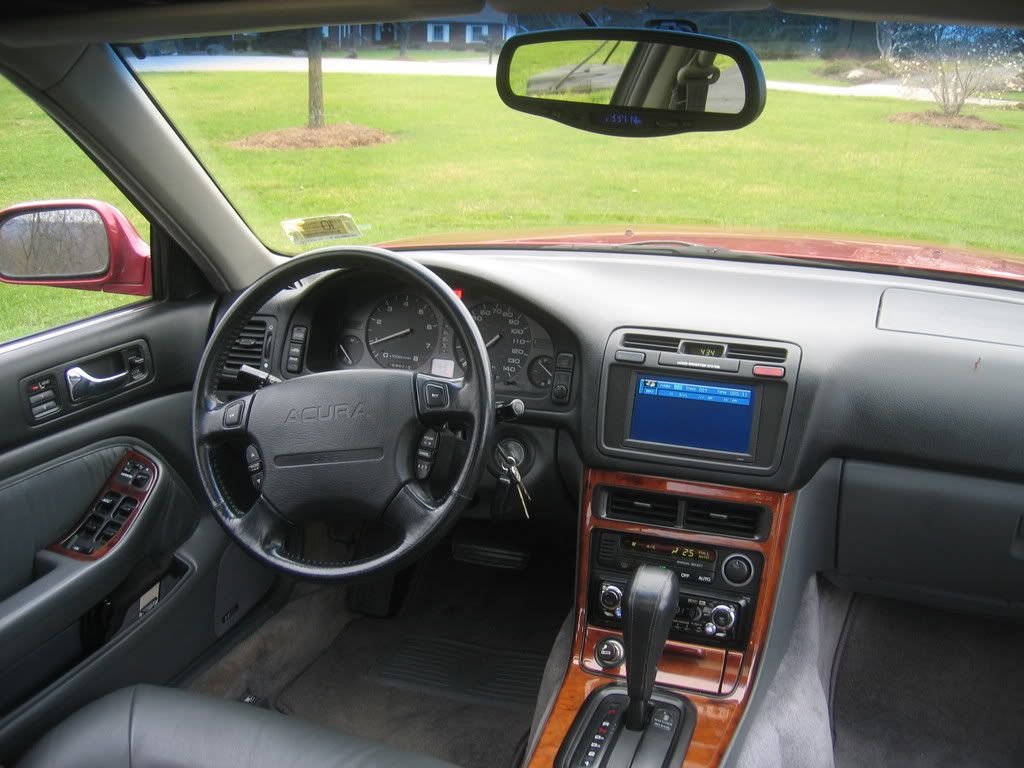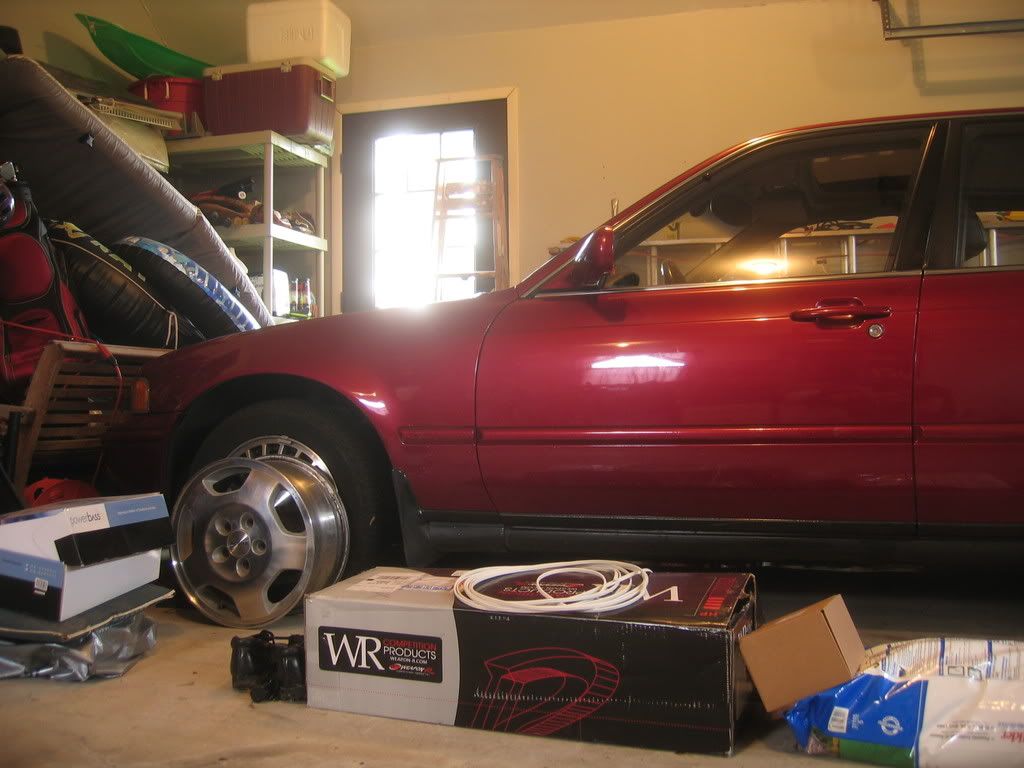 Had a couple extra for a while.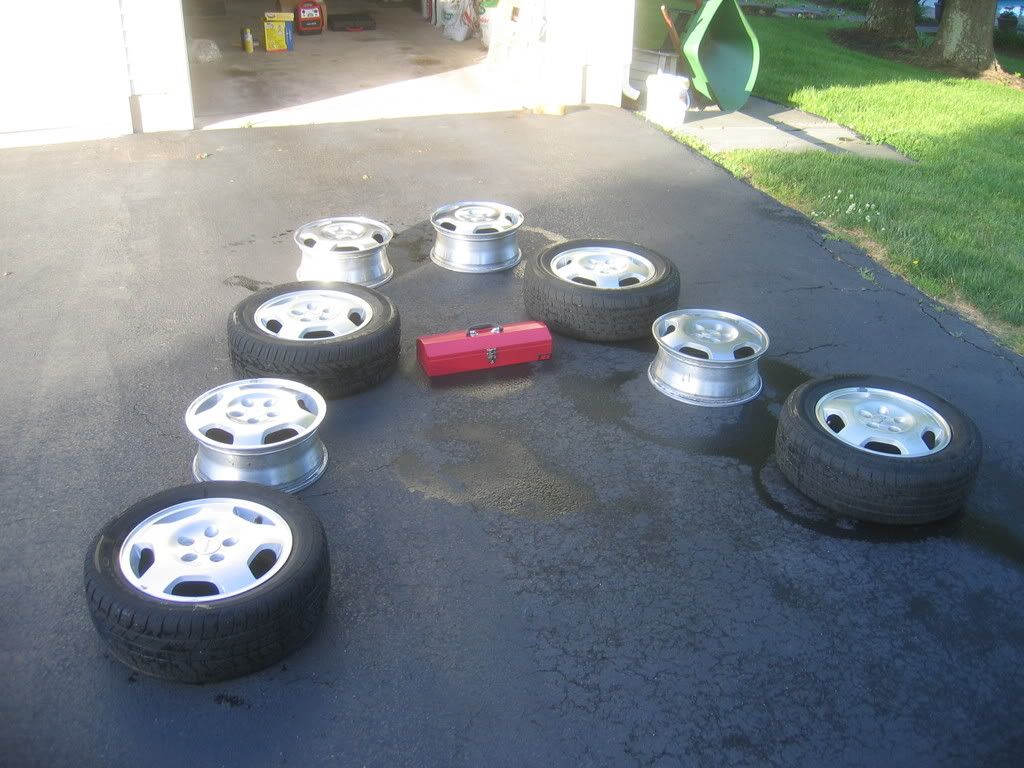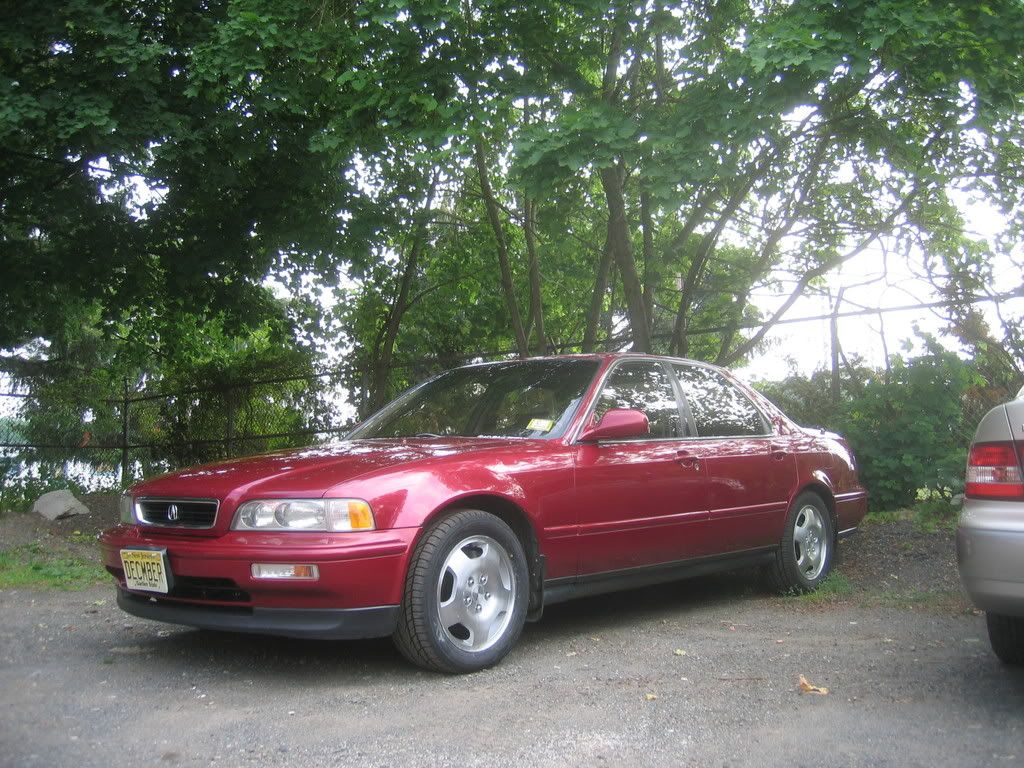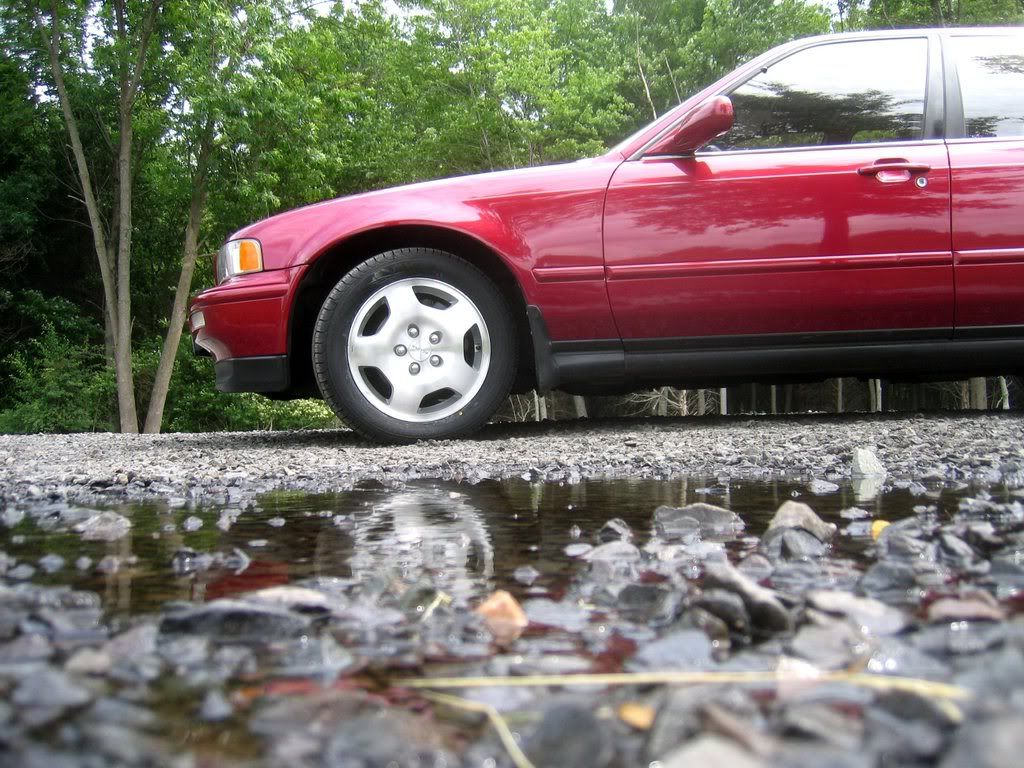 This fits in here somewhere too: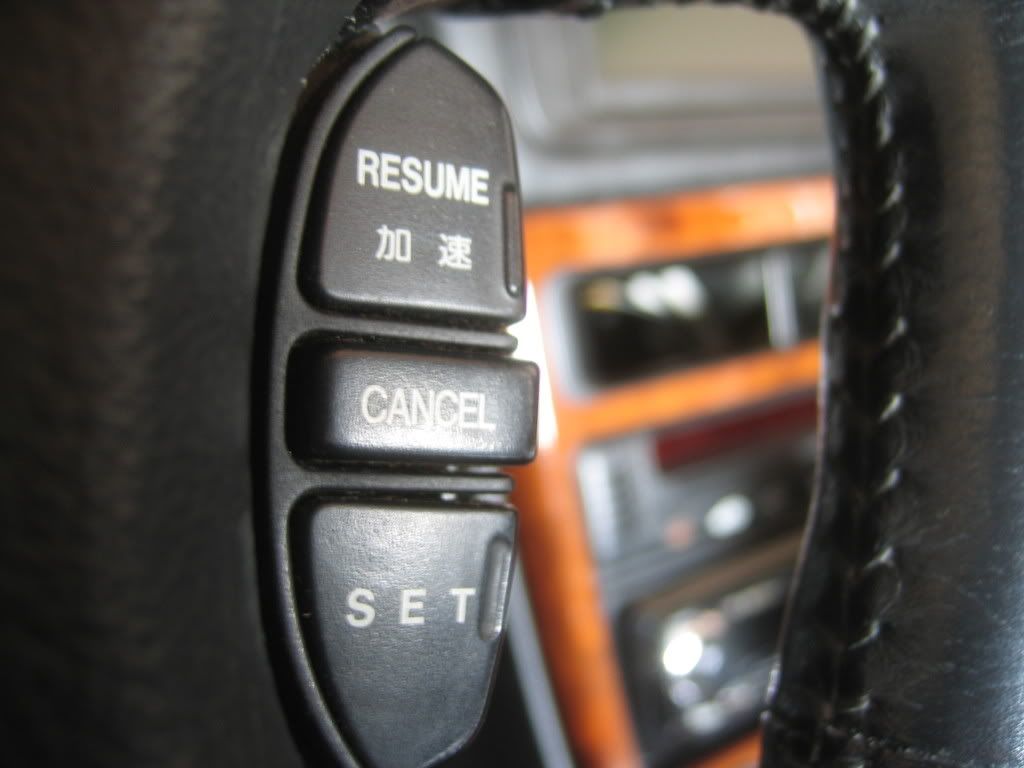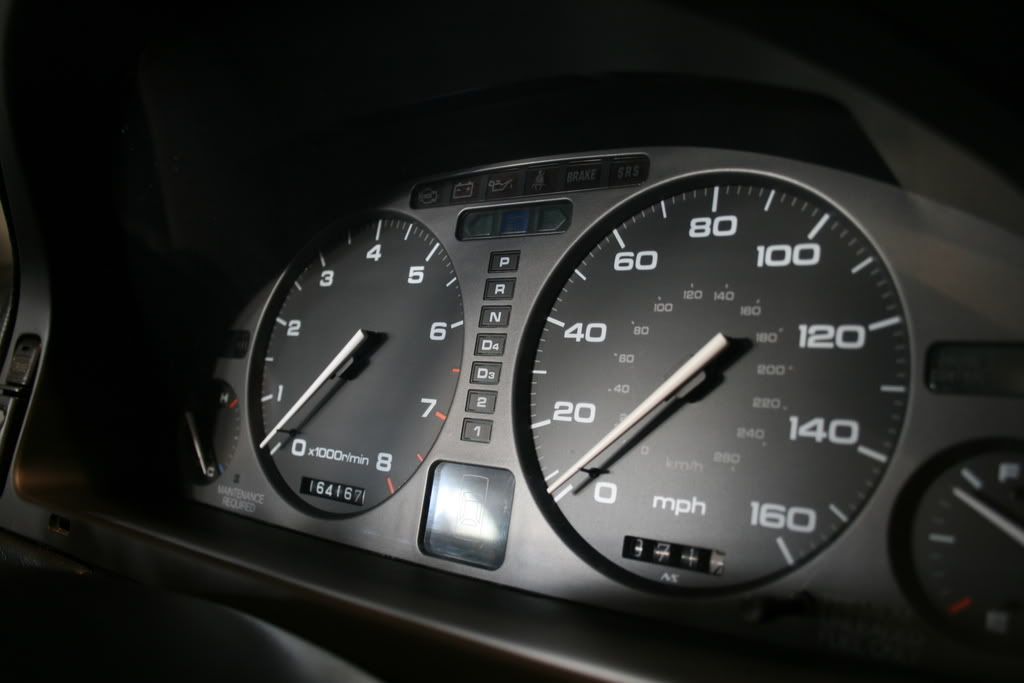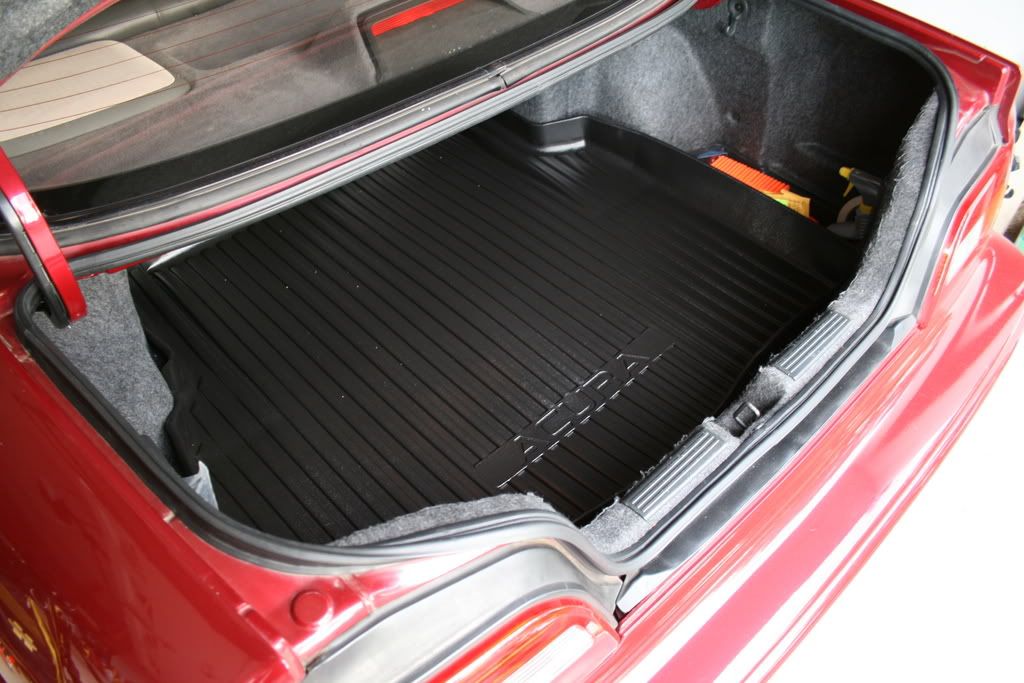 Before the close of 2007, I decided to go back to a stock intake. I'd spent all my money thus far making the inside comfier and the loud intake was an unwelcome intrusion.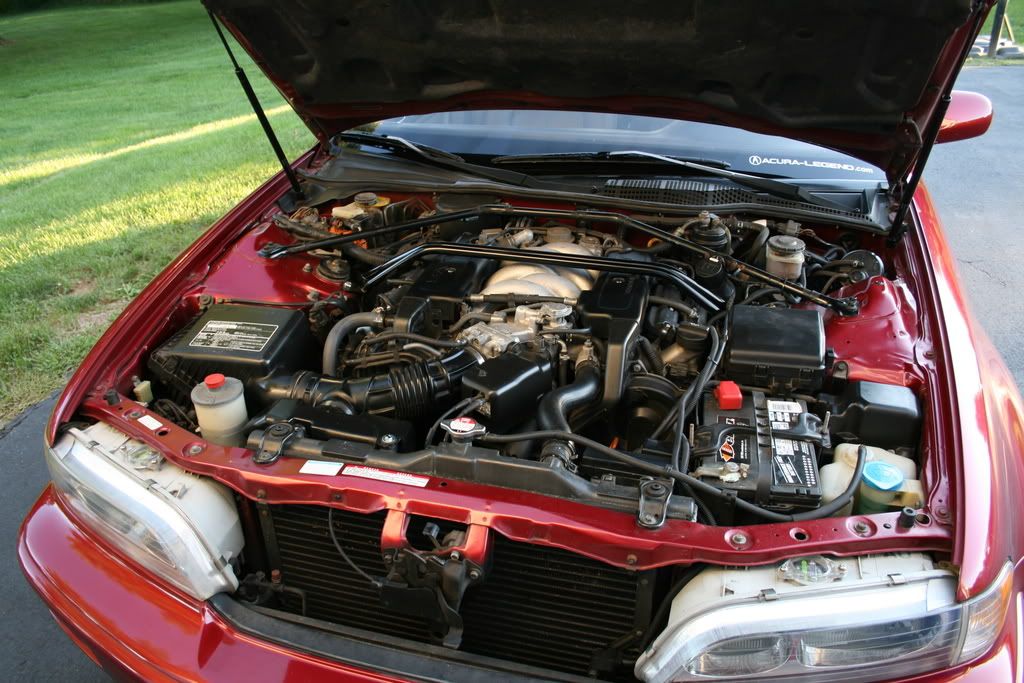 And that brings us to 2008. Things were pretty slow as I was at college again. Summer came though and just before NALM, I got a paint job. It was so close to NALM, I had my car baking out in the sun for the three weeks and only waxed the front panels to protect from bug splatter and my new nose mask.
It was riddiculously red the day I picked it up from the paint shop. Looking at the pictures, it looks like candy.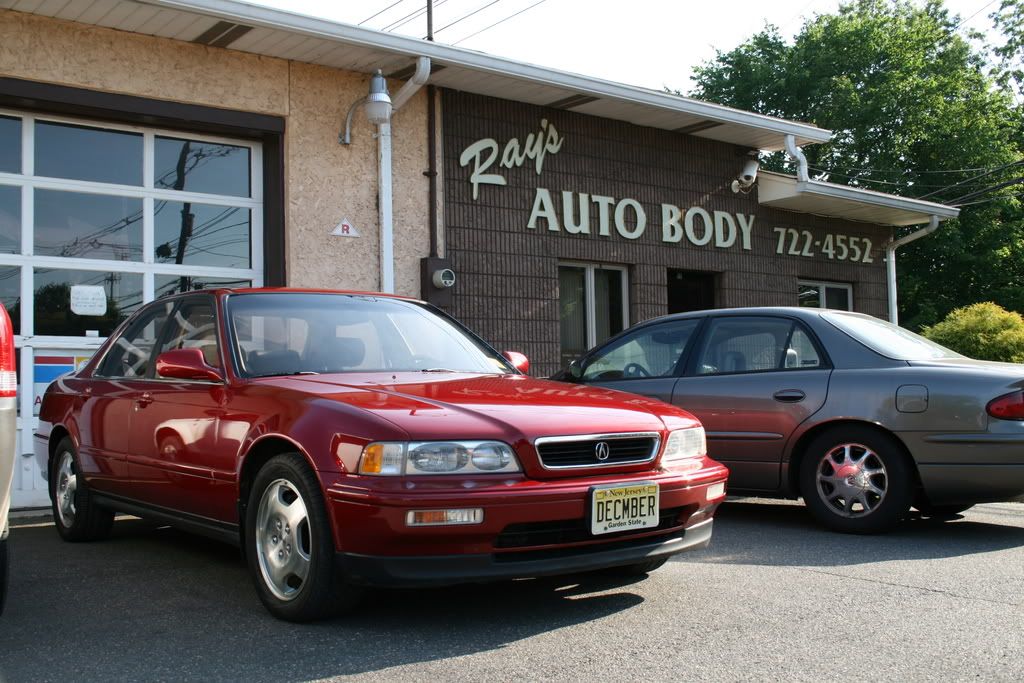 Fresh paint in hand and a slow power steering fluid leak, I threw the legend at the perils of a 2000 mile round trip to chattanooga with a full day of auto-x. I managed not hitting a single cone and my steering held together just fine. As it turns out, the entire steering rack was bad and needed replacing... I'm sure glad everything stuck together.
(Here is where I finally fully appreciate the MLS bar)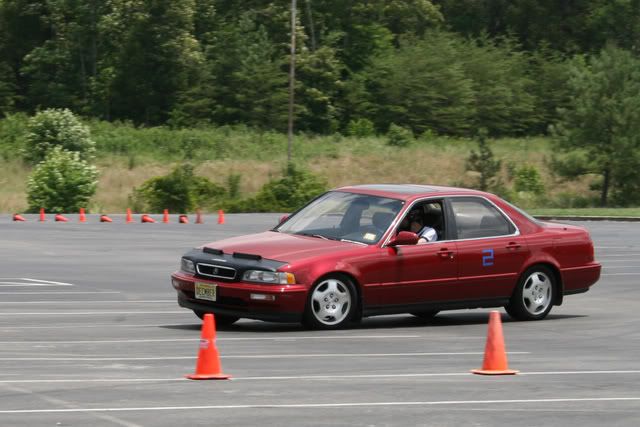 The NALM travel team.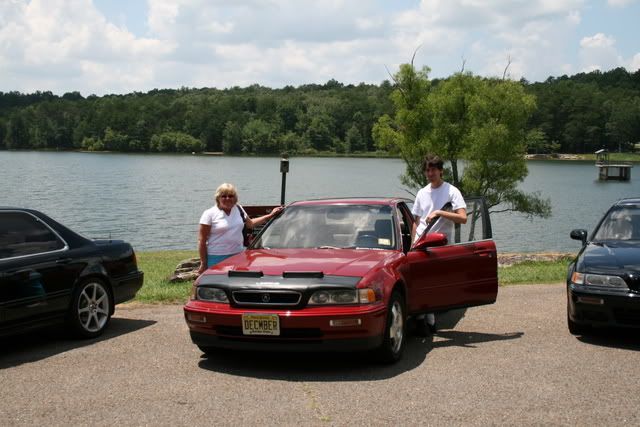 NALM.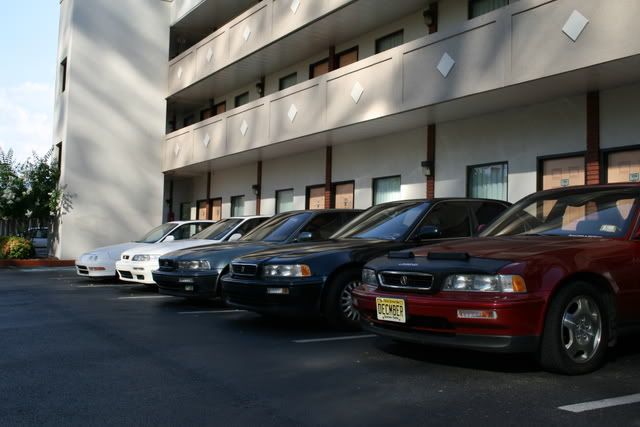 Finally, I slapped on a paint matched grille trim.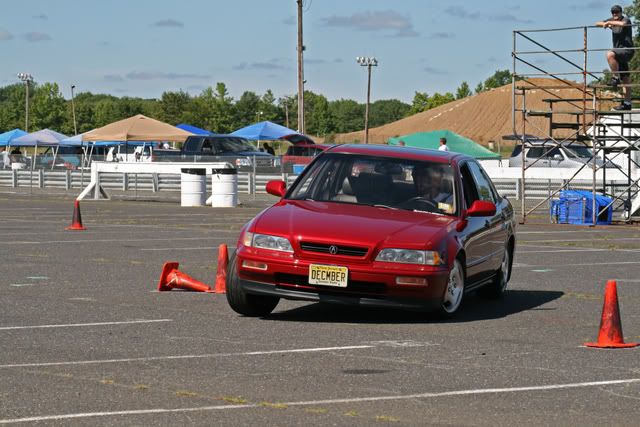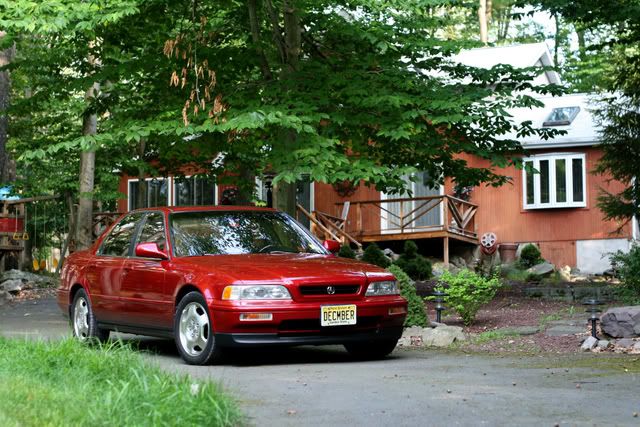 School came around again in the fall and I left December at home to save her from the perils of college parking. A couple months in she got a sister to entirely relieve her of any winter driving. Quite rough around the edges, this 6 speed coupe became the winter beater.
Finally May again, I waited for an overcast day and now three years later, I again have a side by side... by side.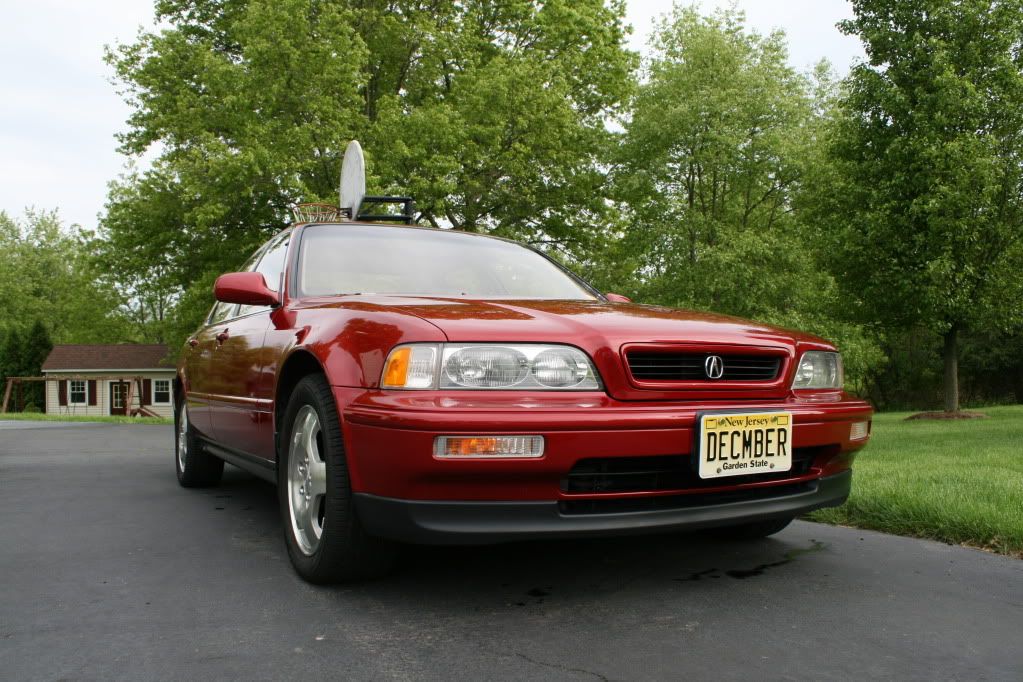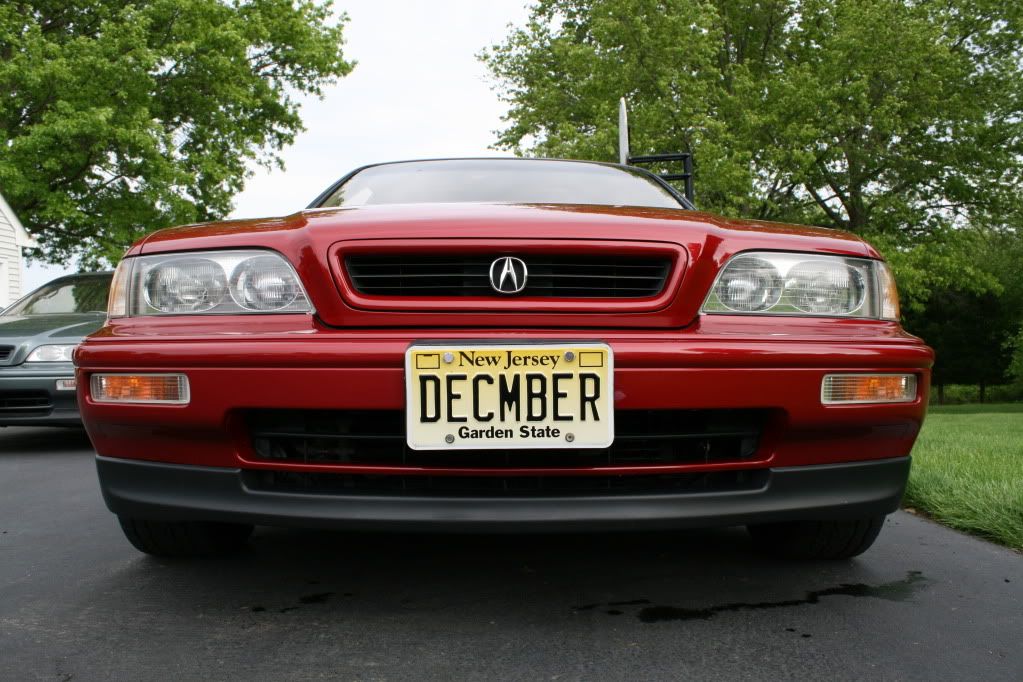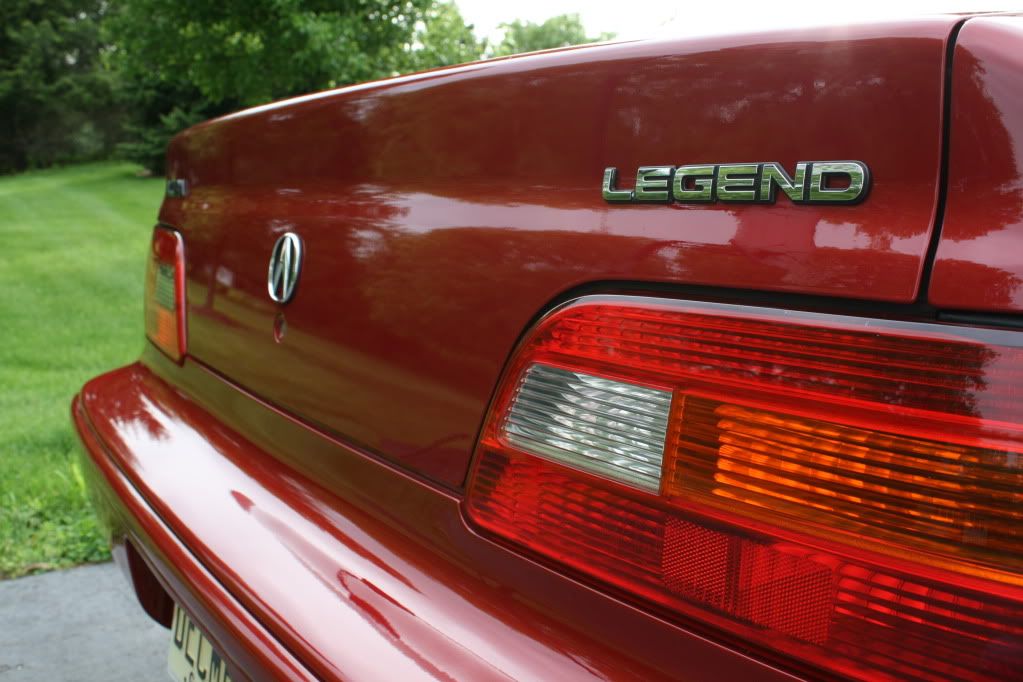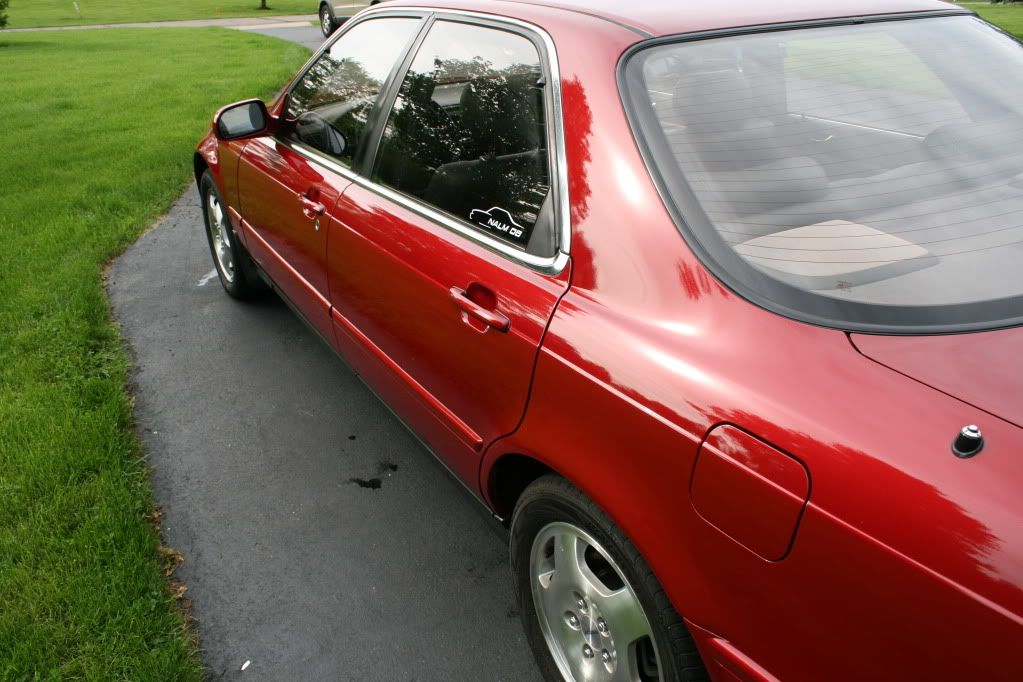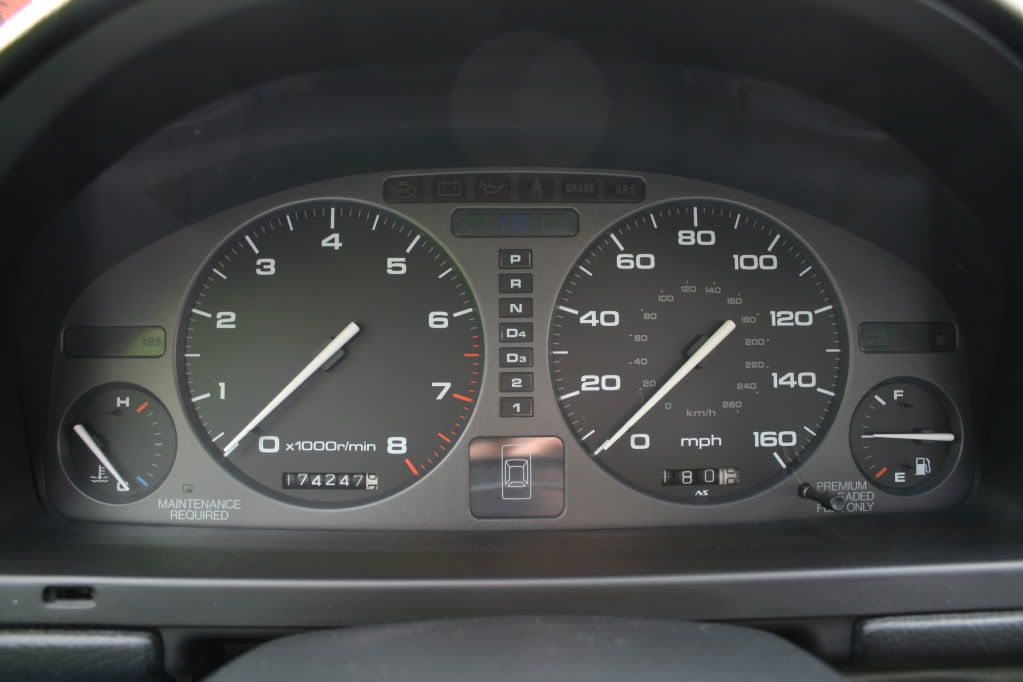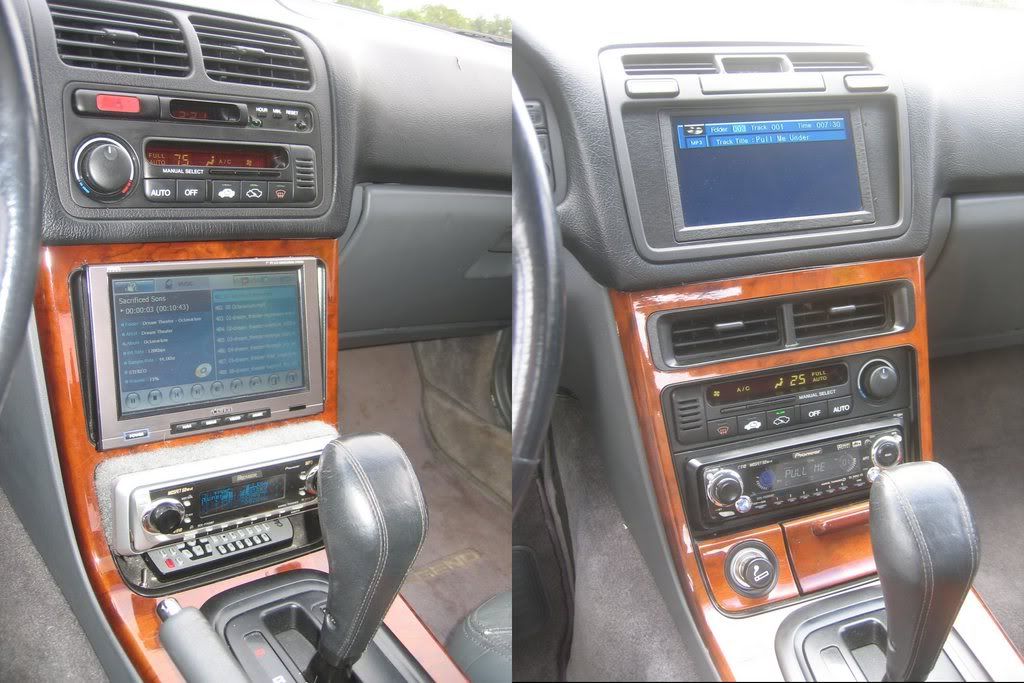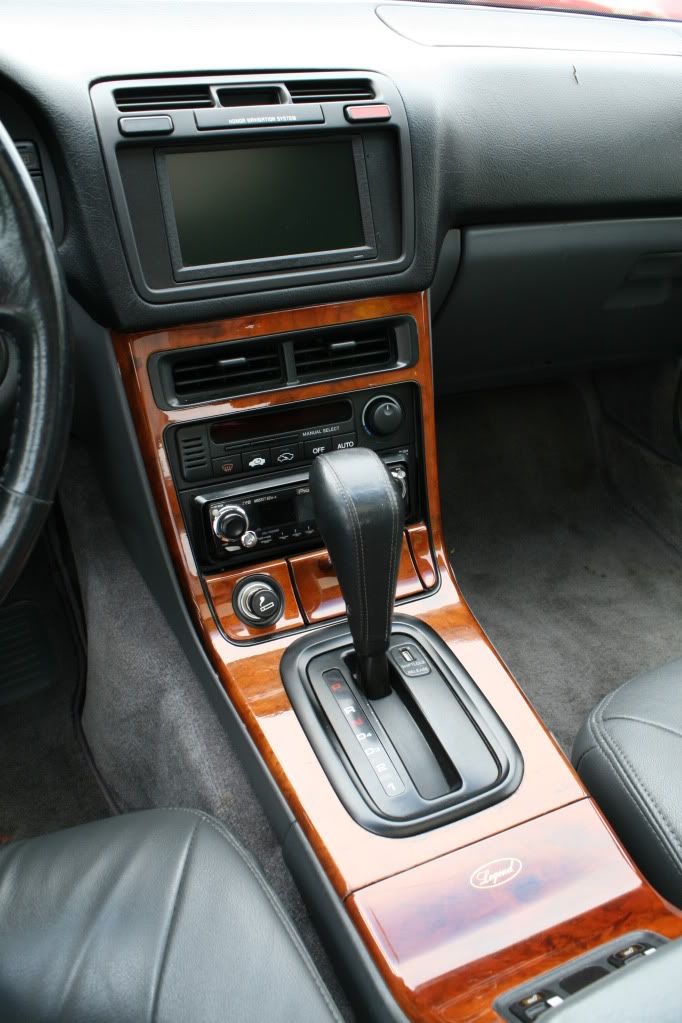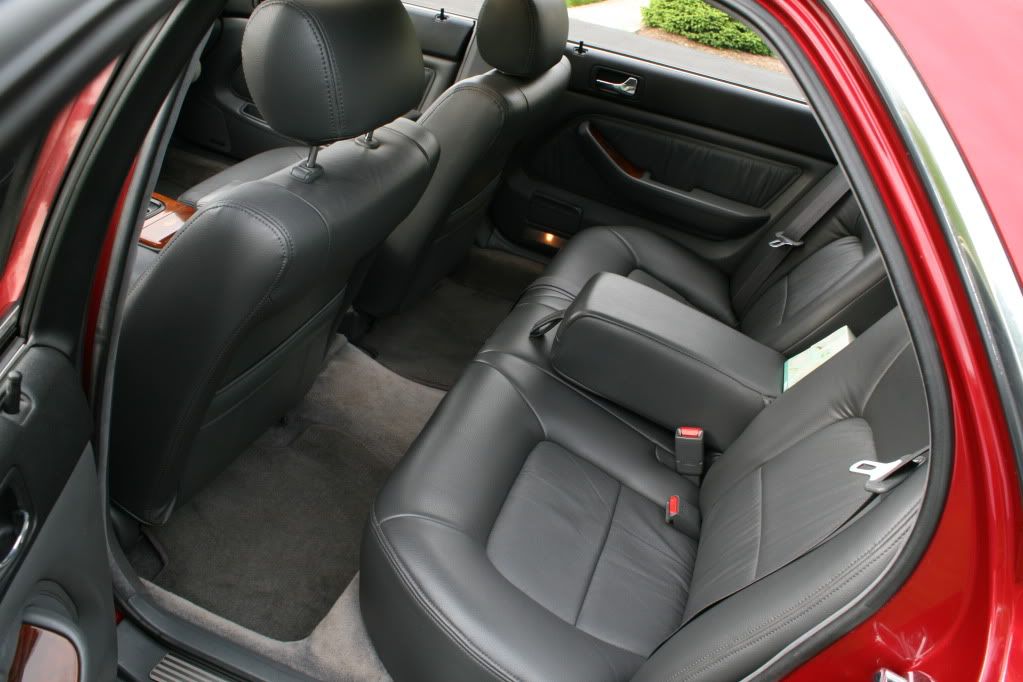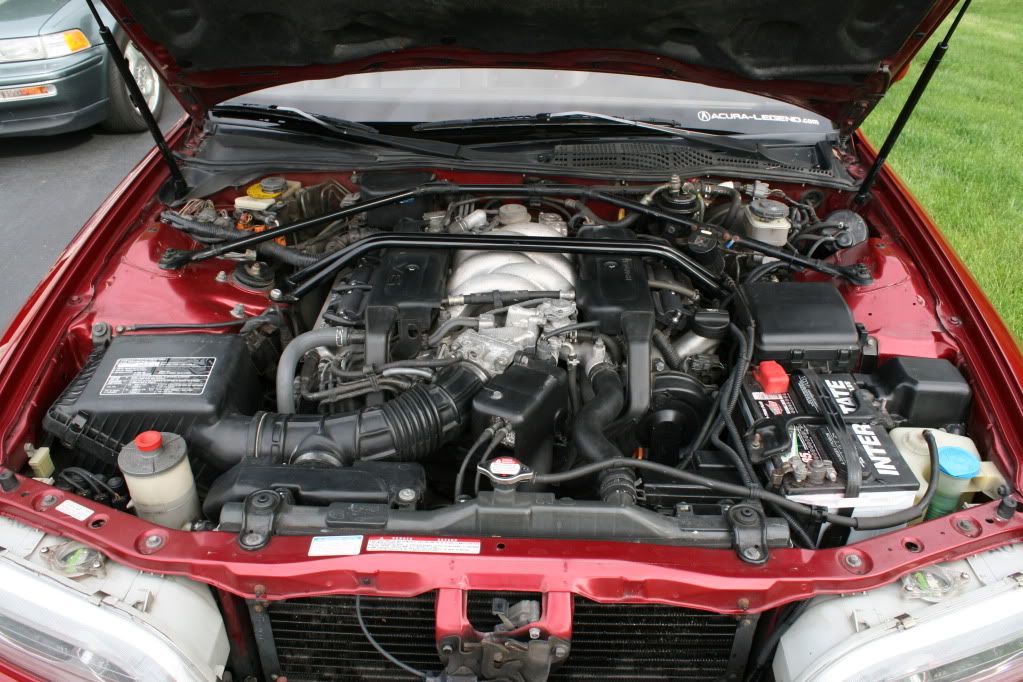 Now its summer again and though I wanted to pick up driving December more, the coupe still does the majority of the work. I find myself too paranoid to drive December most places. In a way, I very much envy myself a year ago driving December without her paint job. The interior was as comfy as could be but I drove her anywhere because I never worried about where I parked her. Tom tells me I have a show car. That was never my intention but I suppose he's right. In any event, December seems to have reached the pinnacle of her being. The only things happening to her from here on out is maintenance, wax and perhaps rims.